For the Outdoors Issue in this week's paper, we asked a few regional photographers about their work capturing the beauty of the Pacific Northwest. In interviews and emails, they all offered advice and encouragement on how to get the best pictures you can. Most of it comes down to planning, patience and a sense of adventure.
Here's some of the extra tips and photos they had to share.
Jed Conklin
Freelance photographer
Age: 37
Hometown: Spokane, Wash.
Conklin emphasizes the importance of getting out to the hard-to-reach places that make for rare and compelling images. Finding the perfect photo takes a lot of time, patience and dedication, he says. You've got to get you and your gear to the locations where others won't or can't go.
You have to put in the miles.
"There's a lot of cool places," he says. "You put in your time. You figure it out. It's just hard work and dedication."
Conklin says he recently sold photos to National Geographic because he had made the effort to shoot a remote climbing area in Montana. He admits they weren't his greatest photos, but he put himself in a position to have a photo National Geographic ended up needing.
For gear, he suggests keeping things as light as possible. He will often carry a minimal load of two Nikon camera bodies and two lens. When he can he will take along some light-weight off-camera lighting equipment.
"You're always going extremely light," he says. "You take the bare amount of gear."
Otherwise, he recommends focusing on your craft instead of your equipment. Buy the best gear you can afford, but it's more important to just get out and make the best photos you can.
Like other outdoor photographers, he stresses the importance of planning your photos around the best possible lighting conditions — the golden hours. In adventure photography, he says that can be especially challenging when trying to summit a mountain or cross a dangerous ridge to get the shot right as the light is changing. Climbers could risk getting stuck in the dark.
"You rarely are climbing at those golden hours," he says. "[But] that's what separates the lions from the sheep — going that extra mile."
More photos at: jedconklin.com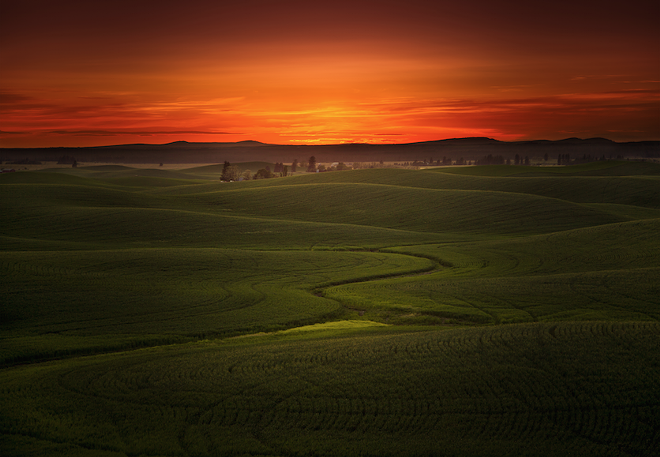 Heather Biggs
Fine Art Photographer
Age: 30
Hometown: Cheney, Wa
Advice on equipment:
The best equipment out there for photography is given to you at birth. How you see things, and the specific way you look at the world greatly effects the images you produce. I used very entry level Dslr cameras for years, and it wasn't until I went to school that I actually started getting consistent results. Learning how your camera works and what you can do with it, along with some basic editing skills, that is what really makes a difference.
Advice on location:
The easiest advice I can give about finding a great location is as easy as getting lost. Turn off your gps and drive on some old dirt roads for a few hours. The inland northwest is full of so many beautiful landscapes, you don't need to drive far. If you're looking for a specific location try Turnbull Wildlife refuge, Palouse falls, or go for a hike on one of the many trails located in Riverside State Park.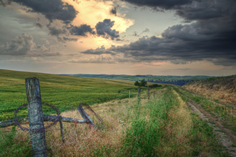 Advice on framing:
How you frame your image really depends on where you're placing your subject and where you want the viewers eyes to be drawn. Remember the rule of thirds, if you're unfamiliar with the rule of thirds Google has some great diagrams to get you started. I try to lead people through my images with things provided in my scene like a road or a fence.
Advice on lighting:
You will hear nature and landscape photographers say they only photograph during the golden hour (early morning or right before sunset.) This is the best lighting but not the only time you can get a great photograph. Chase the sun, look for natural lighting that really brings out the beauty of a location.
Photography philosophy:
Photography is such a therapeutic medium. I photograph because it makes me happy, and opens my eyes to the amazing surroundings that I am lucky enough to live so close to. Everything is beautiful, it just depends on how you look at the world. No matter your reasons for being interested in photography, enjoy yourself, and by all means have fun with it! The best advice I can give is to represent what YOU see with each image. Remember the emotions you felt when you were photographing a specific location and take that with you to the editing room. If you're a realist and prefer not to do any post production, try to convey how the location made you feel while framing and setting up your shot. Two key words to learn, bracketing and masking. Good luck, and HAVE FUN!
More photos at: heatherbiggsphotography.com or facebook.com/heatherbiggsphotography
Joe Greer
Photographer
Age: 25
Hometown: Inglis, Florida
Advice on equipment:
All of the photographs that I have taken have been with my iPhone 5s. However, I have shot and worked with the Mark II and highly enjoy and recommend this body! I advise everyone to look into getting/renting the Canon 35mm f/1.4 lens as well. These two pieces together blow my mind! But, if you only have an iPhone and do not have the financial flexibility (like myself at the moment) to invest into this equipment then really take advantage of your mobile camera telephone!
Advice on location:
Some of my favorite locations to shoot include: Palouse Falls, Steptoe Butte, Lake Sullivan, any & everywhere in the Cascades. I really enjoy shooting in and around lakes. If you can catch some stillness and good lighting, you're going to be able to create a very powerful Photograph. Take advantage of the beautiful uniqueness of the Pacific Northwest!
Advice on framing:
I use two different methods of framing: 1.) I love to have a healthy balance of landscape and sky in every Photograph. Not over composing with too much sky and a lack of landscape, or vice versa. 2.) I really enjoy photographing people in these powerful outdoor environments, to me people are the heartbeat of photography. So when composing a photograph with someone in these outdoor scenes, I like to remember the rule of thirds. I also, like to create some sort of vantage point. Whether that is climbing on top of my car, getting on my friends shoulders, or climbing a tree, having a vantage point over your subject can add so much more emotion and depth to your photograph.
Advice on lighting:
When I started photography I had no idea how important and how much lighting was a key factor when taking a photograph. Quickly did I learn that lighting could make or break a photograph. I try as much as I can to shoot early in the morning and in the last few hours of the evening. As do many other photographers. Be careful shooting in the middle of the day when the sun is out and blazing, no one likes a washed out photograph! Take advantage of those foggy early mornings. One of my favorite times to go out and shoot!
Photography philosophy:
My philosophy of photography is to shoot what you love. At times I have found the pressure to shoot what everyone else is shooting, because that is what is popular at the time. If you love landscapes, shoot landscapes. Portraits? Shoot portraits. Street photography? Shoot that! Do what you love. Do not be afraid to try new things though. One other thing I try to live by is to have an open heart and mind to learn and be refined as a photographer. I have SO much to learn and never want to have the mentality that I have "finally arrived". Practice and walk in humility when you are behind the lens of your camera.
Some final thoughts that I try to keep at the forefront of my mind is to make it about the people. Be bold and adventures! Get outside! We live in one of the most beautiful parts of the country. So much opportunity to experience and capture the beauty that surrounds us daily.
More photos at: instagram.com/ioegreer Contact at: ioegreer@gmail.com
Chip Phillips
Fine Art Landscape Photographer
Age: 42
Hometown: Redmond, Wash.
Advice on equipment:
I am not much of an equipment junkie, but do feel that it is important to stay updated with new technology. I am finding that It is nice to have larger resolution and sharper lenses as newer stuff comes out. It is also important to have the full focal range covered, preferably from 16-200mm+ with polarizers for every lens. A very stable tripod is absolutely necessary for landscape work, and one of my most important pieces of equipment.
Advice on location:
Photograph locations that you have a personal connection with, abut don't forget to try new spots as well. Try to research images before hand, this way you can avoid accidentally copying compositions that have already been done.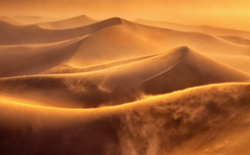 Advice on framing:
Try not to include everything in the frame. Isolate individual portions of your image, and ask "does this enhance or detract from the image?" I like to walk around an area for quite a while trying different compositions and really getting a feel for the setting.
Advice on lighting:
Shoot during the golden hours, about 1-2 hrs around sunrise and sunset. This is usually when light is at its best. Although, don't throw out the idea of shooting mid-day if the light isn't harsh. Blue sky and puffy clouds are great during mid-day down in the Palouse throughout the spring and summer.
Photography philosophy:
I think this quote does a pretty good job of summing it up:
"I went to the woods because I wished to live deliberately, to front only the essential facts of life, and see if I could not learn what it had to teach, and not, when I came to die, discover that I had not lived" — Henry David Thoreau, Walden