The purse that Veronica Rutledge brought into the Hayden Wal-Mart — the purse with a special pocket for a concealed weapon, the purse where her 2-year-old son found a loaded gun inside and discharged it, killing her — had been a Christmas present from her husband just days earlier, the Washington Post
reports
.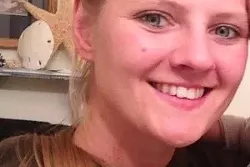 It wasn't an unusual gift, considering the couple both loved guns, loved hunting and had concealed weapons permits.
Rutledge
was 29, a high school valedictorian and a University of Idaho grad, who worked at the Idaho National Laboratory and lived in Blackfoot, Idaho. On Tuesday morning, she had taken her son and three nieces to Wal-Mart, and it was there, around 10 am, the toddler unzipped the special purse pocket and found the gun.
Rutledge's father-in-law tells
the Post
that he's angry — not at Rutledge or his grandson, but at people using the tragedy to grandstand about gun rights.
"They are painting Veronica as irresponsible, and that is not the case," he told the Post. "… I brought my son up around guns, and he has extensive experience shooting it. And Veronica had had hand gun classes; they're both licensed to carry, and this wasn't just some purse she had thrown her gun into."