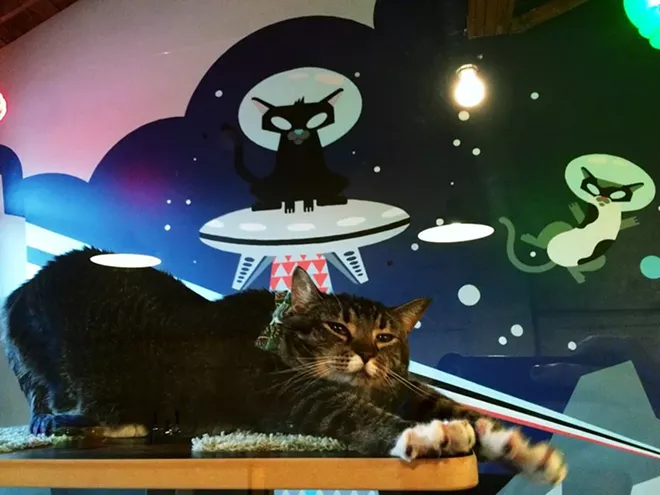 While it's a bit far away for us Inland Northwest cat lovers to visit as often as we'd like, the nearest cat cafe to the Spokane area is opening tomorrow, Jan. 24. This weekend, Purringtons Cat Lounge in Portland becomes the first such business in the Rose City, and in all of the Pacific Northwest.
Following in the steps of its forerunners — Oakland's Cat Town Cafe and the recently-debuted Meow Parlour in New York City — Purringtons is "staffed" with adoptable cats. Through a partnership with the nearby Cat Adoption Team, the cafe serves as a satellite adoption center, bringing in new cats when those on site have been adopted. To prevent impulsive decisions, all cat adoptions must be done by appointment and never on the same day an adopter becomes smitten with a kitten.
As a cafe, Purringtons serves small food plates, pastries, coffee, tea, beer and wine from an adjacent and separately accessed space to the cat lounge. On the weekend, guests can also enjoy "Meowmosas" as they pet a soft, soft kitty.
The American cat cafe trend has been steadily building since last year when the first in the U.S., Cat Town, opened in October. It's looking like the next Northwest cat cafe may be Seattle Meowtropolitan. The latest update from its owners predicts a mid-2015 opening, though they're still searching for an appropriate location in the city.

Meanwhile, you can book reservations to visit Purringtons starting this Sunday, Jan. 25. To ensure masses of hysterical cat lovers aren't overwhelming its feline residents, the cat cafe business model seems to have adopted the unwritten rule of reservations-based visits.
For tomorrow's grand opening, the cafe's website explains that it won't accept reservations, instead allowing guests in for half-hour sessions on a first-come, first-served basis. For those who happen to be in Portland, expect to see a line of really excited cat lovers stretching down MLK Blvd.
For fellow cat lovers not able to visit Purringtons in the near future, here's a sneak peak from Willamette Week:
A Look Inside Purringtons, Portland's First Cat Cafe (VIDEO) from wweek.vimeo on Vimeo.