Welcome back to Weed Wednesday, your weekly dose of pot news. Wondering what this is about? Click. Looking for our previous marijuana coverage? Click. Got a question or tip? Email me at jaket@inlander.com
A year ago today, recreational marijuana stores
opened for business in Washington state.
Long lines of stoners eager to pay high prices for marijuana formed outside often nondescript stores across the state.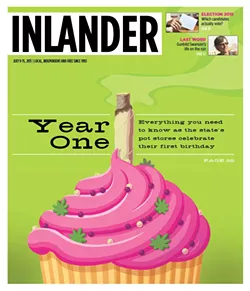 Early on, the
system struggled with a lack of supply and high prices
. But since then, more producers have come online, stabilizing the price the and supply of marijuana. So far $267,551,520 worth of pot has been sold, generating $66,887,880 in taxes, according to figures from the Washington State Liquor Control Board.
To commemorate the event, the
Inlander
is putting out a
big ol' pot issue
this week. You can
find out all about the recreational marijuana shops
in the Inland Northwest, the results of our pot survey, what's changed and what hasn't, all the new ways to
consume marijuana
, what ever happened to the
first guy who purchased legalized cannabis
in Spokane, what's going on in Idaho and more.
Figures on Washington pot sales through June weren't available by press time, but the
Inlander
crunched the numbers today to find out how much marijuana has been sold by stores in the Inland Northwest. Here ya go:
Cinder (both stores)

$3,457,719.74
Sativa Sisters
$3,441,744.12
Greenlight
$3,428,152.61
Satori
$3,368,793.88
Spokane Green Leaf
$3,365,389.59
Greenstar Cannabis
$1,979,017.51
MJ's Pot Shop
$1,965,061.74
Treehouse Club
$864,994.31
Cannabis & Glass
$810,780.38
Savage THC
$539,713.23
The Top Shelf
$470,626.76
4:20 Friendly
$455,705.17
The Green Nugget
$279,563.12
Royal's Cannabis
$249,674.87
Smokane
$204,668.79
Grand total:
$25,618,495.82
Here's the news elsewhere:
In Washington,
lawmakers quietly inserted a provision into a marijuana tax bill
that outlawed clubs where marijuana where pot can be consumed socially. Since marijuana became legal, social stoners and accommodating businesses have sought to create places where people can consume pot together, not unlike a bar. However, local authorities have often chafed at the idea.
Meanwhile, in Colorado,
pot activists are collecting signatures for a ballot measure
that, if passed, would allow for "social marijuana use" that would not be unlike having a beer at a bar.
Adolescents who see marijuana advertising
are more likely to indicate that they will use the drug.
Marijuana farming is ruining California
, according to the
Sacramento Bee.