Spokane police received several calls of a man trying to break into cars as they drove south on Division Street near Cataldo Avenue on Saturday, according to a police news release. Some callers reported the man was armed with a knife.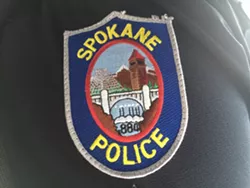 When officers showed up, the man ran to a nearby gas station parking lot and continued trying to break into cars, one
witness
told the
Spokesman-Review.
Two officers fired their service weapons at him, but it is unclear how long the confrontation between officers and the man lasted. Police spokeswoman Teresa Fuller was not able to confirm whether the man made any movements toward the officers before they fired, or what prompted the officers to fire.
The man was taken to the hospital and is listed in critical condition, Fuller says.
Members of a hockey team from Canada were staying at a nearby hotel and
recorded
some of the man's behavior with a cell phone obtained by KREM 2.
The videos shows the man jumping in front of cars but did not capture the confrontation with police.
Spokane police attempted to collect video footage from surrounding business, but Fuller is unsure if their efforts were successful. She was also unable to confirm if any officers were wearing body cameras during the incident, and Spokane police do not have dashboard cameras.
The two officers' names have not yet been released, and the Spokane Investigative Regional Response Team will investigate the shooting with the Spokane County Sheriff's Office as the lead agency.