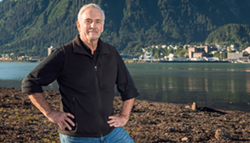 FROM THE INLANDER.COM
Investigators reveal cause of AirAsia QZ8501 crash

The flying crew's response to an equipment malfunction is
what caused the plane to go down
last year in the Java Sea, killing 162 people.
The Cougars and Bulldogs will meet on the court for the 150th time

But this may be the
last
one for a while. The game, hosted by WSU, will be Wednesday at 8 pm on Fox Sports 1.
Three Idaho people are arrested in local abduction

A Washington woman was taken by force from a Spokane grocery store yesterday,
KHQ reports
. She was found bound in duct tape along the highway. Angela M. Frisby, Travis S. Anderson and Lilly M. Johnson were arrested yesterday.
Mayor of Alaska's capital found dead

Juneau Mayor Stephen Greg Fisk, who just took office in October,
was found dead
in his home by his son.