On Thursday night, a Black Lives Matter rally in response to recent police violence against black citizens turned into a
horrific attack on Dallas police officers
. In the days leading up to the attack, two men — Philando Castile in Minnesota and Alton Sterling in Louisiana — were shot and killed by police, actions captured on disturbing and widely disseminated videos.
The stories are still evolving, but local and regional leaders have shared their thoughts on what happened in Dallas, what needs to happen to improve race relations in the United States, and what can change the increasingly fear-filled relationship between police offices and the citizens they're tasked with protecting.
Here are the highlights from a few local reactions gathered by
Inlander
reporters, along with press releases by elected officials:
Spokane NAACP Chapter President Phil Tyler:
"My thought is that as a kid growing up reciting the pledge of allegiance in the classroom, with liberty and justice for all, I'm not seeing that play out in society today. There appeared to be no liberty and justice for Mr. Sterling, no liberty and justice for Mr. Philando Castile, but also not liberty and justice for the five officers who lost their lives last night.



We've become divisive in our rhetoric, in our language and in our actions. How much more grievous are the consequences of our fear and anger than the causes of it? And how do we control that? Because if we don't, I think we're going to go down a path that I think we can't recover from.

We have to continue communication. Once we lose the ability to communicate with one another everything breaks down. Fear over takes us. There is a quote from Victor Franco, saying we as human beings have the last human freedom and that is to choose how to respond to an outside stimulus.

We have to control that and not allow fear to get the best of us.

This is a nationwide situation that we have to address."
Rick Eichstaedt, Center for Justice executive director: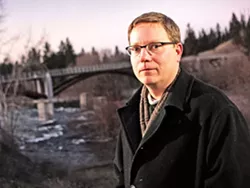 "It's beyond words," says Eichstaedt of both the two black men who were shot by police in Minnesota and Louisiana by police, as well as the sniper attacks in Dallas.
"Last night's reaction was really not only a murder of police officers, but a real desecration of what had been a peaceful reaction."
Eichstaedt says the events underscore the urgency for law enforcement to address any possible racial bias in their ranks. He expressed dismay that an Eastern Washington University analysis of police stop data
has been stalled
.
"We can't make addressing racial bias in our policing and tackling those issues a bottom priority," he says. "We can't have that happen in Spokane."
"Certainly, the events last night are a demonstration of why we need some sensible gun control in this country," he continues. "I'm sure we'll hear about thoughts and prayers, but thoughts and prayers aren't keeping people from getting shot."
"The answer is not good guys with guns," he says. "The good guys had guns and they were getting shot."
Kootenai County Task Force on Human Relations statement:
"Once again we have witnessed the horrific use of violence at the hands of a gunman to kill and wound this time law enforcement officers in Dallas, Texas. We condemn in the strongest terms this heinous crime and extend our deepest sympathy to the families of the officers.

Our heartfelt sympathies also go out to the families and communities in Baton Rouge, Louisiana, and St. Anthony, Minnesota, during their time of grief.

Our thoughts and prayers are extended to all those who are in grief and we wish for healing in all three communities. We know firsthand the pain a community experiences in such times as we faced the murder of Coeur d'Alene Police Sergeant Greg Moore ...

It is our commitment to the use of non-violence and a hope for all America that we turn away from violence and promote a civil discourse that promotes respect and dignity for all people.

At our monthly KCTFHR Board meeting last night, prior to our learning of the killings of the police officers in Dallas, we agreed to host an all day conference on October 13 in Coeur d'Alene titled "Returning Civility to America's Democracy" with invitations to the faith community, business community, education community, civic groups and the general public.
Lets us all redouble our efforts to create an environment where we find peaceful resolutions to our problems and issues."
Shelly O'Quinn, Spokane County Board of Commissioners:
"It was so sad," says Shelly O'Quinn. "My heart breaks for Dallas."
O'Quinn says the communities around the country have work to do to evaluate how law enforcement policies might be disproportionately affecting minority populations. She points to a $1.75 million
grant from the MacArthur Foundation's Safety and Justice Challenge
that's being used to reduce racial and ethnic disparities in Spokane County jail. She says the Spokane Regional Law and Justice Council is also developing a toolkit meant to identify ways the criminal justice system in disproportionately affecting minorities.
When asked about equipping sheriff's deputies with body or dash cameras, O'Quinn says the county is proceeding cautiously.
"Everyone is for body cameras," she says. But O'Quinn says the county wants to learn lessons from the
city of Spokane
, which has implemented its body camera program, first. She says that the costs associated with public records requests for body camera footage is a concern for the county. She says officials from the city will be giving a presentation on its body camera program later this month.

Washington Gov. Jay Inslee:
"Martin Luther King, Jr. said, 'Darkness cannot drive out darkness, only light can do that. Hate cannot drive out hate, only love can do that.'

"This feels like a time of darkness. The cause of justice is not advanced by the abhorrent hate and violence unleashed in Dallas last night. It is in these times that it is more important than ever that we work to bring light to darkness, love against hate.

"Trudi and I, and I know all Washingtonians, join in mourning the five officers gunned down last night and pray for a full recovery of those injured. We stand with the people of Dallas and the men and women in law enforcement around the world. I've ordered state flags to be lowered today in honor of the Dallas officers.

"No explanation of last night's horror should satisfy us; no justification should be offered or accepted.

"We must work to change the culture of killing that infects American life today. As we stand shoulder to shoulder with law enforcement, we also stand with those who decry the injustice felt when we read about the tragic killings of far too many people of color. We have a clear need in our country to end the disparate treatment of people of color and we have much more work to do. All of us have to redouble our commitment to ensuring a system of justice that is fair and just for all, regardless of skin color.

"As we speak our truths, we can and must do so peacefully. In Washington state, demonstrations have largely been peaceful. I thank the communities and our law enforcement officials for showing that bold protest does not require violence."