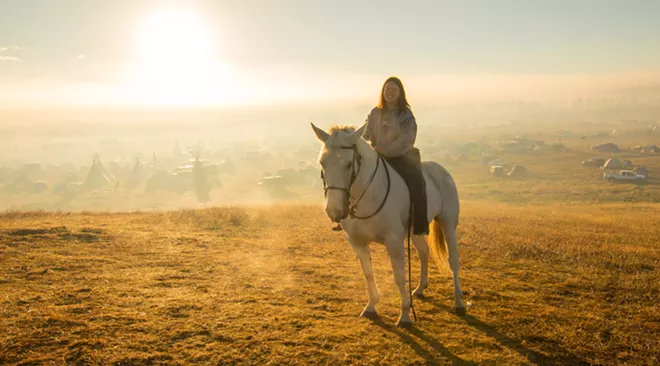 As a Spokane Tribal member and full-time freelance photo and videographer, I had been watching what little coverage had been made available on social and mainstream media about the Dakota Access Pipeline (DAPL) conflict with the Standing Rock Sioux Tribe near the confluence of the Cannon Ball and Missouri rivers in North Dakota.
Over the summer many Natives from all parts of the country had been heading to the front lines at the standoff and staying indefinitely at several camps near by. I knew there were several tribes and groups from this area who had gone to bring supplies to the "Water Protectors" and support the fight against the pipeline, which opponents argue would harm ancestral lands and threaten the water supply of millions.
Although I had felt drawn to document the efforts of the Standing Rock Sioux Tribe and their supporters, I also felt like a bandwagoner or sensationalist. I didn't want to go there just to get the scoop. So when I was asked to help drive a supply load over, I felt more like I was purpose-driven and that bringing my camera was secondary.
My friend who asked me to go had just returned from the front lines and had first-hand accounts of the DAPL security people pepper-spraying men, women and children and siccing their attack dogs on the Water Protectors as they tried to prevent DAPL bulldozers from desecrating sacred ancestral burial grounds. After seeing the footage on his phone and hearing his accounts, I knew I had to go.
I had heard that none of the Water Protectors were armed and they were all peaceful activists. I had heard there were people from all over the world and everyone who had returned said that it was a very special place and that they had never experienced anything like it. They said there was a sense of unity in the people both Native and non-Native, a sense of solidarity in humanity.
When I left, I knew I had to meet some of the people who were there and find out who they were, where they were from and what motivated them to be there. I knew I didn't want an official statement from the movement organizers nor did I want the usual media treatment. So I set out, with an open mind, an open heart, not knowing what to expect except that more than likely it would be a life-changing experience. And it was.
While we were there, my friend and I went to the Standing Rock Sioux Tribe Administrative building in Fort Yates, North Dakota, to get a letter asking the Spokane City Council to pass a resolution supporting the efforts of the tribe opposing the Dakota Access Pipeline. They gave us a signed letter from the Standing Rock Sioux Tribe's executive director. We are set to present this to the Spokane City Council on Monday's meeting.
Regardless of the outcome, we are planning to return to North Dakota with more supplies before winter hits.