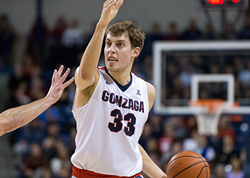 ON INLANDER.COM
ARTS & CULTURE
: Are you too old for trick-or-treating, but too young to have kids to take trick-or-treating? There
are
other options
.
IN OTHER NEWS
Tragedy at WSU
A 21-year-old Washington State University student was
found dead inside the Pi Kappa Phi fraternity
in his bed yesterday. The student, Brock Lindberg, was a junior studying business administration. The death is still under investigation. (KHQ)
Bridge celebration
Local officials are
excited about a pedestrian and bicycle bridge
that will connect the University District with the East Sprague Avenue area. "This is a project that will change the landscape of the east part of Spokane," says Mayor David Condon. (
Spokesman-Review)
Self defense
A Spokane Valley man
shot an alleged intruder of his home
who police say hid from police and refused medical help before he died. The homeowner said he was acting in self defense when he answered the door armed and shot the man, who apparently charged him. (KXLY)
Obamacare
For some health care plans under the Affordable Care Act, premiums
will rise by an average of 25 percent
next year.
On the campaign trail
As Donald Trump slams the "disgusting" media and their "phony polls," he and Hillary Clinton have both turned their attention to Florida, where those
phony polls show the two candidates in a close race
.
We only have room for one of you
Former Gonzaga star Kyle Wiltjer
made the Houston Rockets roster
, the team announced yesterday. With offense-minded coach Mike D'Antoni, Wiltjer seems to be a good fit with the Rockets. "He has two skills," D'Antoni said. "One is shooting, which is off the charts and not just an NBA skill, but a top-level NBA skill. He can be a great shooter. The second thing is he really knows how to play offensively."
Meanwhile, former Zag and NBA veteran Ronny Turiaf
announced his retirement
Monday. Watch the video announcing his retirement below.