ON INLANDER.COM
NEWS:
Just as fast as it was here, a key part of the
24/7 shelter system in Spokane could have to close
, leaving hundreds of people with nowhere to go, because the system doesn't have enough money to keep operating.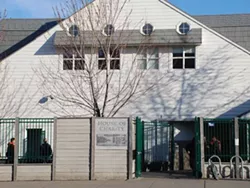 NEWS:
Do you think you know
a better way to plow snow?
Spokane wants to hear from you. Really.
IN OTHER NEWS
No sanctuary — or shutdown
President Donald Trump's main budget official, Mick Mulvaney, is pushing to include language
that would restrict federal funding for sanctuary cities
— those cities that have said they won't enforce federal immigration law — in a budget bill that would avoid a government shutdown,
Politico
reports. (
Politico
)
Idaho grocery tax will stay
Idaho
Gov. Butch Otter vetoed a repeal of the state's grocery tax, again
, but let a road repair package stand, the
Idaho Statesman
reports. (
Statesman
)
Important investigations
On Monday, the 2017 Pulitzer Prizes were announced, and among the winners were investigations into opioid abuse and overdose deaths, evictions of poor minorities, sexual assault on a university campus, and a government-led killing campaign against drug dealers and users. See
the full list and read some of last year's best reporting here
.
Putin on the delay
Secretary of State Rex Tillerson had to wait most of the day to see if he'd get to meet with Russian President Vladimir Putin, who did eventually
sit down with him Wednesday to talk about Syrian-government-led chemical attacks
that may have been launched from a base where Russian troops are, the
New York Times
reports. Putin reportedly denied that charge and said it was made up to create conflict. (
NYT
)