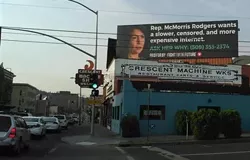 "Rep. McMorris Rodgers wants a slower, censored, and more expensive internet."
At least, that's what a billboard at the corner of Monroe Street and Mallon Avenue would have you believe.
But Cathy McMorris Rodgers, a Republican who represents the 5th Congressional District, says that's not the case — she says she's all for an open, fast internet, but believes that current regulations have slowed broadband development in rural areas like Eastern Washington.
The roughly $3,500 sign, funded by donations given to internet freedom advocacy group Fight for the Future, went up Monday
night,
and will stay there through Sept. 24.
It's the latest effort in a nationwide campaign by Fight for the Future to encourage people to speak to their elected representatives about protecting a fair internet.
The Federal Communications Commission has proposed rolling back net neutrality protections put in place in 2015 under former President Barack Obama's administration. The regulations classified internet service providers as public utilities, in part to ensure that companies couldn't charge some sites more money to make sure they load fast enough for their customers.
"We currently have billboards targeting nine members of Congress running across the country," says Fight for the Future campaigner Josh Tabish by email. "These lawmakers have all publicly supported FCC Chairman Ajit Pai's plan to repeal net neutrality, which protects Internet users and businesses against website blocking, traffic throttling, and new 'prioritization' fees from Internet providers."
McMorris Rodgers is among those who have questioned whether the 2015 regulations are an effective way to ensure "a free and open internet" that benefits everyone.
In May, she issued this statement supporting Chairman Pai's plan:
"This is not a question of the merits of net neutrality — this is about the FCC ramming through a regulatory framework that treats high-tech communications like they're a 1930s public utility. I applaud Chairman Pai's leadership in rolling back this heavy-handed approach. A free and open internet should benefit everyone, not just D.C. insiders. It's time for Congress and the Internet community to come together to find solutions that protect consumers without disrupting the free flow of information or stifling innovation."
McMorris Rodgers supports net neutrality standards that would prevent throttling or
blocking
sites,
but wants to encourage private sector investment in rural broadband.
Critics of the 2015 Open Internet Order, including Chairman Pai, say that rural broadband investments have declined due to the order.
But Mike Snider of
USA Today
reported in May that
it's more complicated
than that:
"A review of broadband investment over the past two years paints a more complicated picture. One study of the largest carriers, the basis for the FCC's claim, does show investment fell over the two-year period the rules were in effect.

But that was largely due to AT&T. It's blamed the Open Internet rules for decreased broadband investment. Analysts point out, however, that like other large carriers it was engaged in a competitive shift that likely played a role — two mammoth acquisitions including the $85.4 billion deal for Time Warner. At the same time, Comcast — another big spender of broadband investment — increased its outlays by double digits."
Regardless, supporters of rolling back the order, including McMorris Rodgers, say that Congress will need to come to a solution that works for internet service providers, customers, and tech companies alike.
"I support a free and open internet and working in a bipartisan fashion with Congress and the entire internet community to reach a solution that ensures openness without discouraging innovation and investment in rural communities," McMorris Rodgers said in a written statement yesterday. "This is about providing a regulatory framework that meets the needs of the 21st Century."
Fight for the Future opposes any legislation that would undermine the current FCC rules until viable legislation to replace them is on the table.
"We want Congress to hear from voters and exercise their oversight powers to ensure the agency truly represents the interests of everyday Americans — not a handful of deeply entrenched telecom giants," Tabish writes to the
Inlander
. "With no viable, strong net neutrality legislation on the horizon, Congress simply cannot allow the FCC to leave Internet users and businesses unprotected — and since Pai has signaled that he hopes to resolve the issue as early as October, and no strong legislation is in sight, it is essential that we maintain the existing rules to keep businesses and users across the country protected."
S

o why should you care about "net neutrality"?
Last Week Tonight
host John Oliver has rallied the call to support net neutrality on his HBO show over the past few years.
He pointed out on the show three years ago that the term isn't exactly sexy:
"The only two words that promise more boredom in the English language are 'featuring Sting,'" Oliver joked.
But to illustrate the importance of a neutral internet, he asked people to imagine if a major internet provider, such as Comcast, demanded a popular service — say, Netflix — pay up or have their speed throttled.
That's not just a hypothetical: it happened in
2013,
when Netflix speeds on Comcast plummeted until Netflix finished negotiating a deal, Oliver points out in a segment from June 2014 (watch until about 4:40):
"That has all the ingredients of a mob shakedown," Oliver says, adopting a mobster's accent in continuing: "Netflix,
nice
show about life in a ladies' prison. Such a shame if there was gonna be something happened to your connection there. So frustratin' that would be."
Netflix has accounted for more than a third of internet traffic in North America in the past few years,
according to Sandvine reports
.
Now that Netflix has gotten so big, even it has loosened its stance on net neutrality. In March,
Jacob Kastrenakes reported a timeline of Netflix's changing views
for
The Verge
:
""Even if the formal framework gets weakened," (Netflix CEO Reed) Hastings said in response to questions from The Verge, "we don't see a big risk actualizing, because consumers know they're entitled to getting all of the web services.""
While some companies like Netflix might be able to afford the "shakedown," Oliver explains that startups without the same financial might could be shut out. Internet companies could pick favorites, or in instances where their own products compete with others, prioritize their own services.
More recently, Oliver encouraged viewers to comment on the proposed rollback, creating the website
GoFCCYourself.com
to redirect people straight to the hard-to-find FCC page, where comments on the proposal may be made through today.