ON INLANDER.COM
NEWS:
Spokane will
start equipping more of its police
with naloxone, a drug that can quickly reverse the effects of opioids.
FOOD:
Ian Wingate, the local chef who developed the Davenport Grand's Table 13, has
left the hotel
to start a new restaurant on the west side of the state. Evan Tewel, who used to work with Wingate, is taking the helm.

IN OTHER NEWS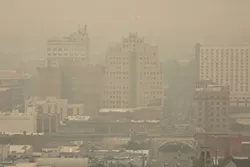 Don't go outside
Smoke
has filled Spokane
, the surrounding region, our lungs, and summer's precious remaining days. How bad is it? The air quality is hovering between "very unhealthy" and "hazardous," which is the worst reading
on the scale
and comes with a recommendation to do as little outside physical activity as possible. Where is the smoke coming from? Montana and British Columbia, mostly — though wildfires
cover the western U.S.
Will it improve? Likely not until Thursday or Friday.
Trump ends DACA...
President Donald Trump will
end the Deferred Action for Childhood Arrivals program
, or DACA, an Obama-era program protecting young undocumented immigrants from deportation. The U.S. will no longer accept new applications from undocumented immigrants who were illegally brought to the U.S. at a young age by their parents. DACA's current 800,000 beneficiaries will not be immediately affected. (
New York Times
)
...but Inslee, Ferguson may fight him
Washington Gov. Jay Inslee and Attorney General Bob Ferguson
threatened yesterday
to take legal action against the Trump Administration if it ends DACA. (
Spokesman-Review)

Another hurricane to hit U.S.
Hurricane Irma is
now a Category 5 storm
, the strongest hurricane ever recorded outside the Caribbean and the Gulf of Mexico. It's on a collision course with the Virgin Islands, Puerto Rico, Dominican Republic, Haiti, Cuba and the Bahamas, and it's likely to hit somewhere in Florida over the weekend. (
Washington Post).