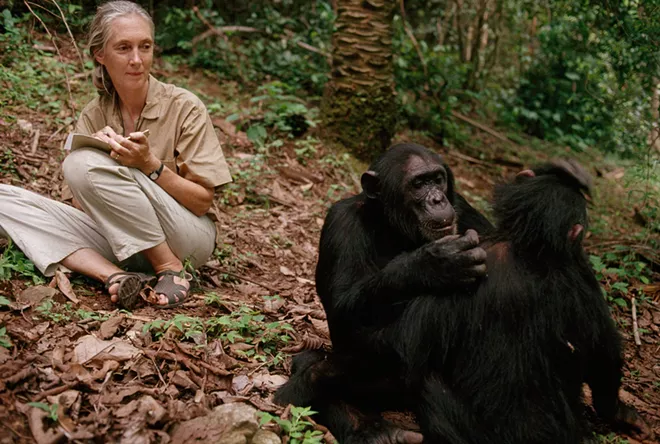 If you've got some downtime when you aren't gorging on Thanksgiving leftovers — and you're willing to put on pants and get out of the house — there are (finally) some interesting new films in theaters. Amongst them: the latest colorful effort from Pixar, an eye-opening nature documentary, and a coming-of-age comedy that's certain to be one of the best movies of the year.
COCO
(3 stars)
On the eve of Día de los Muertos, 12-year-old Miguel finds himself in the land of the dead, where he discovers he's descended from a legendary Mexican musician.
In his review
, Eric D. Snider says the latest from Pixar creates a vivid world and then runs around in it, all while conveying a message about the importance of family that actually feels sincere. Rated PG.
JANE
(3 stars)
Documentarian Brett Morgen explores the early life and groundbreaking work of Jane Goodall, whose up-close-and-personal studies of African chimpanzees had seismic effects on science. Most of the film consists of astonishing, never-before-seen footage shot in the 1960s by nature photographer (and Goodall's husband) Hugo van Lawick. At the Magic Lantern. Rated PG.
LADY BIRD
(4 stars)
Greta Gerwig's first foray behind the camera is a funny, observant and empathetic coming-of-age story about a fiercely independent teenage girl finding her true identity in post-9/11 Sacramento. Saoirse Ronan is phenomenal as the title character, as is Laurie Metcalf as the mother she's often at odds with. A remarkably assured directorial debut. Rated R.
THE MAN WHO INVENTED CHRISTMAS
A fictionalized account of the creation of Charles Dickens' 1843 novella
A Christmas Carol
, which became perhaps the definitive yuletide text. Dan Stevens plays the beloved author; Christopher Plummer embodies everyone's favorite miser Ebenezer Scrooge. Rated PG.
ROMAN J. ISRAEL, ESQ.
The writer-director of
Nightcrawler
is back with another study of a driven professional, though this guy is far less menacing than the earlier film's Leo Bloom. Denzel Washington is a meek defense attorney who's thrust headfirst into the cutthroat legal world after the partner in his law firm dies unexpectedly. Rated PG-13.