Awards season is really heating up: The
National Board of Review
and the
New York Film Critics Circle
have named their choices for the best of the year, and the
Gotham Awards
were handed out over the weekend. But it's another slow movie week, with no new wide releases to speak of.
What we
are
getting: A couple of acclaimed arthouse films, and a classic that returns to big screens 20 years after its debut. Here what's opening.
NOVITIATE
(at the Magic Lantern)
An exploration of sin, faith and religious discipline set in the early 1960s, when a young woman (Margaret Qualley from
The Nice Guys
) escapes a troubled home life and starts studying to become a nun. Oscar winner Melissa Leo co-stars as the punishing Mother Superior. Rated R.
THREE BILLBOARDS OUTSIDE EBBING, MISSOURI
(2½ stars)
When her daughter is murdered, an angry mother (Frances McDormand) erects a trio of uncouth billboards calling out the local police department, causing a stir in her tiny town. In his review running next week, critic Seth Sommerfeld praises the film's all-star cast, but sayswriter-director Martin McDonagh's script is tonally inconsistent. But if you liked McDonagh's previous films (
In Bruges, Seven Psychopaths
), you'll probably dig this one, too. Rated R.
TITANIC
Wanna feel old? It's been 20 years since James Cameron's epic historical romance broke box office records, turned Leonardo DiCaprio and Kate Winslet into bona fide movie stars and made it so you couldn't walk five feet without hearing that damn Celine Dion earworm. Now it's back on the big screen in Dolby-capable cinemas. Read MaryAnn Johanson's reflection on the film's strange cultural influence
here
. Rated PG-13.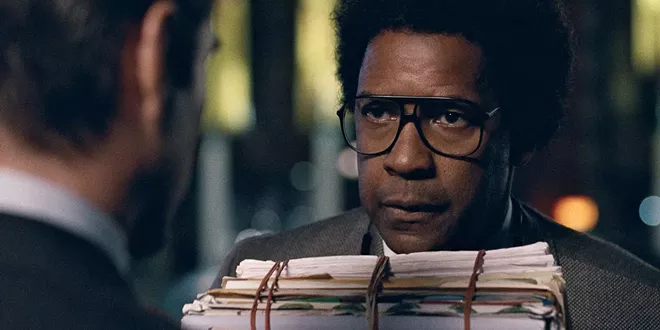 Also Playing
JUSTICE LEAGUE
(1½ stars)
It
is
as bad as you've been hearing. DC's latest attempt to out-Marvel Marvel is mostly turgid, with a game cast up against a forgettable villain, mediocre special effects and a bunch of tacked-on jokes that are only there to remind us they're not taking things too seriously. Rated PG-13.
ROMAN J. ISRAEL, ESQ.
(2 stars)
Dan Gilroy's follow-up to
Nightcrawler
is a morality tale about an eccentric, by-the-book attorney (Denzel Washington) who's thrust unexpectedly into the cutthroat L.A. legal world and finds his ethics compromised. Part character study and part thriller, but mostly dull and unfocused. Rated PG-13.