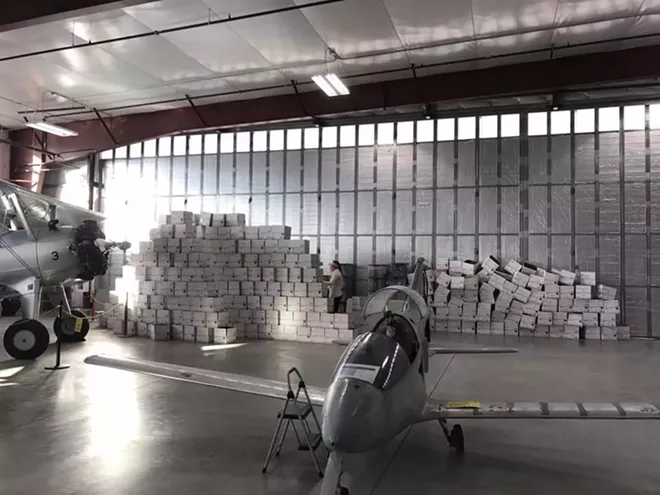 Over the last three years, Dawn Worrall has rallied the troops at home to help lift the spirits of troops abroad by putting together care packages, and now she's putting out the largest call to date.
This Wednesday, she's looking for volunteers to help put together 325 kits for the 300 Boodle Brigade, an effort started by a fellow West Point Military Academy military mom.
"This was first started in 2012 by a mother whose son graduated from West Point," Worrall says. "When he was deployed, he said, 'None of my enlisted men are getting packages.'"
So that year, his mom sent 300 boodles – that's what they call care packages at the military academy, says Worrall, whose own son Peter is now a senior (ahem, a "Firstie") at the school.
At first, Worrall volunteered to help put together 10 packages, and beat her goal by putting together 48 with friends and family. Since then, her work has expanded to a year-round effort to compile hundreds of care packages across the seasons to send to men and women deployed with every branch of the military.
The kits include individually wrapped gifts that vary depending on the needs of each person. Sometimes they include socks, headphones, sunscreen, spices to put on MREs (meals ready to eat), magazines, letters, and more.
Under the name
300 Boodle Brigade-Spokane
, Worrall's groups have put together packages for troops in Iraq, Afghanistan, Kuwait, Jordan, Korea, and more.
"When the
ships collided (in Japan)
the sailors lost a lot of things, so we sent packages there," Worrall says.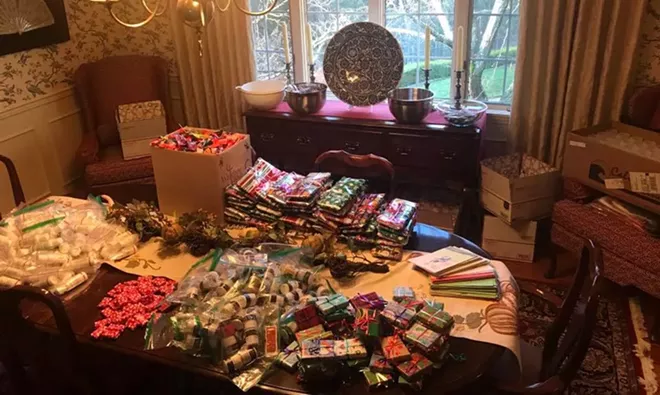 Worrall says she knows there are moms out there who worry about where their kids are, and she hopes the packages offer needed comfort to those who serve.
"I think it's important to do the whole year and every branch," Worrall says. "I'm a military mom, a JV version right now because my kid's just a senior at the military academy, but I know how it feels. It's starting to light a little fire in my heart about where he's going to go."
For now, her work is simply done as a volunteer, and she hasn't established the local group as a nonprofit yet, but may look into it at some point. This year alone, she's raised $8,000 just to ship the packages.
Worrall works to find businesses and donors from all over the country, and gathers help putting the kits together by engaging with classrooms, sports teams, community organizations. Now she's hosting her largest gathering yet: the first ever
Boodle Bash.
From
6:30 p.m. to 8:30 p.m.
Wednesday, Dec. 6
, the eve of Pearl Harbor Day, Worrall and volunteers will put together 325 care packages for deployed troops and share some holiday spirit at the bash. It will take place at the
Honor Point Military and Aerospace Museum, 6095 E. Rutter Avenue, at Felt's Field Flight Center.
At the free event, volunteers can hear a live rendition of the national anthem, see the Gonzaga ROTC color guard present the flag, listen to holiday music from a live string ensemble, enjoy some treats, enter a prize drawing, and, of course, help assemble kits with elements that have been compiled by community groups over the last few months.
Volunteers will work assembly-style to put together the packages, and all ages are welcome, Worrall says.
"It's fun for me," Worrall says. "I'm a former elementary school teacher, so I like giving people tasks that are short term, and you can measure your achievement, and it's for somebody else."