Leading up to the city's annual point-in-time count, Spokane is asking for donated items that can be handed out to people experiencing homelessness as they are contacted for the count.
The point-in-time count is intended to capture a snapshot of the scope of homelessness on a single day and gather data that can help the city and service agencies know where to focus their efforts.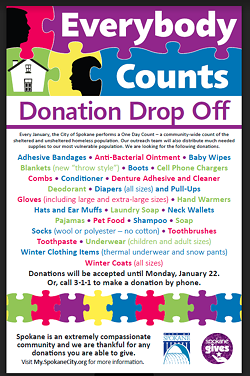 In late January the city will send out people to count and talk to people living in shelters, on the streets, and in other situations because they don't have homes. While they do so, the city wants workers to be able to hand out needed items to those they encounter, and that's where the city is asking for your help.
Here's what they hope you'll donate to the Everybody Counts drive before Jan. 22:
Anti-bacterial ointment

Baby Wipes

Band-Aids

Blankets (new "throw style")

Boots

Cell phone chargers

Combs

Conditioner

Denture adhesive and cleaner

Deodorant

Diapers (all sizes) and Pull-Ups

Gloves (including large and extra-large sizes)

Hand warmers

Hats and ear muffs

Laundry soap

Neck wallets (wallets on a string you can wear around your neck)

Pajamas

Pet food

Shampoo

Soap

Socks – wool or polyester (cotton doesn't allow the feet to dry if they get wet)

Toothbrushes

Toothpaste

Underwear (children and adult sizes)

Winter clothing items (including thermal underwear and snow pants)

Winter coats (all sizes)
You can donate items to drop boxes at any of the following locations (or by calling 311):
Eastern Washington University Riverpoint campus, Spokane Falls Community College, Spokane Community College, Police Stations (north, downtown and south hill), Mobius (both locations), Downtown Library, Shadle Library, South Hill Library, Valley Library (all county libraries), Airway Heights Library, Argonne Library, Cheney Library, Deer Park Library, Fairfield Library, Medical Lake Library, Moran Prairie Library, North Spokane Library, Otis Orchards Library, Spokane Valley Library, The BookEnd (at Spokane Valley Mall), Umpqua Bank (all locations), Downtown Spokane Partnership (DSP), Spokane Federal Credit Union, Fire Station 1, City Hall, Spokane Housing Authority, Excelsior Youth Center, and United Way of Spokane.