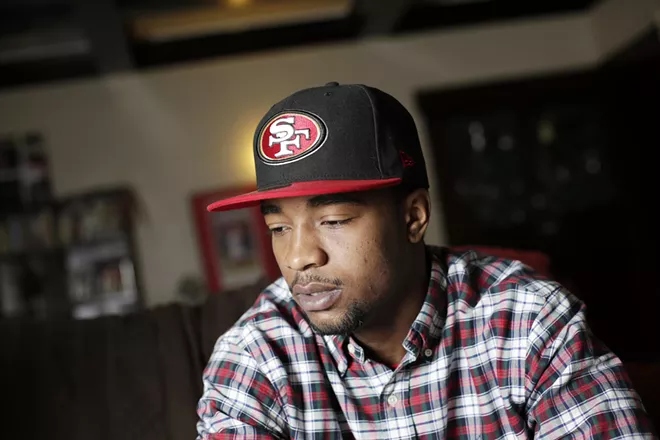 T
he Washington State Court of Appeals
upheld
a Spokane
trial court's decision to dismiss the first-degree murder charge
against former Eastern Washington University football player LaShawn Jameison.
The appeals court also upheld the court's dismissal of 12 of 14 drive-by shooting charges, and sent the case back to the lower court for dismissal of the remaining two drive-by charges.
In his opinion, Judge George Fearing expressed concern about Spokane County prosecutors' theory in charging Jameison, who did not fire the bullet that killed an innocent bystander.
"We worry about the ramifications of the state's theory of criminal liability," Fearing writes. "If one stretches the state's argument, LaShawn Jameison would be held responsible for his own murder," if the fatal bullet had struck him.
Jameison will soon be clear of all criminal liability for the deadly incident outside the shuttered Palomino Club in 2016, but he still has a long way to go.
"His reputation took a major hit, he got kicked out of school, lost his scholarship," Jameison's attorney, Josh Maurer, says via text message. Maurer adds that after his arrest, Jameison was unable to return a laptop computer he'd borrowed from EWU. The school charged him $50 per day and is refusing to release his transcripts until the fine is paid in full, Maurer says.
Jameison estimates the total is between $5,000 and $6,000.
EWU spokesman Dave Meany could not confirm whether Jameison has outstanding fines but says generally the school will withhold transcripts from students until they are paid in full.
I
n 2016, Jameison and his friend,
Kwame Bates, were charged with
first-degree murder by extreme indifference
, along with 14 counts of drive-by shooting stemming from a gun battle outside of the Palomino Club.
A confrontation between Bates and another man, Anthony Williams, spilled into the parking lot after Williams apparently shoved a woman. Eventually, Williams retrieves a handgun, and surveillance footage shows both Bates and Jameison doing the same.
As Bates and Williams continue to talk back and forth, Jameison, who has said he could sense what was about to happen, and separates himself by crouching behind a nearby car while Bates stands near the car he drove to the club, according to court documents.
Next, Williams fires at Bates, but instead hits Eduardo Villagomez, a bystander who was also an EWU student. A fleeing car then drives over Villagomez's body. He turned 21 years old just three days before.
Bates runs to where Jameison is crouched behind a car and returns multiple shots. Jameison also fires at most two shots, according to court documents. He has claimed that he only fired once. Neither Bates' nor Jameison's bullets hit anyone.
In charging Jameison with murder, Spokane prosecutors argued Jameison bore "accomplice liability," in Villagomez's death by arming himself and "squaring off" with Williams.
Jameison argued that he could not be held accountable for Villagomez's death because he was crouched and hiding behind a car when the fatal shot was fired.
The Court of Appeals rejected the state's argument. Fearing writes: "No evidence directly confirms that Jameison concurred in Williams shooting at Jameison's direction. Experience, common sense and logic easily depict Williams acting on his own without any consent from Jameison or Bates. The state in essence portrays LaShawn Jameison and Anthony Williams as agreeing to a duel. The totality of the undisputed facts, however, leads one to conclude that Jameison never consented to a duel."
Spokane County Prosecutor Larry Haskell says he is still reviewing the appeals court's opinion and has not yet decided whether he'll appeal to the state Supreme Court.