When weeknight happy hour turns into dinner turns into a full night out at one of the Inland Northwest's many local bars and restaurants, don't get caught without your best trivia teammates or karaoke duet partners. Here, we highlight a variety of popular (and perhaps a few lesser-known) events to get you through the week until Friday night hits, which usually means lots of live music and other gatherings to fill your social calendar.
While many of the following events are sure to happen weekly, keep in mind that it's not unusual for bars to switch things up at a moment's notice, including changing times, hosts or day. Keep in the loop by visiting the Inlander's regularly updated online events calendar (inlander.com/events), or call ahead and check your social media channels for the most up-to-date info, including, sometimes, trivia category previews.
Monday
Celebrate getting through the first workday of the week and treat yourself to one of the most loved trivia nights in town — voted the best in the city by Inlander readers the past two years — at PRESS bar on the lower South Hill, starting at 8:30 pm. If you've never been, take to heart a few rules set by the event's charismatic and no-nonsense host, Colin Burk: No phones, don't shout out answers, write legibly, and "don't be a dick."
If you're a Northside dweller, the Garland Theater's cozy little counterpart BON BON also hosts a team trivia night, starting at 7 pm. Happy hour (4-7 pm) here also runs right up until start time, so fill up on bar snacks like popcorn, nachos and a hummus platter, and drink specials — the $5 cocktail list is one of the best in town, and beer and wine is also $1 off — while you wait.
For both the youthful and non-collegiate residents of the Palouse, RICO'S PUB on Main Street in downtown Pullman hosts the town's purported longest running open mic every Monday from 9-11 pm. A full menu of salads, sandwiches and burgers are served late, until 11, with bar snacks for the even later crowd available until 1 am. Sweetening the deal even more: PBR is also only $2 a pint, or $6 a pitcher.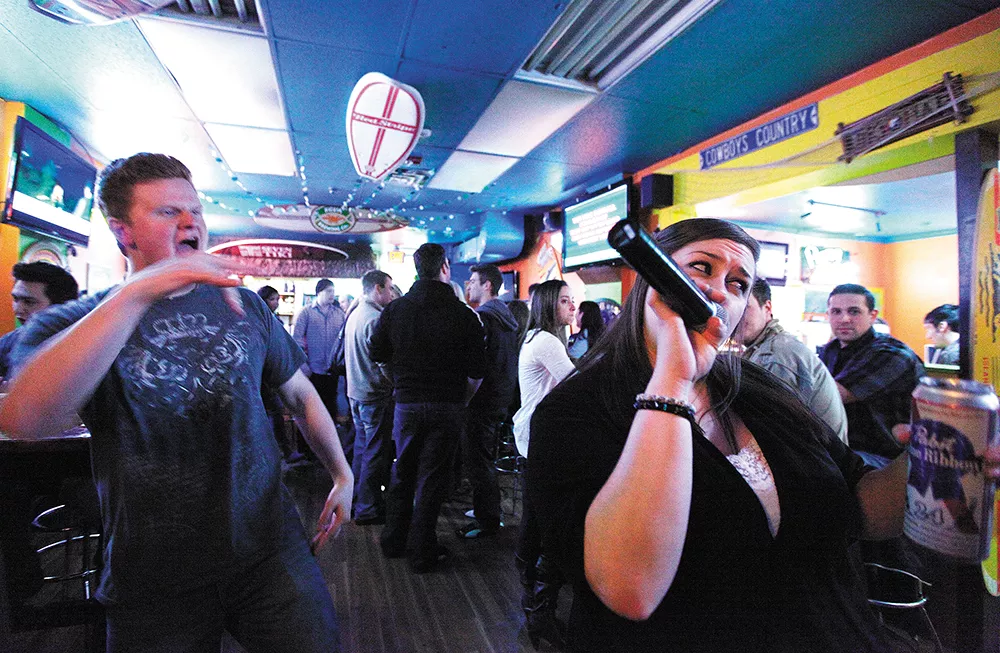 Tuesday
If Mondays aren't your favorite night to head to a local pub, try Tuesdays — there are plenty of events going on, like Bent Trivia night (8-10 pm) at THE GLOBE BAR & KITCHEN in the heart of downtown Spokane. The local trivia hosting service offers events at bars across the region throughout the week (check out benttrivia.com for other times and locations), and always features a variety of topics and category formats, like multiple choice and fill in the blank.
Maybe your competitive streak yearns for another type of skills test. Head to THE OBSERVATORY for Tuesday night board games, including corn hole, giant Jenga and more. The downtown bar also boasts a worthy collection of traditional board games, or bring one of your own — Exploding Kittens, Spot It!, Sushi Go or Cards Against Humanity, anyone? — and make some new friends. To keep everyone hydrated, the day's special is $2 tall cans of Rainier.
On any weekend night, passersby can hear, from blocks away, passionate karaoke singers belting it out at the MONTEREY CAFÉ. It's the best spot in town to sing your heart out to classics like "Sweet Caroline" and "I Will Survive," as voted by Inlander readers, which means the modestly sized bar tends to get busy on Friday or Saturday. Karaoke happens every night at 9, so get out there and practice hitting the high notes before your big weekend performance.
Wednesday
You're halfway there. Give your brain a break from spouting off random facts at trivia or singing your heart out behind the mic, and head to Post Falls for Whiskey Wednesday at ENOTECA: FINE WINE & BEER. There's little else to say here, other than pours of every single whiskey, bourbon and scotch served at this specialty bar and attached retail shop are included in the special, which runs all day.
With only two days left in the week, let loose a little with some gut-busting laughter. The SPOKANE COMEDY CLUB has an established reputation for bringing in plenty of nationally known names (Bob Saget, Brian Posehn, Tom Green) since opening in 2016, but it also hosts some of the region's funniest up-and-comers during Wednesday's free open mic night, starting at 8 pm. Doors open at 7 for this 21+ event.
Maybe you'd prefer something more chill, like listening to some sweet poetry lines performed behind the mic? The longest-running event hosted by Spokane Poetry Slam, Broken Mic on Wednesdays at NEATO BURRITO is Spokane's essential performance poetry night. Broken Mic kicks off at 6:30 pm, and while it's free and open to all ages, keep in mind that content is never censored.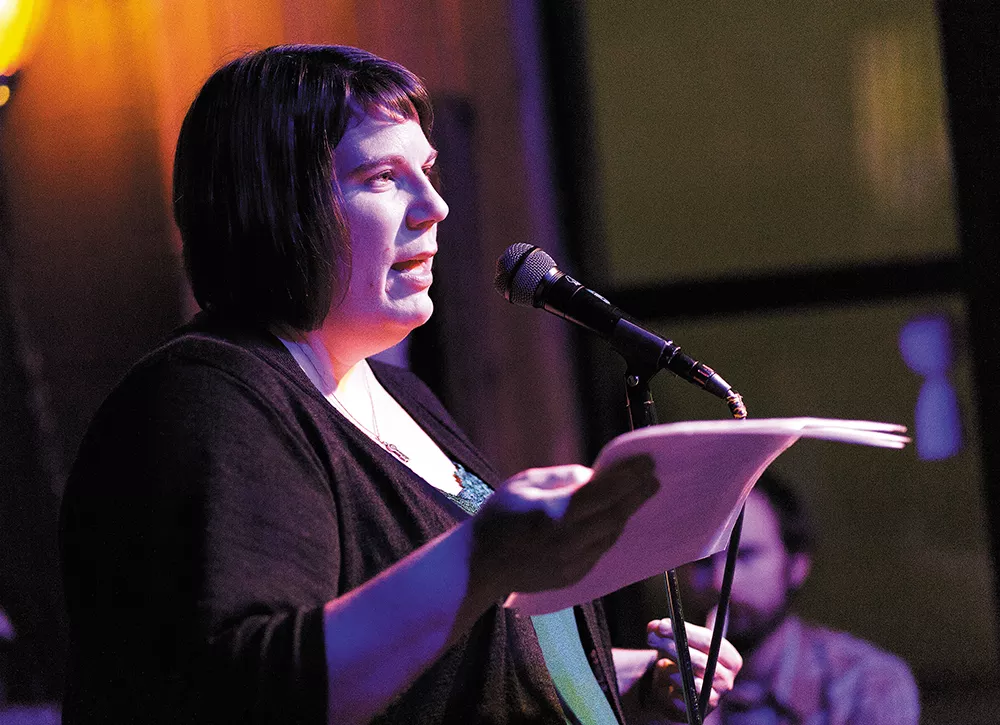 Thursday
Options for evening entertainment are starting to pick up by Thursday, but for something different than your average trivia competition or happy hour, head to PROHIBITION GASTROPUB on North Monroe for Scotch and Cigar night, starting at 7 pm in the summer, 6 during the cold season. Held on the pub's expansive covered (and heated, when it's cold) patio out back, Cigar Train of Spokane brings dozens of stogies to choose from — and an expert to make recommendations — while the bar offers scotch flights ranging from $12 to $30.
While JJ'S SMOKE AND TAPHOUSE in the Indian Trail neighborhood is perhaps better known for their killer trivia night every Wednesday (they offer table reservations and give away up to $150 in prizes), the barbecue joint's Thursday bingo night is another option. As players enjoy the free event starting at 7, they're treated to discounts on specialty cocktails and $2 ribs.
If rockin' or chillin' out to some sweet tracks is more your jam, THE OBSERVATORY hosts another variation for the music scene with Thursday night's Vinyl Meltdown, starting at 8. Bring any tunes on vinyl and they'll play them at some point in the evening, during which patrons can also enjoy $5 shots of select premium tequila (if that's your jam, too.)
Friday
Put your dancin' shoes on, because the weekend's here and you're going dancing, starting with the weekly salsa dance party at SATORI dance studio in downtown Spokane. Held every Friday from 10 pm to 1 am (also on Saturday, from 9 am-midnight) the open dance session costs $5 per person. Check out the studio's online calendar for a class schedule (satorispokane.com) if you need to learn or dust off the right moves.
While there's less chance of your own participation, the Friday night belly-dance performances at RED DRAGON CHINESE, starting at 5:30 pm in the lounge, might be enough to nudge some in the audience to pursue local classes in the Middle Eastern dance style. (Ask any performer here for recommendations.) For those itching to shimmy their hips, check out the monthly hafla, a community dance, on the second Saturday of the month, with details at reddragondelivery.com.
If these more sensuous dances aren't to your taste, there's always country-western swing. Head to Post Falls' NASHVILLE NORTH on Fridays for some country dancin' lessons offered from 7:30-8:30 pm, for $5 per person. Led by local instructors from the Swinging Boots (find more about them on Facebook, including other local venues they teach at), attendees learn country swing moves and line dancing. Plan to stick around for live music or a DJ, drink specials and food, and to practice your steps.