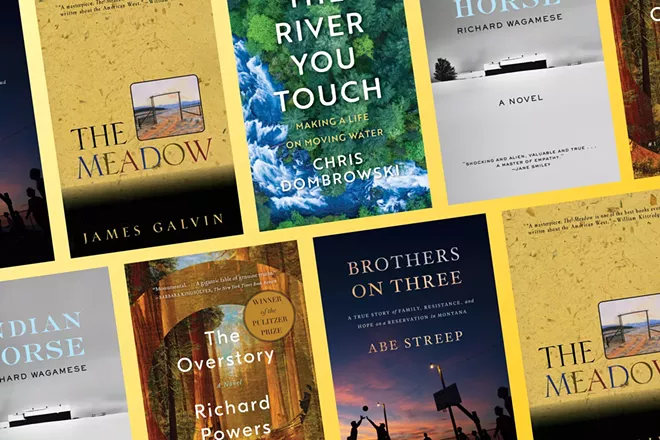 At the end of every year, I revisit the books I read the previous months. As I narrowed my 2022 favorites to five books, a Grand Teton-sized theme towered. Each dealt with the West.
For those who share my passion for the West and who want to address the challenges threatening it, I recommend reading these five books in 2023, if you haven't already.
My first selection might seem an odd choice for someone who never identified with the monkey-wrenchers who camped in the conifer canopy preventing trees from being felled. I grew up around logging. My grandpa repaired both the trucks that transported the harvests of clear-cuts and the cats that cleaved roads from mountainsides. My great uncle was a freelance or contract logger, what today we might call a gig-logger.

Dad's cousin left for work in the woods one sunrise, and it fell upon his aunt, my grandma, to tell his widow he wasn't coming home. I kept his kids busy chasing chickens while grandma took her inside to talk. I saw her start crying as soon as grandma got out of the car. Loggers' wives know.
Dad set chokers and was a powder monkey the summer after his freshman year at Eastern. He gladly returned to Cheney to finish school. I'm unsure whether it was despite or because of my background or because I read it while hiking in California's redwoods, but Richard Powers' novel THE OVERSTORY was one of my favorite reads of 2022.
It will be remembered as one of the best books of the early 21st century. Read it and you won't look at trees or forests — or our relationship with them — in the same way. I'll still never side with a tree-spiker, but in an age of climate change, destructive forest fires and the collapse of too many species, The Overstory reminds us we live in a tower of sticks more interrelated than we appreciate. We can only pull out so many sticks before our tower crashes.
RECOMMENDED READING
THE OVERSTORY
By Richard Powers, 2018
THE MEADOW
By James Galvin, 1992
THE RIVER YOU TOUCH
By Chris Dombrowski, 2022
BROTHERS ON THREE
By Abe Streep, 2021
INDIAN HORSE
By Richard Wasamese
T
wo books I will reread,
maybe more than once, are rooted in a sense of Western space and tell the story of people who are shaped by the landscape more than they shape it.
James Galvin's THE MEADOW is a lyrical journey a handful of characters take as they carve out lives in a Colorado meadow. Sometimes they harness its power, sometimes that power humbles them. Sometimes their morning view out a frosty pane whittles them to silent awe. Their lives, which cannot be extricated from the life of the meadow, drive this dreamy narrative, but the enduring meadow is the central character.
Moving through life in awe and with humility is the foundation of Chris Dombrowski's THE RIVER YOU TOUCH. This treasure of a memoir is a poignant exploration of fatherhood and friendship, fly fishing and hunting, and how to mindfully make one's way in a noisy, sometimes messy world, navigating births and deaths, almost always within a shady walk of a refreshing river pool or the solace grasped on a stretch of trout water.
Making one's way in a messy world is also the heart of my other two favorite books I read in 2022. One made me cheer and keep glancing at the clock as if I were courtside watching the basketball game, and the other made me ache for a guy who'd known too much confusion and betrayal far too young.
Abe Streep's BROTHERS ON THREE is the true story of the Flathead Reservation's Arlee Warriors' rise to Montana's state basketball championship tournament. (Hoopfest makes an appearance.) It's the story of kids struggling to become more than they are without losing who they are, but even more than that, it's the story of community — a community shaped by the West and its history. You will scream and chant them through every jump and stumble, every layup and foul. I did not want this book to end.
Richard Wagamese's novel INDIAN HORSE follows Saul Indian Horse from a boney existence with his grandmother to his kidnapping to a Canadian Indian "residential school," his prowess on the ice where legacies of the West could not remain buried. And it's about an enduring, embracing community.
The arrogance and ignorance of biodiversity destruction, the wonder of those who are awed by the West and their evolving place in it, the legacy of racism, brutality and communities that endure despite all that, these themes are all captured in these five books. And they're a great way to start your 2023 reading list. ♦
Bill Bryant, who served on the Seattle Port Commission from 2008-16, ran against Jay Inslee as the Republican nominee in the 2016 governor's race. He is chairman emeritus of the company BCI, is a founding board member of the Nisqually River Foundation and was appointed by Gov. Chris Gregoire to serve on the Puget Sound Partnership's Eco-Systems Board. He lives in Winthrop, Washington.