This was supposed to be their spring.
My son H just turned 11, his brother D is 8-and-a-half. We live in an idyllic neighborhood in Moscow, Idaho: oaks and maples towering over 1960s ranchers with big back yards, parks and playgrounds and ballfields, friends around every corner.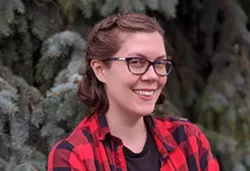 When the snow fell in January, the boys bundled up and waddled down the driveway dragging sleds. When the sun came out in February, every weekend afternoon was punctuated by a grinning neighbor kid or two knocking on the front door.
A few weeks ago, D had his first sleepover without his big brother. H walked to the grocery store a mile away by himself for the first time, rushing home to report he was six cents short and needed to go back.
This was supposed to be the spring of freedom for my boys.
But for almost two weeks now, they haven't left the house without me or my husband. The lockdown seemed to hit our neighborhood in waves — on our first awkward, Mom-chaperoned walk, they eyed kids crawling on the playground at their just-shuttered school. H stared at the sidewalk when a pack of girls he knows dashed by, someone shouting, "Don't make eye contact, it might spread the virus!"
I hoped I was overreacting, that my kids would be back on that playground in days, their independence restored, their world as safe as they've always known it. But as the gravity of the pandemic sunk in, the streets grew quieter and quieter. When two weeks of canceled school became a month became a month and half — with everyone whispering it might be more — I saw the magical spring I'd imagined for my kids go dark.
Among all the losses and horrors that have torn me from sleep or invaded my thoughts in the last few weeks, this has hit unexpectedly hard.
Sometimes I try to reason myself out of it. If this is about saving lives, how I can I justify feeling sad about a few lost adventures? I recognize my privilege in this situation, too. My husband and I have jobs that translate well to working from home, so we haven't worried about child care, unlike so many other families. We own a small but comfortable home with a big bedroom for the kids and a yard to run around in. All in all, this isn't a bad place for two little boys to be stuck for a few weeks. Or a few months.
Still, I remind myself that I, and everyone else, should be allowed to mourn what we need to mourn in this bizarre and exhausting time. I have to let myself grieve, and I have to let my children know it's OK to grieve, too.
I don't want to force joy, as much as we need it. I feel sappy when I say the losses help us recognize what we have. But the bright moments keep fighting their way in – so often in this area of loss.
H had his first phone call with his best friend, who lives three blocks away. His world has always been touch-screens and FaceTime — he didn't even know how to hold a phone and just talk into it. I cracked up as he held it away from his face, shouting enthusiastically, tripping through how to have a conversation in this odd new way.
Another day, D was silent when he was supposed to be video-chatting with his close friend from down the street. I stuck my head in the room to see what had happened and found he and his buddy were just watching each other play.
On a recent Mom-chaperoned walk, we passed the house of the boys' most frequent partners-in-roaming-the-neighborhood and discovered they'd drawn games and notes in sidewalk chalk outside their house. They were waiting at the window, laughing and cheering as H and D tumbled through hopscotch and read every message aloud.
They aren't running around the neighborhood or having sleepovers or playing in the park, but my boys have never been so happy to hear their friends' voices or see their faces. Every little connection matters.
This isn't the spring I wanted for my kids. Nobody, obviously, wanted this. But it's what we've got.
This is our spring.♦
Tara Roberts is a writer and college journalism adviser who lives in Moscow with her husband, sons and poodle. Her work has appeared in Moss, Hippocampus and a variety of regional publications.