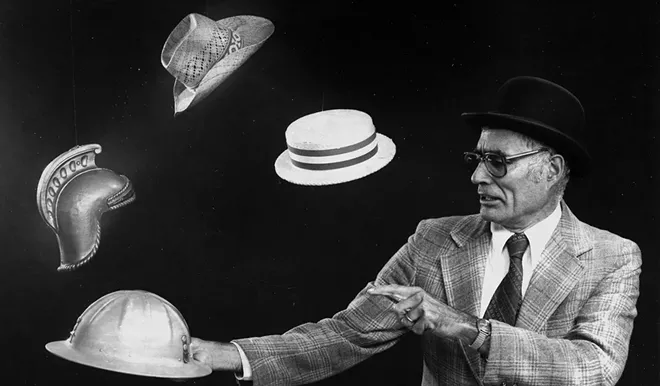 Everyone remembers the hats. Whether you're talking to Sydney Duncombe's family members, professional colleagues or former students, they all mention the array of headgear he would pull out in his University of Idaho political science classes that helped drive home his lessons to groggy undergrads.
"He had students play various roles to act out issues that were facing city and county governments," recalls Kenton Bird, one of Duncombe's students in the 1970s, and now a journalism professor at UI. "So there was a mayor and a developer and a chamber of commerce person and a city planner and city engineer, and they were all depicted by the various hats."
Of course, Duncombe was much more than a teacher with a good gimmick. He was an expert in government and fiscal analysis. He's revered among Idaho's political class for his knowledge and service — the award for the most-effective Idaho county government official is named after him — and at various points in his teaching career, Duncombe's hats adorned the heads of future Idaho politicians Dirk Kempthorne (governor, U.S. senator and Interior Secretary), Larry Craig (U.S. senator) and David Leroy (state attorney general and lieutenant governor).
What most of his friends, colleagues and former students didn't know about Duncombe, who died in 2004, was the literary heart beating inside the man. That aspect of his life was only recently rediscovered and brought to life through the efforts of his daughter, a curious Idaho historian and a small publishing house.
It turns out those hat-based role-playing games were just a brief glimpse into Duncombe's creativity.
Chris Carlson was searching the internet for Idaho political books when he came across a tome by Duncombe he'd never heard of. The former newspaperman and history author knew of Duncombe's academic work, but this was different, a book of fiction called The Unlikely Candidate that Duncombe had self-published after retiring from UI in 1987. It's about a conspiracy in the Idaho government that is discovered by a retired budget director — but not before a lot of murder and mayhem ensues. Carlson managed to find a copy, and "I was just fascinated by what I read."
"Syd's knowledge of Idaho comes through," says Carlson, an occasional contributor to the Inlander. "It was kind of an odd juxtaposition of politics and policy and a murder mystery."
Carlson started trying to track down Duncombe's daughter Mary Haley, herself a published author and the inspiration for a couple of characters in what Carlson soon discovered were Duncombe's "Idaho Trilogy" of novels; in addition to The Unlikely Candidate, Blizzard in August is a psychological thriller based on a real wilderness adventure that Duncombe and his daughter took years ago, and Freedom County is a prescient novel about authoritarian extremism running amok in a fictional Idaho county.
Haley recalls that while few people knew about Duncombe's fiction, he had a lifelong desire to pen novels.
"When dad was just going into college, he went to his mom and said, 'I want to be a writer,' and she read his stuff and said, 'Get a day job,'" Haley says with a laugh. "So he did."
"Dad's secret desire was that he wanted to run for the legislature after he retired from teaching, but he had cancer and my mom was sick. So he went back to writing."
With Haley's blessing, Carlson pitched the idea of publishing the Duncombe novels to Randy Stapilus, owner of a small publishing house called Ridenbaugh Press, which focuses on nonfiction. "This is the first fiction that I've done, and this was kind of an unusual case because of who Syd was."
Carlson ponied up the money to get 70 sets of the books printed and convinced some of Duncombe's fans and former students — including Kempthorne, Leroy and longtime Idaho journalist Rod Gramer — to write forewords. The family's share of any profits will go to the Sydney Duncombe Scholarship at UI.
Haley is happy that the books are seeing the light of day, and says that even though they're adventures and murder mysteries, "They have a lot of dad's political teaching and philosophy. Dad taught that the highest calling was public service."
That's something Duncombe exemplified in his own career as a teacher and government official, and it makes sense that his novels' heroes often start off as nondescript but hardworking bureaucrats.
Carlson has enjoyed his own adventure of helping bring these undiscovered novels to light.
"It's been a fun exercise, because Syd was such a wonderful person," Carlson says. "I've been delighted to help get Syd some attention from a new generation of Idahoans." ♦
Syd Duncombe's "Idaho Trilogy" is available for order at ridenbaughpress.com/sydduncombe.