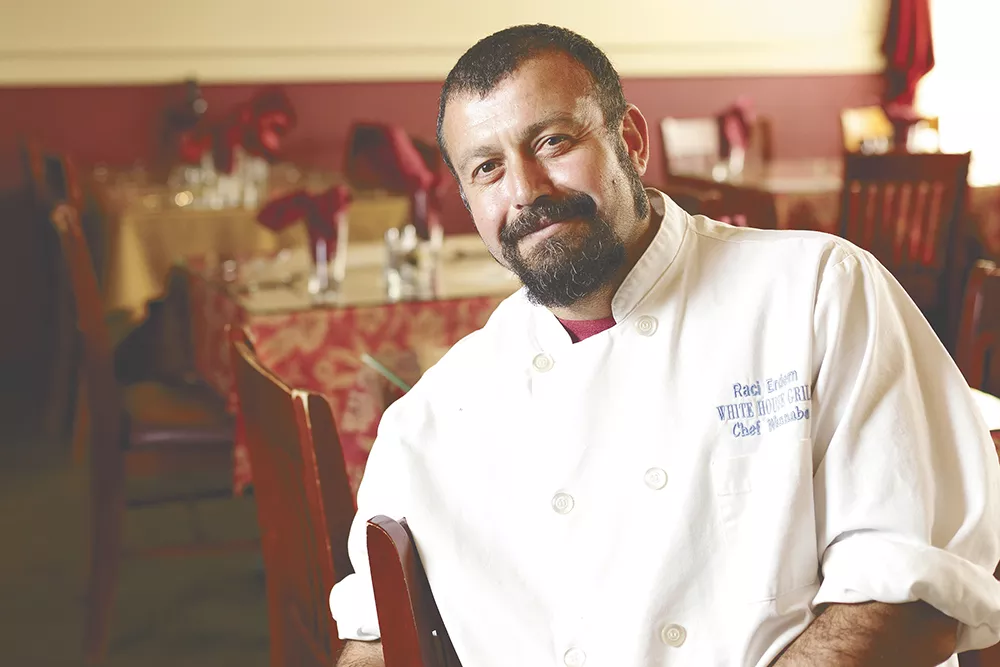 The Pentagon doesn't sound like a place one would expect to invoke enjoyment, yet that's exactly what longtime restaurateur Raci Erdem hopes will be the case with his new Liberty Lake restaurant named for the D.C.-based military headquarters.
Erdem not only has a history of naming restaurants after iconic Washington, D.C. institutions — the White House Grill and Oval Office, both in Idaho, and the former West Wing — he also has an admittedly irreverent sense of humor.
Take the photographs in the restrooms, for example. They're of Dalmo Santos, Erdem's original partner in the White House Grill, being silly. On another wall are framed photographs of local restaurants that have survived 20 years or more: Frank's Diner, the Onion, the Elk, but also White House Grill. Another photo is from the Disney/Pixar animated film Ratatouille.
"This one is the first time I did not put my ego in the restaurant," says Erdem, who sports a Sasquatch hoodie and faint stubble as he both answers questions and directs bustling staff.
He learned from prior experience opening the short-lived West Wing on the South Hill and had noticed that many customers at his Post Falls restaurants were from Liberty Lake. Besides a more manageable distance between his three locations, Erdem was also intrigued by the potential of the location which has been Café Liberty, Stilo's, Barlow's first location, and most recently the Cork House.
"I want people to come gather here," says Erdem, noting the proximity to a lot of businesses and residential homes. "Neighborhood restaurants are it," he adds, noting that the kitchen stays open until 11 pm and the bar even later to create more of a social club environment.
Pulling much of his menu inspiration from the Oval Office, Pentagon offers numerous shared plates: baked Brie in phyllo dough ($12), spicy Brussels sprouts ($9.50) and Indian naan pizza ($11), a new dish. Entrees include chicken fettuccine ($16), a lamb burger ($14) and large salads, such as the Moroccan spinach salad ($6.50/$9.50).
Most of the changes Erdem made to Pentagon involved décor, such as the bright yellow walls and a revamped bar space. Look for a few new cocktails that poke fun at prominent people in both political parties of the Turkish-born chef's adopted country.
When he opened up the kitchen to offer a partial view into its inner workings, for example, Erdem installed satirical political artwork on either side of the opening: one Republican, one Democrat.
"I had to separate them from each other," quips Erdem. ♦
Pentagon Bistro & Martini Bar • 1400 N. Meadowwood Ln., Liberty Lake • Open daily 11 am-11 pm • Facebook: Pentagon Bistro & Martini • 891-7790