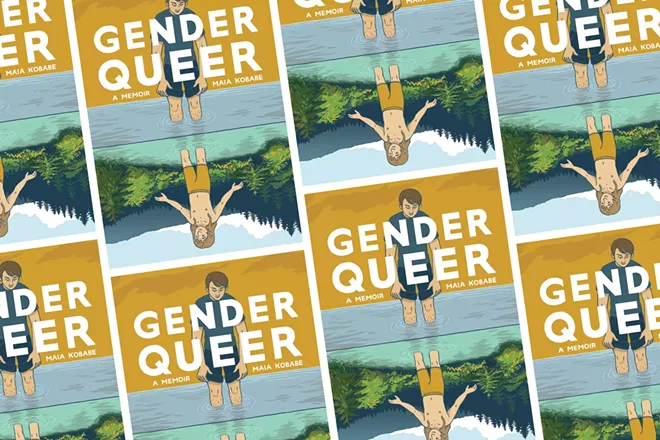 Dozens crowded into Liberty Lake's City Hall last week in anticipation of one agenda item: ordinance 119-C.
The innocuously named ordinance came about after Liberty Lake resident Erin Zusada asked that Gender Queer: A Memoir by Maia Kobabe be removed from library shelves due to sexually explicit illustrations. The ordinance, which has been revised again and again over the last seven months, would transfer control of the library from its board of trustees to the City Council, allowing them to approve and reject library policies, including what books to keep or remove from its shelves.
Stepping up to the podium in a white blazer, resident Natalie Gauvin, who says she founded Liberty Lake's rotating art program, says discrimination against LGBTQ+ individuals is at the core of this issue.
Gauvin raises a broad sign above her head displaying sexually explicit pages from Gender Queer to the room, and lists literature in the library with "porn" in the title to highlight what she sees as hypocrisy.
"That's it, you're done. You've disrupted the meeting," says Mayor Cris Kaminskas, instructing Gauvin to lower the sign. "You've taken away people's right to choose whether or not they see that, which is exactly what everyone is speaking on tonight."
The two continue to argue back and forth, talking over each other until a security guard comes into the chamber to escort Gauvin out of the building.
The meeting continues.
Zusada, who started the debate, steps to the podium and says her challenge to Gender Queer was not a challenge to people who identify as LGBTQ+.
"It was an issue of seeing pornography in a book geared towards children," she says. "If it was a heterosexual couple doing the same crap, I would have been raising hell as well."
Ericka Fischetti, a Liberty Lake resident, spoke over Zoom, saying the council and mayor have been "bashed all evening."
"I want you guys to please consider that the library shouldn't have the final say," she says.
Meanwhile, others say it's an abuse of the council's power.
"The legislative branch of our city has overstepped its boundaries by pushing legislation that is not supported by the majority of citizens in this city," says Kim Girard, a member of the library board.
Council members passed the ordinance 4-3, giving themselves control of library policy.
Kaminskas had 10 days after the vote to veto or sign the ordinance. On Monday, she vetoed it, calling the ordinance "short-sighted" and said council members had a "lack of regard for citizen input."
"The comments were overwhelmingly opposed to these changes," she wrote in a statement. "Councilmembers can't have their cake and eat it too — if you want citizen feedback, you need to listen to it. Don't pick and choose what you hear."
In her statement, Kaminskas quoted Voltaire and Ronald Reagan, and suggested that council members were unprepared to make library policy, noting that none of them have degrees or professional experience in libraries or education, compared to the 96 years of experience in libraries and education the board members have cumulatively.
"The board is made up of educated and trained professionals," Kaminskas wrote. "Let them do what they were appointed to do." ♦