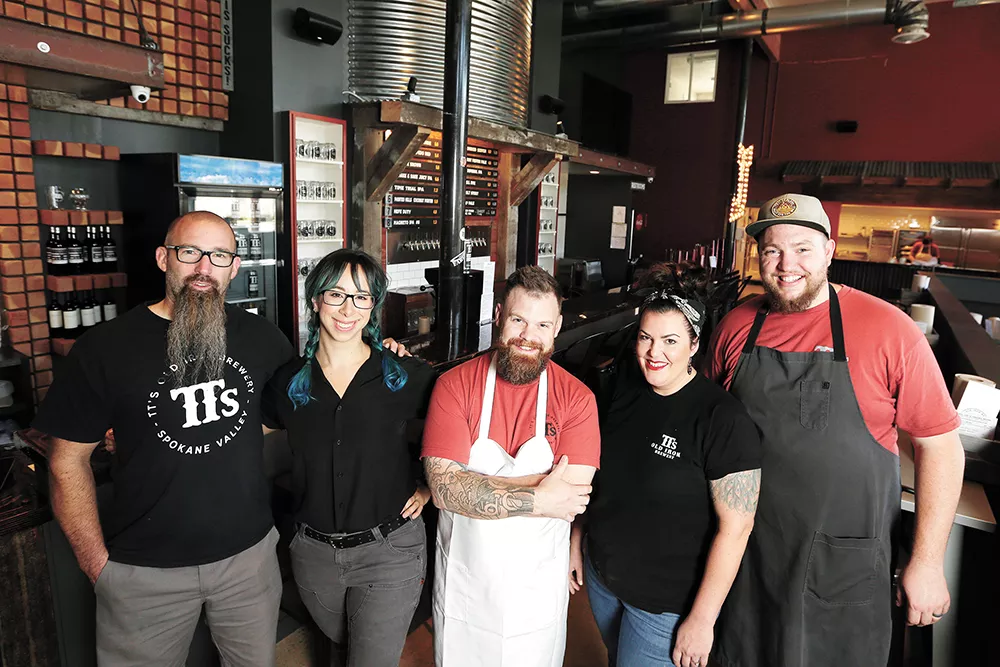 On a warm summer evening with the garage doors rolled up, TTs Old Iron Brewery & Barbecue is bound to be full of guests tipping back cold beers and licking sauce-covered fingers.
The new south Spokane Valley eatery has quickly become a popular neighborhood hangout, and a mecca for local barbecue lovers far and wide. The good news, though, is that even if open tables are hard to come by, the kitchen can easily box up your brisket, ribs, sausage, sides and more to-go.
Chef and co-owner Chad White, who teamed up with friend, brewer and business partner Travis Thosath for the restaurant and brewery, says most of the meat sells out by 9 pm daily, and that he's ordering close to 3,000 pounds of meat every other day to keep up with demand.
"I don't need to go to the gym anymore," he jokes in reference to constantly slinging huge hunks of meat into the restaurant's walk-in cooler.
To go with the tasty menu of Texas and Kansas City-style barbecue staples, the brewery is pouring its beer on up to 16 tap handles.
"It's a blend of Texas and Kansas City, but at the same time we're really doing our own thing," White says. "We wanted to make it feel a bit more Northwest, because the Northwest doesn't have a barbecue culture quite yet, and we're trying to grow that."
To that end, TTs is using Roast House Coffee's F-Bomb coffee, with notes of orange, cherry and chocolate, in the rub for its prime beef brisket. Spices used throughout its menu are from Spokane-based Spiceology, and some of the smoker wood is sourced from local apple, pear and cherry orchards.
For TTs' three house barbecue sauces, White says they're using wort, the sugar water left over from the brewing process, which has a sweet and slightly bitter taste, as an ingredient. The wort also goes into his banana bread pudding ($5).
Its three house sauces are a spicy Carolina mustard, classic Kansas City barbecue and an ultra-spicy hot sauce made with chile de árbol, a potent Mexican pepper, that's blended with garlic, tomatoes, salt and white vinegar. White says all three sauces are smoked for two hours to impart a smoky flavor.
Ordering at TTs is done at the counter, both to follow tradition of many Southern-style barbecue joints and for efficiency.
"When the doors open, we've already cooked all the food for the day. This allows us to get a large line of people through a lot faster," White says. "In barbecue culture it's very casual and there is no service unless it's high end."
Combo plates, which come with pickles, pickled red onions and Franz white bread, each include two sides, and options for one ($12) two ($15) or three ($19) meats: brisket, turkey breast, smoked sausage, pulled pork, burnt ends (when available), chicken and pork ribs. Each barbecued meat can also be ordered by the half or full pound, and ribs as a full or half-rack. The "So-Val Picnic for Four" is $66 and includes brisket, a half-rack of ribs, turkey, sausage and several sides.
Sides ($5/each; $7/pint or $11/quart) are potato salad, mac and cheese, smoked pinto beans, coleslaw, corn bread and banana pudding pie. The "Opportunity Wedgie," the lone green salad ($9) on the menu, can be ordered with (add $5-$7) or without meat.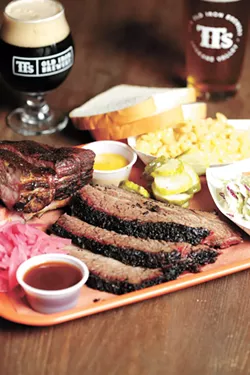 Finally, White's So-Val Handhelds section of the menu features four open-faced barbecue-taco hybrids using a slice of white bread to hold it all together. The So-Val Taco ($5) is topped with pulled pork, coleslaw, hot sauce and pickled onions. The West Valley Wallet ($7), meanwhile, features smoked sausage with coleslaw, mustard and pickles.
"We really wanted to celebrate the Valley and its neighborhoods, so the names on the menu for the food and the handhelds are after Valley high schools," White explains.
Overseeing the pits at TTs, since White also owns and operates Zona Blanca ceviche bar and High Tide Lobster Bar, is pitmaster Colin Barker.
On the brewery side, TTs founder and co-owner Travis Thosath brought on Rachel Nalley, formerly of Orlison Brewing and Iron Goat Brewing, to manage beer production.
Thosath always planned to grow TTs Old Iron Brewery, which started two years ago in the Steel Barrel Taproom's downtown Spokane brewery incubator. It was there that Thosath met White, who operates Zona Blanca in an adjacent space.
"Once I was comfortable with the [brewery] concept, I started thinking about the next step, and approached Chad to see if he would at least consult and help me because I wanted food in the brewery," Thosath recalls. "As we got more serious and talking more, he decided he wanted to partner and we decided to do barbecue."
Having its own space has allowed TTs to greatly expand its beer lineup. At the incubator, Thosath was at most making around five different beer styles on a rotating basis, but now the brewery is able to consistently fill more than a dozen tap handles, and can continually introduce new rotating brews, like a recently launched coconut porter and a new hazy IPA.
"The goal is to have multiple styles on tap at all times: easy drinking beers — ambers, reds, ales; dark beers and at least three to four IPAs going, too, so that anyone can come in and find a beer they like," Thosath says.
Since opening in late June, TTs has been warmly received by the surrounding neighborhood of south Spokane Valley — or "So-Val" as they've nicknamed it.
"We've been getting a lot of 'thank yous' for bringing this to the neighborhood," Thosath says. "I wanted to be part of the community, and that was our whole vision from the get-go; be a hub and a place for people to come hang out." ♦
TTs Old Iron Brewery & BBQ • 4110 S. Bowdish Rd., Spokane Valley • Open Tue-Sun 10 am-10 pm • ttsbrewerybbq.com • 919-4798