Joe Morris started washing dishes at Luna 12 years ago. Today, he's the restaurant's executive chef.
"Every day was learning," Morris says. "Every day was getting better."
Morris is one clue to understanding how Luna has survived — nay, thrived — for three decades atop its perch on Spokane's South Hill. It's a place where chefs, bartenders and diners not only stay, but get inspired.
Call him old school, but owner Aaron DeLis is committed to a true restaurant experience, with creative dishes, happy servers, long conversations and complimentary housemade bread. He's concerned with two things: how the restaurant can continue to improve, and how it can continue to improve its employees' lives.
DeLis' approach is still working. This year marks Luna's 30th anniversary, a benchmark that not many restaurants reach. To celebrate, DeLis, Morris and team have created a special menu to honor the people who built Luna and the people who keep pushing it forward. Each item is priced at $19.93, a nod to the year the restaurant opened its doors, 1993. The anniversary menu is available throughout November, in addition to Luna's standard fall menu.
William and Marcia Bond opened Luna when they moved back to Spokane after stints in Los Angeles and New York.
"[William] said that in New York, they had restaurants on every corner, every street," Morris says. "They wanted to give [the South Hill] a neighborhood experience, which is something special, because that's what this community was."
The Bonds wanted to serve excellent food but not at the expense of comfort. A beloved dish on the original menu was a simple-yet-elegant meat and cheese board. William Bond's favorite dish was simply spaghetti and meatballs.
The first item on the anniversary menu is the Luna Board, a throwback updated via a collaboration with newer local vendors — cheese selected by Amber Park of Wanderlust Delicato, beef raised just 10 minutes down the Palouse Highway, and grape jam Morris made from the fruit off vines hanging over Luna's patio.
At the beginning of 2022, Spokane lost William Bond to heart failure. To honor him, Luna staff put his favorite pasta on the anniversary menu, this time with handmade noodles and fresh pork from a local farm.
The W. Bond cocktail is bar manager Ryan Brackett's riff on William's other favorite, a gin and tonic. Brackett lifts the classic into the 21st century with olive oil-washed top shelf gin, Cointreau and grapefruit.
Luna lost another of its biggest influences earlier this year. Hannah DeLis — Aaron's wife and co-owner of Luna since the couple bought the restaurant in 2015, and a cheerleader for the entire staff — died after battling cancer.
"She will always be an inspiration to us, whether it be on the menu or what our standards are here," Aaron DeLis says. "I wouldn't be here were it not for her."
Hannah was known for her attention to detail and understanding of food, flavor, nuance and balance. If Hannah liked something, it was good. The roasted squash steak on the anniversary menu is dedicated to her.
"It was one of those dishes that I learned to illuminate flavors and figure out restraint," Morris says. "That was one of the first dishes that I really cooked and she was like, 'Oh, Joe, that's it right there.'"
The HJD cocktail (named with Hannah's initials) features Armagnac, a hard-to-find brandy specific to southwest France that also honors Hannah's discerning palate.
But the anniversary menu features more than the past. The seafood gumbo celebrates Morris, commemorating his Florida roots with deep flavor, subtle heat and perfectly cooked shrimp. Morris is bringing his own style and skill set to Luna, which DeLis and the clientele welcome and admire.
Morris is as hospitable with his kitchen staff as he is with his guests. The final dish on the menu, chicken cordon bleu, was sous chef Jenifer Michels' idea. It's a '90s fine dining dish that went out of style, Michels says, but she wanted to experiment with it. Morris told her that if she could perfect the dish, he would add it. Perfect it she did, and Morris was true to his word. The Luna team is eager to see what she'll come up with next.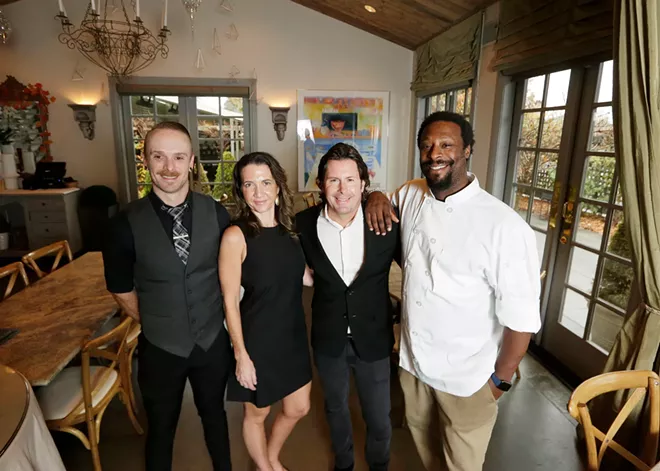 Neighbors who tried Luna for the first time in 1993 are still coming back, sometimes even a few times a week. But a younger crowd is filling up the reservation list, too, DeLis says. While most restaurants are cutting back on staff, DeLis is "fearlessly committed" to maintaining a full, traditional restaurant that's attractive to every generation.
The plates are perfectly timed, each parading out of the kitchen moments after the previous one is cleared. Servers anticipate needs, bringing clean plates and cutlery to replace dirtied ones, or discussing the wine list at length. In the summer, herbs and edible flowers are picked from the patio garden. Fruit trees are harvested each fall, each with a different bounty — apples, Asian pears, cherries and quince. This year, a bench on the patio was dedicated to Hannah, keeping her memory close.
Luna is also notable for what you don't see. Servers don't have iPads. Menus don't have QR codes. There's no counter service or take-out shelf.
"I appreciate [the service] when I go to restaurants in big cities, and I want Luna to still sustain those standards," DeLis says. "I just hope that we can sustain this level of service for over 30 years. That would be my goal."
DeLis says he currently has the best front- and back-of-house teams since he bought Luna in 2015. Yet he's anything but complacent. The key to another three decades is constant elevation, he says, for the staff, the building and the experience. Morris, Brackett, Michels and the rest of the team agree.
"I want to show not just Spokane but the rest of the state that we, as a city and as a region, have and can produce high-level food," Morris says. "There's something I learned from Aaron — whatever it is, anytime we would do better, he would reinvest into this place to make it even better than it already was. So there's no limit to what we can do." ♦
Luna • 5620 S. Perry St. • Open daily 4-8 pm (Fri-Sat until 9 pm) • lunaspokane.com • 509-448-2383