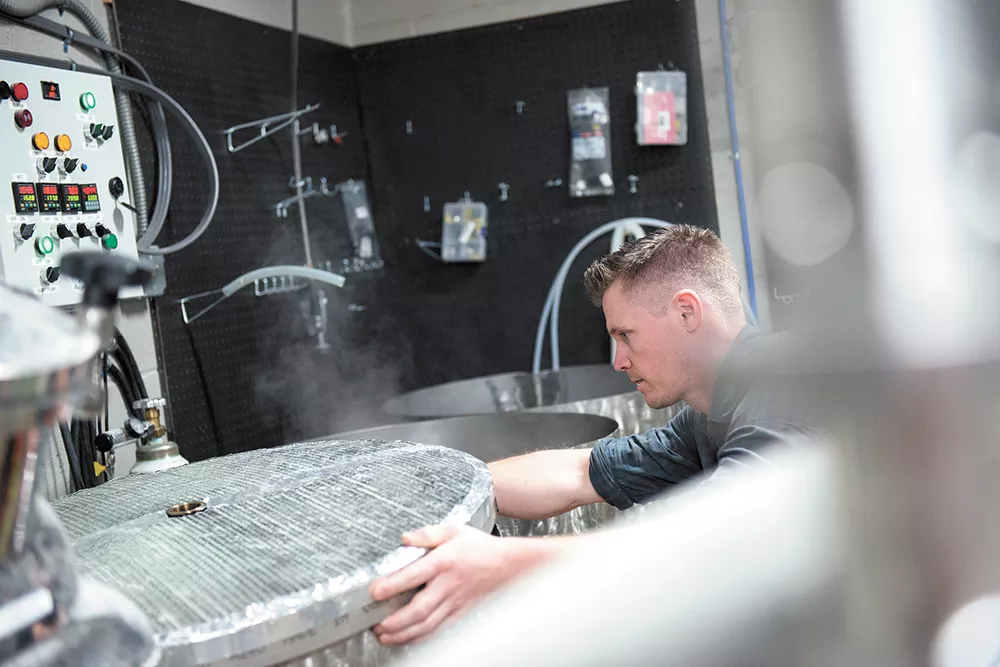 Commercial craft brewing isn't a cheap business, and it doesn't turn a quick profit.
Opening a 10-barrel brewhouse could easily set you back upwards of $1 million. And just a decade ago, a brewery of that size would've been considered "small." A barrel of beer is 31 gallons, so 10 of those means more than 2,400 pints per batch. Now we're seeing more and more nano breweries popping up around the country operating on a much smaller scale. Some on one-barrel systems — that's the size of just two standard kegs — and others as little as 10 gallons.
The region's largest craft brewery, No-Li Brewhouse, is producing more than 14,000 barrels of beer a year. Meanwhile, Georgetown Brewing Co. in Seattle, one of the state's largest craft breweries, reached 65,000 barrels in 2017. Most nano breweries will aim for 100 in a year.
We've definitely noticed this trend on a regional level, so meet five of the Inland Northwest's newest nano breweries operating on two-barrel brewing systems or smaller.
For the Love of God Brewing
2617 W. Northwest Blvd., fortheloveofgodbrewing.com
2 barrel (bbl) brewhouse
When Steve Moss started homebrewing seven years ago, he didn't even consider opening a commercial brewery as a possibility. The cost for equipment alone made it seem impossible.
A few years later, Moss and his friend noticed there were breweries opening and operating on homebrew-sized systems. Moss soon realized he wanted to do the same. He was already using a large enough brewing system, fabricated from 80-gallon stainless steel tanks, to brew two-barrel batches.
That's what led to the opening of For the Love of God Brewing last month in North Spokane's Audubon-Downriver Neighborhood. Moss says the brewery's focus is "East Coast style" beer: hazy IPAs, fruited beers, kettle sours and pastry stouts.
"Trend-forward beers for the most past," he notes.
Some beers Moss has brewed in the first month include a peanut butter banana stout, a raspberry sour with lactose and the First Fruits milkshake IPA — a hazy brewed with lactose that was fermented on Fruit Loops and actually tastes like a bowl of cereal.
Moss has plans to add more fermenters to keep up with demand. He also wants to dive into the world of spontaneous beer, a style of ale fermented with wild yeast typically collected in a shallow vessel called a coolship, which he's already built on the roof of the brewery.
Genus Brewing and Supply
17018 E. Sprague Ave., genusbrewing.com
1.5 bbl brewhouse
Peter McArthur opened Nu Homebrew Supply about seven years ago with the intention to sell both beer and homebrew supplies. The venture started out as a bottle shop, but McArthur quickly realized that it didn't have much long-term viability.
Three years into it, he sold off his remaining beer inventory and relicensed the business as a homebrew supply store and commercial brewery.
"We already had some of the equipment from doing demonstrations for homebrewers," McArthur recalls.
More recently, he packed up the business, moved to a larger location and rebranded as Genus Brewing and Supply with more of a focus on the brewing side and less on the supplies. Genus celebrated its grand opening last month, but has been selling commercial beer for three years.
The operation is a 1.5-barrel system with the ability to multibatch and fill a five-barrel fermenter. McArthur says the smaller scale provides him a chance to crank out beers quickly, which he explains is a huge benefit for experimenting with IPAs. The resulting brews go on tap fresher and run out before the quality deteriorates.
For Genus's current model, there's the added benefit of also being a homebrew shop.
"There's a lot of stuff we do that is super experimental because we have every ingredient you could possibly think of here," McArthur says. "We can try stuff like the sour strawberry milkshake IPA we have on tap right now."
The Grain Shed
1026 E. Newark Ave., thegrainshed.coop
1.5 bbl brewhouse
The Grain Shed is a brewery built for one reason — to highlight grain.
"Every ounce of grain that we use is from LINC Malt, and that's the design behind our entire brewery," co-owner Teddy Benson says. "We wanted to use 100 percent local grain."
Benson is co-brewer of the Grain Shed with his brother-in-law Joel Williamson, who founded LINC Malt and LINC Foods. The duo started commercial brewing on a 10-gallon system in June last year and quickly upgraded to their current 1.5-barrel setup. Benson says the small-scale system is crucial for their brewery model since they're doing things so differently from other brewers. Instead of following traditional beer styles, Benson says the Grain Shed focuses on making recipes that highlight the flavors of the grains used.
Take the Purple Egytian ale for example.
"It's designed specifically to highlight an ancient grain," Benson explains. "Purple Egyptian is this really beautiful black barley that has a dried apricot sort of flavor to it, and that's what we want to be the focal point."
You can find all of the Grain Shed's beers at their taproom in the South Perry District, but it's no longer brewed there. In August, Benson and Williamson moved their production from the cramped space to Bellwether Brewing. They still brew most of their beers on the nano-sized system, but also share equipment with Bellwether to crank out 10-barrel batches of some staple beers.
Mountain Lakes Brewing Company
201 W. Riverside Ave., mountainlakesbrewco.com
1 bbl brewhouse
Dave Basaraba and Tim Hilton opened the doors to the Mountain Lakes taproom in April last year. They'd become friends as neighborhood homebrewers and decided to turn their shared hobby into a full-time gig.
Mountain Lakes currently runs on three one-barrel brewing systems. Basaraba says a typical brew day consists of a double batch of one beer to fill a two-barrel fermenter, with a different one-barrel batch brewing at the same time.
It's unlike the typical brewery in more ways than one. Instead of brewing behind the scenes, Mountain Lakes' system is on display in the middle of the taproom. It's also set up on hardwood floors — most breweries operate on concrete with sloped drains — which creates a challenge for any water-related task.
"I think we are the only micro or nano brewery in Spokane with a hardwood floor, so that's a point of pride," Basaraba laughs.
Limitations aside, Mountain Lakes has a had a strong first year-and-a-half. In March, they won the Inlander's Best Of readers poll for best new brewery in the region. Then last month, they poured the most beer out of 42 total breweries at the Inland Northwest Craft Beer Festival.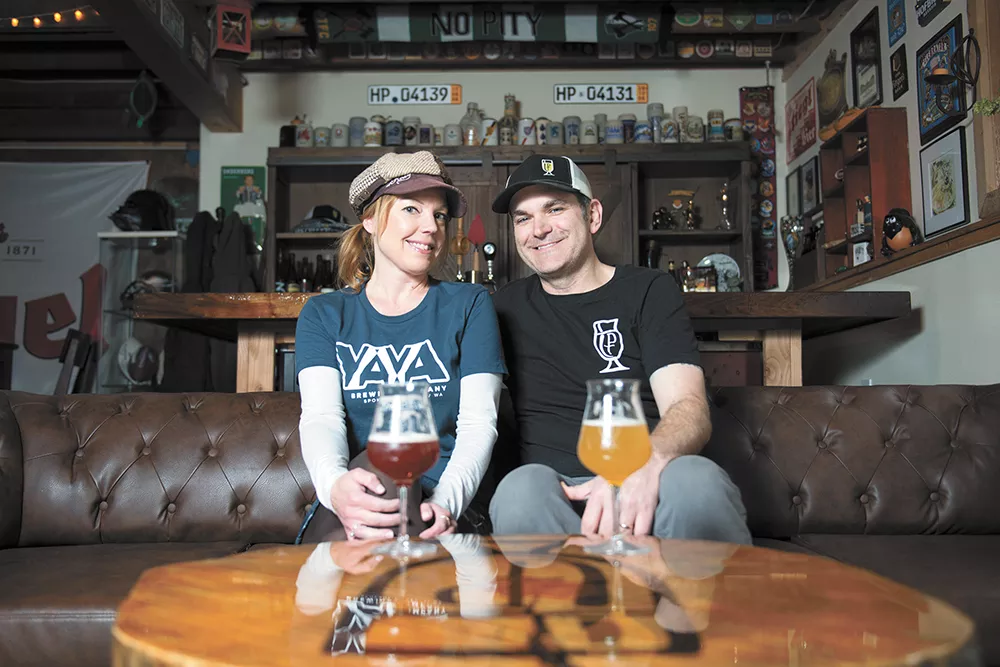 Precious Things Fermentation
8403 N. Bruce Rd., instagram.com/preciousthingsbeer
10 gallon brewhouse
Not long ago, Jeff and Candace Clark were sharing homebrew creations with their friends and neighbors out of their garage converted into a bar.
"They weren't really filling up the tip jar, so we decided that we wanted to do it for real," Jeff says.
So, the couple bought a house in a rurally zoned area of northeast Spokane and converted their new barn-shaped garage into Precious Things Fermentation, a commercial brewery and taproom. They're still using the same 10-gallon homebrew system as in the old place, making Precious Things the smallest craft brewery in the region and one of the smallest in the country.
Inspired by breweries in Europe, Jeff says they wanted the brewery to be "farmhouse style," in which they make and sell the beer on their property. In the same vein, they're making seasonal beer and using local ingredients whenever possible. The huckleberry saison on tap now, for instance, was brewed with locally picked berries.
"We want people to feel like they just wandered into some little pub in the countryside of Europe," Jeff says.
Precious Things is currently open only on Saturdays, and by appointment Monday through Friday. ♦
MORE INLAND NORTHWEST NANO BREWERIES
238 Brewing Co., 3 bbl
10321 E. Mt. Spokane Day Rd., Mead (closed for season)
238brewing.com
Badass Backyard Brewing, 3 bbl
1415 N. Argonne Rd. Spokane Valley
badassbackyardbrewing.com
Bent Tree Brewing, half bbl
30823 N. Quail Run Ct., Athol
facebook.com/benttreebrewing
Bombastic Brewing, 1.5 bbl
11100 N. Airport Rd., Hayden (open for beer releases only, check website for more info)
bombasticbrewing.com
Natural 20 Brewing Co., 3 bbl
15310 E. Marietta Ave, Spokane Valley (formerly English Setter Brewing)
natural20brewing.com
Humble Abode Brewing, 3 bbl
1620 E. Houston Ave.
facebook.com/humbleabodebrewing
Moscow Brewing Co., 3 bbl
630 N. Almon St., Moscow
moscowbrewing.com
Quartzite Brewing Co., 2 bbl
105 W. Main Ave., Chewelah
facebook.com/QuartziteBrewCo
V Twin Brewing Co., 2 bbl
2303 N. Argonne Rd., Spokane Valley
facebook.com/vtwinbrewingco
Whistle Punk Brewing, 3 bbl
122 S. Monroe St.
whistlepunkbrewing.com