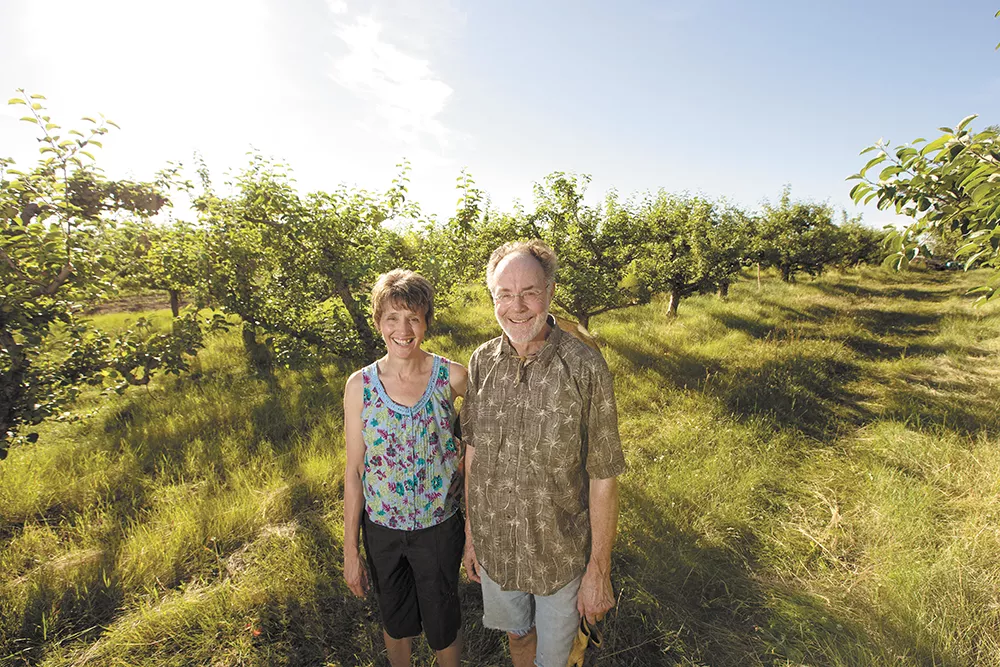 You'll find abundance at Cole's Orchard — 900 trees producing apricots, pears, prunes and 13 varieties of apples, as well as vegetables and fresh-cut flowers. What you won't find are pesticides or chemical fertilizers. Fifteen years after Steve and Marie Cole established the orchard at the curve of Dunn and Greenbluff roads, they became the only certified organic orchard in Spokane County.
Crop loss vacillated, now hovering around two to three percent, says Steve, and there were rough times. "One year I only sold prunes and vegetables... [I] was ready to shut the whole operation down," he says. "Stubbornness got me through to the next year."
Both the Coles are familiar with farming. Marie's family had a 500-acre cattle ranch in Eastern Washington, while Steve worked in an orchard as a youngster one year in Norway and again while attending college in north central Washington.
The orchard is actually their second vocation. Marie directs the Spokane Falls Community College's Physical Therapy Assistant program, while Steve's logged 21 years in Group Health's PT department.
Physical therapy, says Steve, is akin to orchard management. "We focus on prevention in the clinic, promoting strengthening, increasing range of motion and teaching good body mechanics and posture to prevent the injury from returning. In the garden, I grow cover crops and green manure to strengthen the soil and rotate crops to prevent diseases from ever occurring."
They grow what they like to eat, says Steve, but ripening dates are important. Steve's plan is to create a continuous calendar of new fruit ripening each week from July through October. The current schedule is packed: apricots and early apples, like Lodi (July-August); peaches and more apples, such as Gravenstein (August); fall apples like Honey Crisp, Spartan and McIntosh (September-October); prunes (September and October); pears (October).
Vegetables are a recent addition and their harvest dates are similarly staggered: tomatoes, sweet peppers, eggplant, carrots, beets, swiss chard, a dozen or so types of summer and winter squash, and basil. They alternate crops through two hoop houses, and the lavender and flowers are both ideal bee attractors.
Come harvest, Steve does most of the work himself, although friends and family pitch in, and the Coles will barter produce for labor. They sell customer-direct, taking phone orders in summer for early fruit, transforming their garage in the fall for more regular hours when the apples stack up.
Marie handles the vegetable starts, helps trap gophers — the family cat pitches in, too — and does the Orchard's paperwork. She also cooks for the family, often using their homegrown products.
As she unseals a jar of applesauce to share with us on a sweltering summer evening, Marie looks out her dining room window westward towards the rolling expanse of Green Bluff. Her living room looks out on the orchard. She talks about being part of the community: church, family, friends, helping other growers, the Grange.
It's a community that includes the consumer, who can be assured that their health is in good hands. ♦
---
Savory Apple Salsa
A few years ago, Spokane Community College chef instructor Peter Tobin created this salsa for Main Market Co-Op's "In the Field" agri-tour program using produce from Cole's Orchard. Marie Cole describes it as the best she's ever tasted.
¼ cup lime juice
2 tart apples (McIntosh or Spartans), cored and diced
1 small onion, finely diced
Handful of cilantro, rough chopped
1 red chili, seeded & minced
1 green or red pepper, diced
2 tablespoons minced ginger
1 tablespoon sugar
salt
½ cup toasted walnuts or pecans
1. Pour lime juice in non-reactive bowl.
2. Toss diced apples with onion in the juice.
3. Add cilantro, peppers, ginger and sugar and toss to combine.
4. Season with salt to taste.
5. Add nuts
Makes 3 cups
---
Perfect Applesauce
When Marie Cole makes applesauce, she freezes some, but also cans enough to send off with her college-bound daughter. Gravenstein apples, says Marie, provide the right texture and tartness for this treasured family recipe. And she often uses the applesauce in lieu of oil in things like pancakes and muffins.
Slice and core apples to fill a stockpot (quantity will depend on size of pot).
Put an inch or so of water in the bottom.
Cove the pot tightly, using foil as needed, and bake in 350 degree oven until apples are completely dissolved.
Let cool and run through food mill or processor to form a puree.
Optional: Add sugar and/or cinnamon to taste.