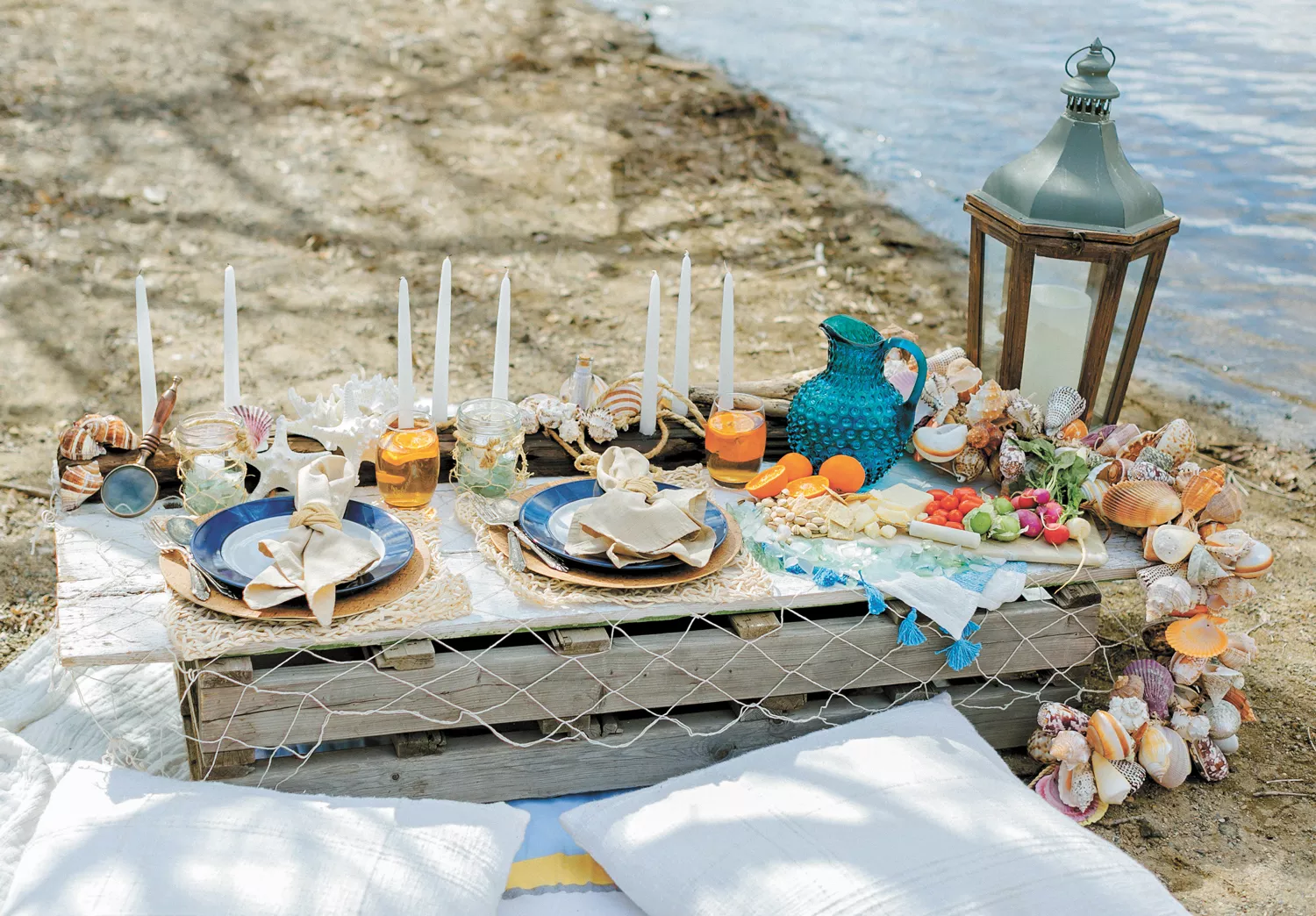 Do you remember spending the summers outside playing Annie-Annie Over, hopscotch and Red Rover with friends? Or the fun of neighborhood block parties? What about camping out at a lake and building sandcastles while the waves lapped at the shore?
These carefree moments sometimes feel like the essence of truly living. Though there've been those times in my life as an adult, it's safe to say they're not as frequent. Here's a way to rekindle the dreamy timelessness of summer childhood days: a sandy beach picnic for two at one of the many lakeshores within driving distance of Spokane.
DIY Lakeshore Picnic
PRE-PICNIC PREP
You've probably seen ads for free pallets — or you may even have tried giving them away yourself at some point! But wood pallets can come in handy for many projects, and if you keep a couple around, you're on the way to creating a dreamy summer picnic.
To plan your tablescape, look around for beach-y items at your house. I grabbed seashells, a big glass pitcher and a lighthouse-esque lantern. I threw in a magnifying glass for some functional decor — remember discovering those tiny hidden worlds when you were a kid?
This is a great occasion to use real — not disposable — tableware and placemats. Vintage or mismatched silverware adds to the casual feel, while well-used plates that may have a chip or two add to the nostalgia. Bring out those cloth napkins — they're much nicer to use and reduce the garbage you'll be hauling out after your picnic.
PICNIC FARE
You might grab takeout for your main course, but consider just bringing an assortment of hearty snacks — some cold veggies, a few hunks of your favorite cheeses and some nuts; I think pistachios are fun. Including a variety of summer fruits will help satisfy a sweet tooth. Creating a pretty beverage is essential, adding a slice of fruit to chilled wine or your favorite mocktail or iced tea is perfect.
ON LOCATION
Scope out a flat area — you'll probably enjoy being out of the direct sun. Spread out a big cloth — consider layering a couple of throws or using an old bedspread or quilt. You'll need room for your table and seating.
Stack a couple of wood pallets in the center to create a low-height table ­— remember you're going to be sitting on the ground. If the slats on your pallet are too far apart, you can top the pallets with a piece of plywood (I happened to have some old fence boards) and drape a tablecloth over the top. Toss some large pillows around the table for seating.
And voila! You've created a romantic beach setting for two. If you're more ambitious, add a few more pallet tables and plan a lake party for friends and family. Be sure to take some photos to look back on next winter... when summer is just a memory.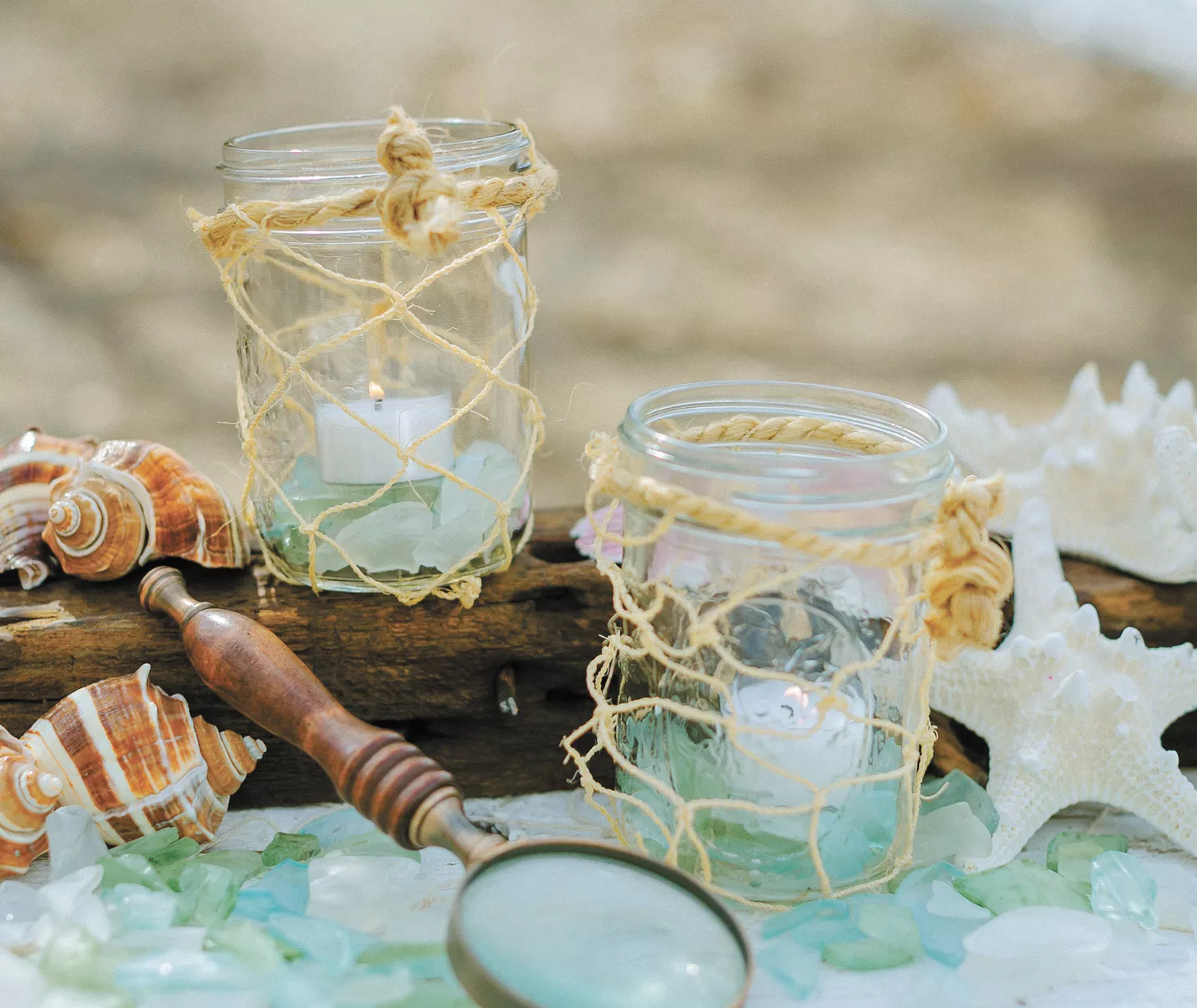 Mason Jar Lanterns
As your lakeshore day is drawing to a close, enjoy these twinkling Mason Jar lanterns while the sun sets. You can also use battery-operated LED tea lights to reduce the risk of an accidental fire and keep the jars nice and cool for when it's time to pack up your picnic.
SUPPLIES
Mason jars
Fisherman's netting
Twine
Scissors
Tea light candles (consider battery-operated flameless LEDs)
Optional: for a jar filler, I used sea glass (available at craft stores), but small seashells or sand can work just as well.
INSTRUCTIONS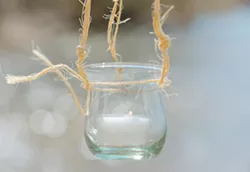 Place your jar on the fisherman's netting and cut a circle large enough to extend up to the jar's rim.
Cut a piece of hemp twine to fit the rim of the jar, with enough extra length to allow you to tie a knot on each end. wrap the twine around the rim, weaving it through the fisherman's netting, and then where the knots meet, fasten them together with thread or glue.
Add sea glass or your chosen filler and drop in a tea light.