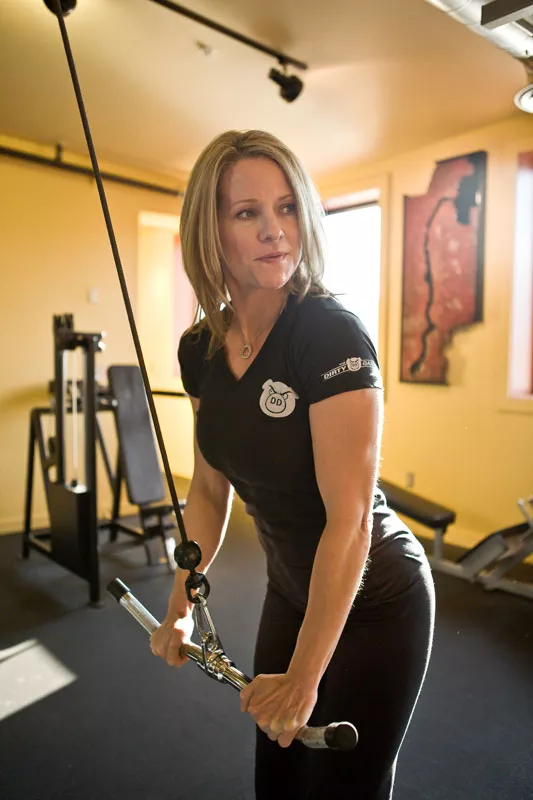 No time to exercise? Finding time to get fit may actually be as simple as changing your image of what a "workout" looks like. In fact, if you can spare 15 minutes, you're on the way to getting the multitude of health benefits that come with being in shape.
For the highly motivated who are short on time, twice-weekly bouts of high-intensity training, or H.I.T., may be the answer. H.I.T. is resistance training done in slow motion — pushing you to complete fatigue. First popularized by Arthur Jones in the 1970s, with his now near-ubiquitous Nautilus brand of training equipment, H.I.T has become a fixture of bodybuilding plans. While there is no single best way to exercise, for those willing to endure the workouts, high-intensity training can produce results.
THE WORKOUT
Clients of Marcell Scott, the owner of H.I.T. Fitness in Spokane, should be prepared for thorough fatigue after a session. "If my clients have to walk sideways down the stairs or they're crawling out of here, that's the right workout," Scott says. "That's the one that's going to work for two hours a month."
A session of high-intensity training calls for doing six reps of a total of six or seven resistance exercises very slowly with light weights. So instead of going through a set of 10 reps in 10-15 seconds, like a standard workout, Scott's clients spend 10 seconds pushing the weight out and 10 more bringing it back. This means that muscles remain under tension for much longer than during an average workout.
Working out just two hours a month may sound too good to be true, but the program is called "high-intensity" for a reason. In 15 minutes with Scott, the goal is to push the body to maximal depletion of its glycogen stores. Because replenishing those carbohydrate reserves takes the body three full days, clients can't work out more than twice a week.
For safety and motivational reasons, Scott says people need a trainer in order to get to complete failure. "There's a difference between stopping because it hurts or stopping because you physically just can't do it anymore," he says. "If you just go in and it's painful for 15 minutes and then it's over, that doesn't mean it's effective."
THE RESULTS
Janna Oliveri began training three times a week with Scott in August, two months after having a baby. She heard about the program from a friend and decided to try it because she thought it was a reasonable commitment for a working mother.
In the first two months on the program, she lost 10 percent of her body fat. "I'm like three pounds away from my weight goal, but I don't anticipate stopping when I get there, because I want to maintain it," she says. "I don't know if I can maintain it without him."
Oliveri loved the results she saw so much, Scott got six new clients from her referrals. She says the only downside to the program and others like it is its $150-per-month cost. "It's a little bit of an investment, but I think it's well worth it," she says. "And besides, I don't pay a monthly gym membership."
The people Scott trains range in age from 15 to 82 and come to him with all sorts of goals. Some want to lose weight, some are athletes wanting to improve their game, and there's even a recreational skier wanting to hit the slopes again after a knee injury.
"There's not a person who can't do this work-out," Scott says confidently. "There's not a doctor in this world who's ever going to say that lifting light weights slow is dangerous, bad for your health or bad for your joints."
THE ALTERNATIVE
If the high-intensity workout sounds, well, too intense for you, Dr. E. Carolyn Johnson, an associate professor in nutrition and exercise physiology at Washington State University in Spokane, suggests there are other ways to make 15 minutes count. In fact, you may not need to leave your desk to get in a mini-workout.
"We all think of exercise as a generic term for getting fit," Johnson says. "There are so many components to it that a desk workout might not be able to accomplish some of the things we associate most with health, but it can certainly accomplish important things."
To help improve upper-body strength, try standing push-ups against a desk. For your thighs and buttocks, stand up and do a few squats, keeping your back straight while tightening your abdominal muscles. Overhead stretches also help improve the flexibility that office workers tend to lose while sitting at a desk and staring at a computer all day.
When it comes to cardio exercise, the Centers for Disease Control recommend that adults age 18 to 64 should get 30 minutes of moderate aerobic exercise five days a week. "We now know that you can accumulate that amount of time in smaller increments, and the smallest increment recommended is 10 minutes," Johnson says.
This means that taking just three 10-minute or two 15-minute breaks out of your workday — climb the stairs, take a brisk walk — will get you the needed 30 minutes of cardio exercise.
"The thing that we as exercise physiologists have been very guilty of in the past is setting the bar so high people don't start," Johnson says. "And the biggest thing is to just get up and move."