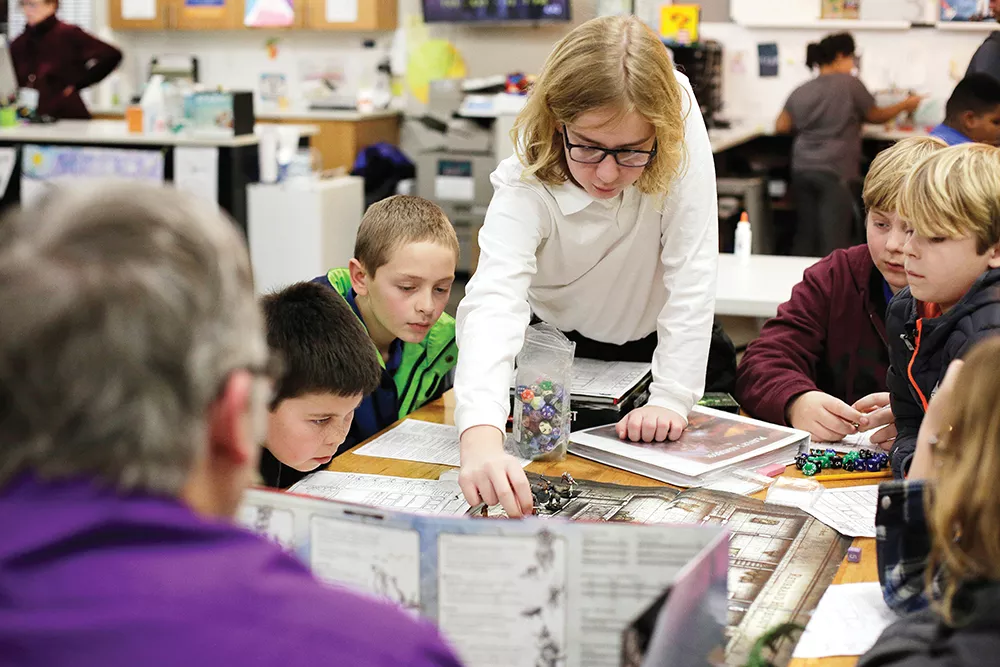 On an otherwise normal Saturday morning, the Adrian family is investigating a cultist hideout when a fight breaks out.
"I'm actually gonna take my great axe, but not with the blade, and try and knock him unconscious," says Joel Adrian, role playing as a towering barbarian named Gehl.
A 20-sided black die with bright red numbers clatters across the table. "Eighteen, plus seven to hit."
"Yeah, go ahead and roll damage," says his son Josh, who's leading this session of Dungeons & Dragons as the all-knowing dungeon master.
"Six."
Josh stands up and raises his arms aloft to gesture the wide swing of Gehl's great axe and how much damage, determined by the dice rolls, his dad's character does to the enemy at hand.
"Gehl spins his axe and — boom! — hits him," Josh narrates. "Then Nieran runs around and spins and pulls out his longsword."
The cultists don't stand much of a chance against the hulking barbarian and one of his companions, a stealthy dark-elf rogue played by the dungeon master's brother-in-law, Kolby Wade. Also gathered around the kitchen table are Josh's mother, Carrie, grandmother Reggie and sister Kayla.
After the battle, the family of six takes a break for tuna melts and tomato soup.
Though the outcomes of this particular role-playing narrative will be utterly unique, the gathering of imagination and adventure is not. In an age when technology-driven entertainment has never been better — from blockbuster video games and virtual reality to the spectacular imagery of major film and television franchises — people are increasingly choosing their kitchen tables over screens to find engaging escapes. As part of that trend, Dungeons & Dragons, the role-playing game of swords and sorcery first published in 1974, has returned to the spotlight at an unprecedented level.
Indeed, 2018 was the biggest year ever for Dungeons & Dragons, according to its publisher Wizards of the Coast, a Renton, Washington-based subsidiary of Hasbro.
Dungeons & Dragons' modern resurrection reflects what's being seen in tabletop gaming as an industry. According to the market tracking firm Internal Correspondence, sales of such games topped $1.5 billion in the U.S. and Canada for the first time in 2018, an increase of 8 percent over the previous year.
FREEDOM OF MOVEMENT
Another venue introducing the under-18 set to Dungeons & Dragons is Spark Central, the public learning and technology center in Kendall Yards. There, volunteers and staff from Spokane-based nonprofit RPG Research host twice-monthly drop-in sessions for both D&D and other role-playing games.
RPG Research founder Hawke Robinson studies the numerous positive effects role-playing games like D&D can have on at-risk youth and mentally or physically disabled populations, among others. In addition to sessions at Spark, RPG Research brings one of its mobile gaming centers, a converted bus and trailer, to other locations around the Northwest on the two Fridays a month its staff are not at Spark.
Josh Adrian, the dungeon master who runs games for three generations of his own family, reflects on similar moments of collaborative storytelling in his games with family and friends.
"As a group of people, we have slayed dragons and saved cities and stormed fortresses and had characters we'd grown to love die. And we've made stories that are more immersive and relatable and personal than anything we could have read or played electronically and watched on TV, in a much more social way as well."
A longer version of this story appeared in the Dec. 20, 2018, edition of the Inlander.