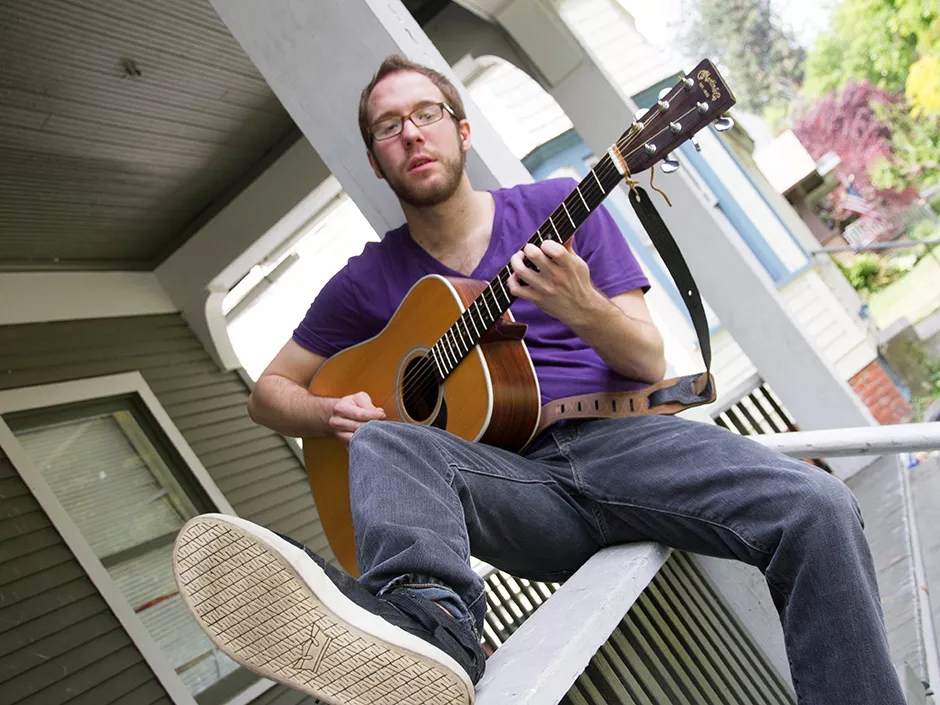 In a small plaza on the north side of Spokane, squished between two unassuming businesses, exists an unmarked recording studio known as Noise Frog. Inside of the startlingly quiet, heavily air-conditioned studio space, two musically minded men are coming together to work on a project for the last time.
"I'm trying to figure out how to do these damn templates, dude," says singer-songwriter Matthew Sonntag, peeking over his laptop computer at producer Jae Ham, co-founder of Noise Frog. As he fumbles with downloading Photoshop, he elaborates, "I've got to send this stuff out if I'm gonna have a product by June 21."
Sonntag is compiling the artwork for his new CD, Learning Blocks and a Bottle of Gin, less than two weeks before the album's release party. Yet while he waited until the last minute to create the album's packaging, Sonntag has spent more than a year recording its songs.
Sonntag, also a member of local snarlers Team Growl, makes wordy, exasperated folk rock as drunk as Shane MacGowan and jaded as Tom Waits. His scratchy, weathered voice seems intensely wise beyond its years. Learning Blocks and a Bottle of Gin is Sonntag in top form, and works as a loose concept album exploring the perceived struggles of being in your early 20s.
"These songs have been in my head for a few years, so I'm finally letting them off," says Sonntag, who turns 26 on the night of the show. He's using the recording to capture the themes and subject matter of the music written by his younger self.
Singing them now with the confidence that comes with age, the songs are anything but sophomoric. Each one comes from a heart desperate for warmth, sung through a snide grin.
"They have a new skin," as Sonntag puts it.
No small part of the album's success results from the collaboration with Ham, whose lush arrangements are a work of art on their own. A unique blend of heavy drums, plucky strings and whirring synthesizers help Sonntag breathe life into the material.
Through time, collaboration and experimentation, Sonntag has taken his songs and turned them into a strong, cohesive record with a spirit it might have lacked had it been made years previous. Sonntag has gone through a progression similar to that of his music — he's tougher, more ambitious and not afraid to explore new terrain.
Matthew Sonntag releases Learning Blocks and a Bottle of Gin, with The Lion Oh My • Fri, June 21, at 8 pm • Bing Crosby Theater • 901 W. Sprague Ave. • $5; $8 door • All-ages • bingcrosbytheater.com • 227-7638