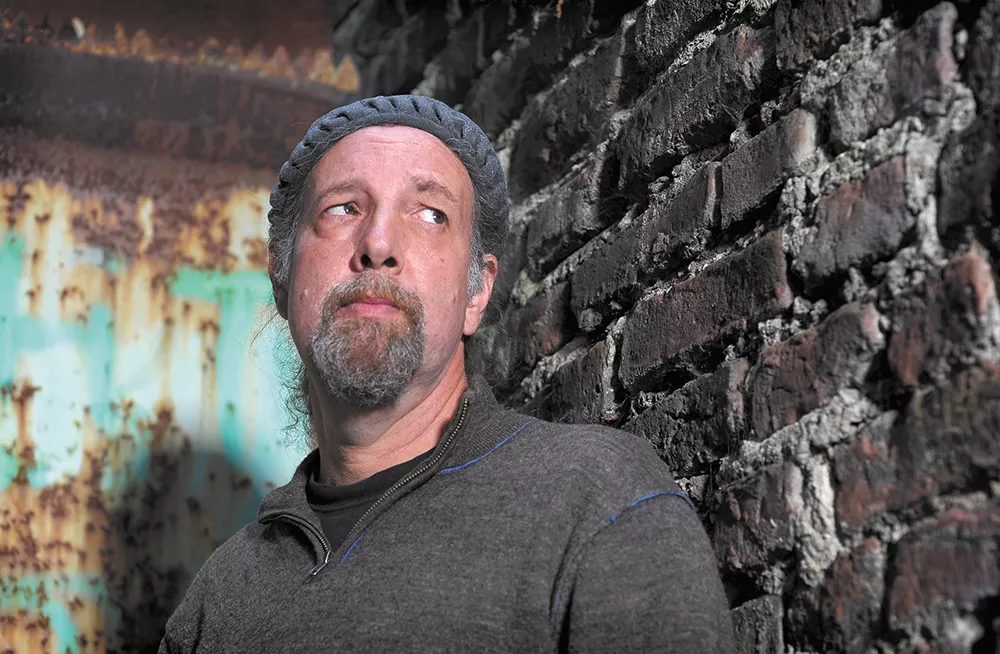 Veteran experimental guitarist Sir Richard Bishop's recent shows are so focused on one very old guitar and the sounds it makes, it's almost like Bishop's on a traveling museum exhibit rather than a concert tour.
"People do like the story of the guitar and the mystery behind it ... just as much as they might like the music," Bishop says in a telephone interview from his home in Portland. "It's like the guitar's going on tour."
Perhaps that's true, but rest assured: The guitar can't play itself. It's Bishop who powers the instrument with his singular skill, as he has been for more than a decade as a solo artist and before that as one-third of improv-inclined ethno-folk weirdos Sun City Girls, a prolific Phoenix-based band that rose to (underground) prominence in the 1980s.
Since Sun City Girls ended, Bishop has been exploring his own globally influenced brand of avant-garde acoustic music, usually landing somewhere between John Fahey's American Primitivism and George Harrison's Eastern mysticism. His new album, Tangier Sessions, is no different, except now he has a partner made of wood and strings.
In 2014, Bishop was traveling, as he does, and found himself wandering the streets of Geneva, Switzerland, where according to legend (aka the official press materials from Drag City Records, which released Tangier Sessions in January), he ducked into an "obscure luthier's shop in a shadowy lane off the high road" in search of a small guitar built to travel.
Inside, Bishop sampled the wares for a while and was heading to the exit when the shopkeeper suddenly cast a six-stringed spell.
"He didn't have to show [the guitar] to me at all. It wasn't even out on his sales floor for sale," Bishop says. "It was in his workshop in the back. It was kind of like a Twilight Zone episode: You're walking out and then the devil offers you a little deal."
Bishop could tell the guitar was very old, but it had no manufacturer's branding or markings of any kind other than a small sticker that said "C. Bruno." It also played beautifully; it "felt right," he says. But it was expensive.
"I think when I left that first day, he knew that I really wanted it. I knew I did, too, but I ... didn't really have the money to afford it. I had that money allocated for other things, like survival and food and places to stay and things like that," Bishop says with a chuckle. "But as soon as I stepped away from it for a couple days, it's like it was still in my vicinity, my aura. It's like it was haunting me. There was a weird, umbilical cord-like connection."
Bishop returned to the shop twice more before finally buying the instrument. He has since had it examined by guitar experts and believes it could've been built as early as the 1850s. But he still doesn't know who made it or who owned it, and he's not sure he even wants to.
"At this point, I like that the mystery is kind of not solved," Bishop says. "Maybe if I find out more about it, it might not be as cool as I want it to be."
Regardless of its origin, the guitar's claim to fame now is its featured role in Tangier Sessions, a gorgeous album of entirely improvised acoustic songs Bishop self-recorded in a small, tiled apartment in the old part of its namesake city in Morocco. Across its seven tracks, Bishop picks his way through Eastern melodies, gypsy tunes, Spanish flamenco and African blues, often with a tone so inviting and a pace so unhurried, you can practically feel a warm breeze blowing through and the black night sky closing in.
Indeed, the songs on Tangier Sessions are not wholly imbued with the sounds of Morocco, but they reflect the city's position as a cultural hub, and Bishop's as well.
"I could easily say something magical, something mystical happened there, for sure," he says. "There was a certain inspiration, not just in the room but just being in Tangier itself. Creative juices flow there, and I certainly tapped into that feeling and that idea." ♦
Sir Richard Bishop with Robert Millis • Sat, March 28, at 7 pm • $10 • All-ages • South Perry Yoga (moved from the Palomino Club) • 915 S. Perry • southperryoga.com • 443-6241