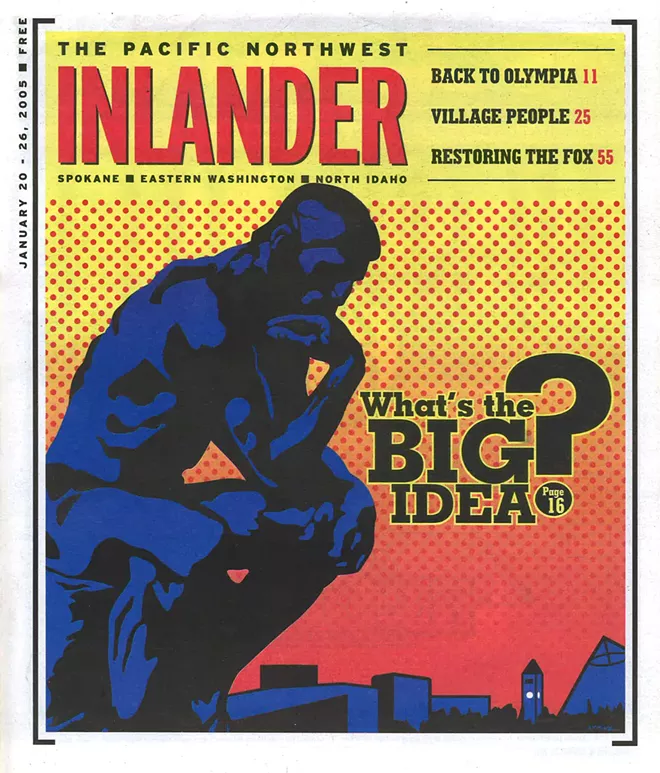 In the whirlwind years of 2005 and 2006, Democrats took control of Congress after 12 years in the minority, while Hurricane Katrina wreaked havoc along the Gulf Coast. But, the Inland Northwest had its own tales of heartache and honor. The chilling Joseph Duncan murder case and subsequent rescue of Shasta Groene — the 8-year-old girl he kidnapped after killing her family — rocked Coeur d'Alene. Yet a glimmer of empowerment emerged as the city's mayor, city administrator and police chief were all women — as shown in our Dec. 12, 2005, story "Coeur d'Alene's Angels."
IN THE NEWS
In early 2006, a narrative began to unfold in what would become the decade's most gripping local chronicle: the killing of developmentally disabled janitor OTTO ZEHM, who died after a violent confrontation with Spokane police officer Karl Thompson. Kevin Taylor led the Inlander's first coverage, including in his Oct. 10, 2006, story about Spokane County Prosecuting Attorney Steve Tucker's early decision, "Tucker: No Charge in Zehm Death." In 2011, a federal jury found Thompson guilty of using excessive force and lying to investigators. Later, former Assistant City Attorney Rocky Treppiedi, a key architect behind the storyline blaming Zehm for his own death, was fired. Then-Assistant U.S. Attorney General Thomas Perez would label the city and police department's handling of the investigation an "extensive cover-up" and a "violent abuse of power."
CULTURE BEAT
Initially named the Clemmer Theater, then the State Theater and finally Metropolitan Performing Arts Center, the BING CROSBY THEATER adopted its present title in December 2006, paying tribute to Spokane's most renowned citizen. In the Dec. 7, 2006, story, "He'll be Home for Christmas," Ann Colford unwraps Crosby's early life and professional journey. "As Bing Crosby's star rose, his hometown lost some of its luster, becoming a place that ambitious young people strive to leave rather than the magnet that it had been just a few years before," Colford writes. Yet, she adds, eight decades later "Bing is coming back home again."
ON THE COVER
With pens poised and dreams unconfined, the Inlander heralded the dawn of 2005 with an audacious theme: "Think Big." Staffers Joel Smith, Leah Sottile and Cara Gardner searched out big ideas for the region "to help jump-start a brainstorm of progressive, out-there, forward-thinking pipe dreams." A few of these daring ideas have become real. Notably, THE FOX THEATER was renovated in 2007, helping to spur a revival of economic growth in downtown Spokane. Yet in the grand procession of progress, some ideas were left in the realm of imagination. The Inland Northwest remains a land lacking light rail, and the consolidation of Spokane and Spokane Valley's governments has yet to occur.
LOCAL FOLK
In early 2005, Inlander readers picked Spokane Mayor JIM WEST as the year's Best Elected Official. "He was willing to wade into the River Park Square quagmire, managing to emerge, if not unsullied, at least still intact," Inlander's Michael Bowen wrote. Just six weeks later, the Spokesman-Review broke the story that ended West's career: "West Tied to Sex Abuse in '70s, Using Office to Lure Young Men." Consequently, West was resoundingly recalled from office and died months later. In a sad and dark twist this year, Steve Smith, the former executive editor of the Spokesman-Review and the face of the West investigation, was arrested on charges related to accusations that he paid girls as young as 10 for sexually explicit videos.