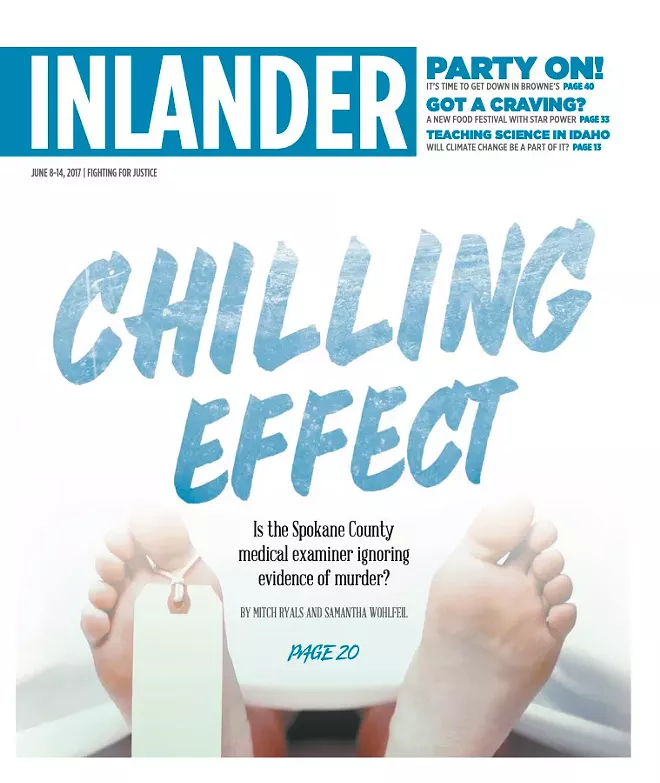 Six years ago, the Inlander covered the cultural impacts of the early days of the Trump administration, from the inaugural Women's March that January to the barrage of alt-right and white supremacist ideals being broadcast from Charlottesville to Washington State University's campus. By the end of 2017, the #MeToo movement made many realize just how prevalent sexual assault and harassment are in American society, as celebrity horror stories enabled everyday people to speak their truth. In 2018, we followed the boom of Bitcoin mining in Central Washington, where cheap electricity abounds. The Inlander also took after papers of yore and published local author Sam Ligon's novel, Miller Cane: A True and Exact History, one serialized snippet at a time.
IN THE NEWS
On Dec. 28, 2017, staff writer Mitch Ryals gave readers a glimpse into the losses that Ami Strahan suffered that year in his story, "LIFE AFTER FREEMAN." "Half her family was taken from her in the span of three months." Not only had she lost her husband in an accident in their driveway — on Father's Day, no less — but then in September, her son, Sam, was killed in the Freeman High School shooting. Ryals, who is now managing editor at D.C.'s Washington City Paper, followed Strahan's grieving process, as she sorted through memorials left for her son and struggled with the "Freeman Strong" mantra. Last year, the shooter, Caleb Sharpe, was sentenced to 40 years in prison.
CULTURE BEAT
On Nov. 29, 2018, staff writer Daniel Walters untangled the messy legal battle between a Christmas-obsessed North Idaho man named Jeremy Morris and the homeowner's association who claimed he was more of a Grinch in the story "LOST IN THE LIGHTS." "People today refer to Morris as Mr. Christmas and Clark Griswold. But that's understating things. Sure, in the Christmas Vacation movie, Clark Griswold decked out his house in 25,000 lights. But Morris used 200,000!" At the time, an Idaho jury had recently sided with Morris, finding that his frustrated HOA neighbors had discriminated against his Christian religion when they tried to stop him from bringing busloads of visitors to their neighborhood.
ON THE COVER
On June 8, 2017, Ryals and I looked into several questionable death determinations by the Spokane County medical examiners in the story "CHILLING EFFECT." We dug into the horrific details of cases like that of Kala Williams, whose body was found cut in half and stuffed in garbage bags in 2012. Despite evidence of a sexual assault and the violent disposal of her body, then-medical examiner Dr. John Howard had ruled her death "undetermined," explaining to the Spokesman-Review that he couldn't rule out that she died of an overdose and that someone had improperly disposed of her body. But the DNA evidence was linked with Robert G. Davis, who later went on to choke and sexually assault another woman in Coeur d'Alene. He's still serving time in prison for that crime. Meanwhile, the new medical examiner Dr. Veena Singh updated Williams' death to a "homicide" last year and Spokane Police are still waiting on Spokane County Prosecutor Larry Haskell's office to charge Davis based on the evidence in Williams' death.
LOCAL FOLKS
On Jan. 19, 2017, we highlighted the new Spokane Arts director, MELISSA HUGGINS. Over her tenure Huggins oversaw the installation of many public art projects, including 17 new murals, 50 sculptures and many arts events from poetry to theater. She also helped disperse more than $1.3 million in arts grants and helped give paying work to artists during the shutdown days of the pandemic when seemingly every public gathering place was closed for a while and many people lost their main (non-art) source of income. Huggins left Spokane Arts this June for a new role with a statewide organization that helps entrepreneurs.