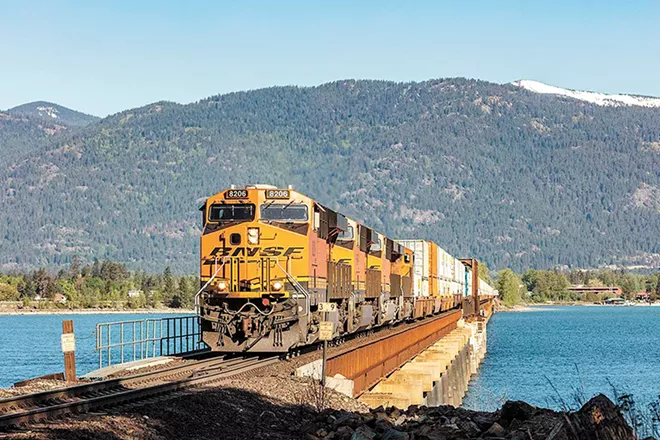 T
he U.S. Coast Guard has finished
an environmental assessment for a second rail bridge BNSF Railway plans to build across Lake Pend Oreille, clearing the way for construction, pending permits.
The bridge will cross the lake near Sandpoint, twinning an existing bridge that was first built about a century ago and has since had major renovations.
BNSF says the additional bridge, which is expected to take three to five years to build, is needed to prevent backups through the area and reduce train idling on nearby train sidings.
Last week, upland work started to create access to the future construction site near Sand Creek, as well as relocate a bike trail so it can be used throughout the project, BNSF spokeswoman Courtney Wallace says by email. In-water construction is anticipated to start in mid-October, pending final permitting from the U.S. Army Corps of Engineers.
Environmentalists had pushed for a full environmental impact statement for the project, which would have required more thorough research into potential impacts. Many voiced concerns about the project's potential to increase rail traffic and the transport of hazardous substances over the water.
"We're extremely disappointed with the Coast Guard's decision," says Matt Nykiel, Idaho Conservation League's conservation associate, in a written statement. "The Coast Guard ignored nearly 2,000 people who wanted a more thorough study of the project's effects on air and water quality, public safety and health, the environment, and other factors, such as traffic and the economy."
The Coast Guard and BNSF maintain that markets dictate rail traffic, and removing the bottleneck will reduce fuel emissions. Slightly more than an acre of nearshore and wetland that will be filled for the project will be mitigated via a wetland mitigation bank near Priest River.