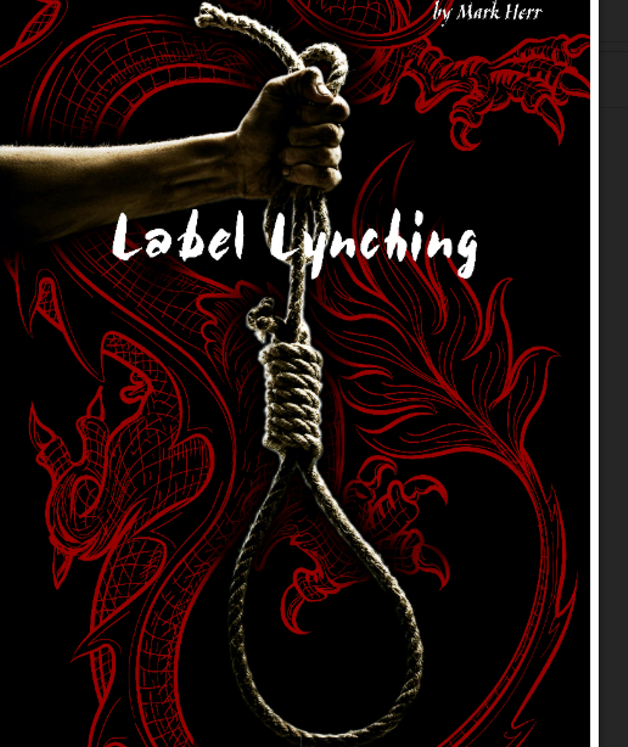 A
s the anger poured out yesterday about
Spokane GOP Chair Cecily Wright's decision to host former Washington State University College Republicans president James Allsup at a conservative meeting, the aggravation focused on not just her giving a white supremacist a platform, but on her claim that Allsup had been "
label-lynched
."
"Not only did Cecily Wright defend James Allsup, she introduced him as the victim of 'label-lynching' — a grotesquely uninformed phrase that trivializes the violence inflicted on people of color by actual lynchings through our country's history," Washington State Democrats Chair Tina Podlodowski said in a statement.
But where did that phrase come from, exactly? Google "label-lynching" in quotes, and you'll have trouble finding
any
relevant results before yesterday.
Wright, it turns out, didn't invent the term. It didn't come from the alt-right, either.
In fact, it comes from a separate — though occasionally overlapping — sector of the far right. At risk of labeling things, it's referred to as the
patriot movement
, populated by militia members, survivalists, Tea Party activists, redoubt members and occasionally sovereign citizens.
Specifically, it's a neologism from Mark Herr, the president of the Tennessee-based Center for Self-Governance and the producer of a documentary centering on the words and legacy of LaVoy Finicum.
Finicum
was the single fatality of the armed standoff at the Malheur National Wildlife Refuge in 2016.
Herr first used the phrase on the Center of Self-Governance Facebook page on
March 7
, where the Center defined label-lynching as "a form of domestic extremism. Primarily a tactic used by alt-leftwing extremists who appear to intend or coerce a civilian population or change government policy."
In other posts, the definition shifted to "manipulating the meaning of words to destroy reputation or business and/or imprison or kill other human beings without due process."
The term has become a big part of Herr's rhetoric in the months since.
At a recent conference for the Young Americans for Liberty (think of the College
Republicans,
but for libertarians) Herr's event is accompanied by a large banner proclaiming "The Art of Political Chess" with the phrase "Label-Lynching" emblazoned over a shadowy hand holding out a noose.
And, as we've seen with the rhetoric from Wright, the term has begun to spread on the right.
The term was cited by multiple speakers at this year's Marble God and Country Rally, a three-day Independence Day festival for patriotic Christians up in Stevens County.
That included Spokane Valley
Rep.
Matt Shea. And that included Jeanette Finicum — LaVoy's widow — who called upon the audience to urge their state legislators and county commissioners to make label-lynching a hate crime.
Herr, who is currently attending the trial of the FBI agent accused of lying about the Finicum shooting, explained that he came up with the term last year, attempting to describe his own frustration with being lumped in with racists.
"In my view, 'label-lynching' starts with the lynching of your reputation," Herr tells the
Inlander
. "Then it progresses to the lynching of your employment. And then it could go into a higher platform of imprisonment. And then, ultimately, it could result in death."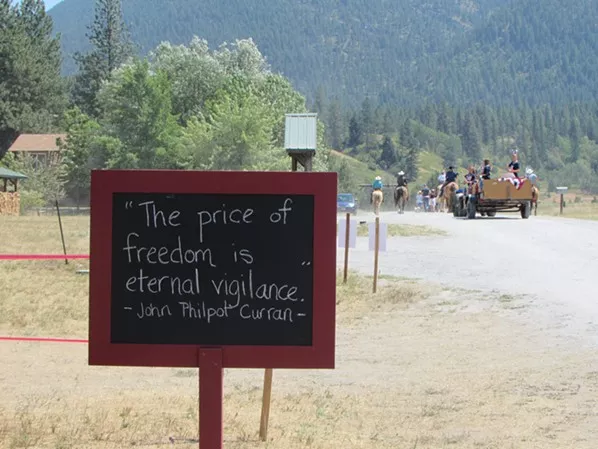 I
t's Friday evening in late June
, the first night of the 2018 Marble God and Country Rally. Herr has the sleeves of his blue plaid shirt rolled up, microphone in hand, standing below the "Marble Country: Building our Children's Inheritance."
Spokane Valley Rep. Matt Shea is there too, planning to talk about splitting Eastern Washington off into its own state. So is
Steve McLaughlin
, who temporarily distanced himself from this crowd during his unsuccessful state lands commissioner bid in 2016.
The weekend brings appearances by former state Sen. Val Stevens, Stevens County Commissioner Steve Parker and, yes, Spokane GOP Chair Cecily Wright.
Three years earlier, the
Inlander
bought a ticket to a Marble God and Country Festival, only to be turned away by the organizers after they had a conversation with Shea. This year, however, the
Inlander
obtained a recording of many of the speeches at the 2018 event, including Herr's.
And that Friday night, Herr speaks with the mix of easygoing charisma and earnest zeal of a hip evangelical pastor. There are people out there, he says, who want to blur the powers of the state and federal government, instead of keeping them distinct.
"And they are beating you! They are whooping you! And how are they beating you and whooping you?" Herr says. "It's called label-lynching. It's a term I came up with to describe what happened to me in 2010."

In 2010, Herr was a member of the Mid-South Tea Party when Tennessee Sen. Steve Cohen slammed the Tea Party as racist.
"Tea Party people are kind of like, without robes — and hoods," Cohen said on an episode of the Young Turks. "They have really shown a very hardcore angry side of America, that is against any type of diversity."

Herr says the notion that he would be a white supremacist was absurd, even libelous. He suggests that it exposed him to retaliation. He claims that his car was keyed, his tires were slashed and feces were smeared at his home. He says he held a protest against Cohen at his office in response.

(It's hard to find evidence of this claim. While contemporaneous media coverage does talk about Herr holding a press conference to slam Cohen, none of the reporting mentions anything about any allegations that he was a victim of vandalism. The Memphis Police Department's records division can't find any records of a police report filed by anyone named Mark Herr. Herr claims that he didn't trust the police enough to bother reporting it.)


"Label-lynching is a
major
problem in the United States," Herr continues. "How many have been referred to as a white supremacist? A bigot? Anti-government? 'Reject
federal authority,' 'Constitutionalist,' 'Christian group,' 'anti-immigration,' 'anti-abortion,' etc. etc? Those of you who haven't? Well, it's coming."
He refers to a 2009 Homeland Security report on
domestic right-wing extremist groups
, to argue the way the government defined certain threats, made mislabeling a person particularly dangerous.
And if you think you're not going to be a victim of that sort of labeling? Well, Herr says, look at Hitler.
"Hitler was able to label Jews as rats for two years. He told the German people, 'Rats are bad. Don't you hate rats?' Herr says. "So that's what Hitler did for two years: 'Jews are rats, Jews are rats, Jews are rats, what do you want to do with rats? Exterminate them."
That rhetoric, Herr contends, led to
Kristallnacht,
the infamous night of rioting when the German people retaliated against Jewish businesses and people.
Anger about feeling mislabeled has long been a complaint of right: In particular, they point to Southern Poverty Law Center, the group that aims to categorize a wide swath of extremist groups. Often, the SPLC correctly diagnoses racist, anti-Semitic or extremist
groups
. But sometimes, it gets it
wrong
.
The far-right seethes with contempt for the SPLC. Shea — who has compared
Planned Parenthood with Nazi Germany
— called the SPLC the "
most dangerous organization in the country
," and blamed their rhetoric for the 2012
shooting
at the Family Research Council, an anti-gay rights group the SPLC had labeled a hate group.
And Shea, in one of his speeches at the Marble festival, uses the term after attacking a 2005
Stranger
article that called those who wanted to make eastern Washington its own state "
rubes
."
"When you get to that intellectual level when you can't even fight me on numbers, and you've got to start calling people names, and label-lynching?" Shea says. "Label-lynching is what Adolf Hitler did. Anyone who is doing that is actually
advocating
hate."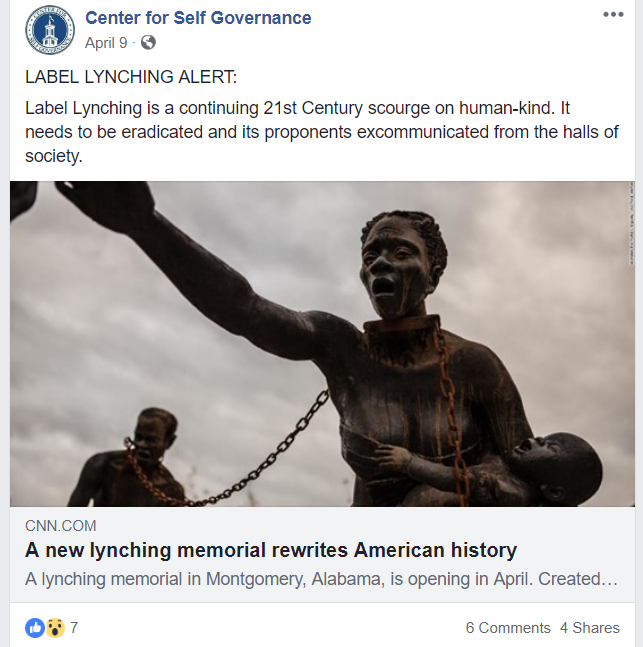 B


ut Herr goes even further:
He
argues that "label-lynching," tarring people with incendiary labels, may have helped lead to LaVoy Finicum's death. The media outlets, he says, incorrectly labeled Finicum a "sovereign citizen."
Sovereign citizens believe that large swaths of the law don't legally apply to them. Sometimes they've
killed cops
.
"I feel like you have someone who was
killed,
because he was labeled a 'sovereign citizen' and he was labeled 'militia,'" Herr tells the
Inlander
. "He was labeled anti-government. Now he's dead."
And in her own speech at the Marble, Jeanette Finicum echoes that notion.
"The media is not in the business of telling the truth. Their job, their motive, their mission is to create an illusion in order to blur our reality," Jeanette says. "I was 'label-lynched' by them as a sovereign citizen, anti-government terrorists. And profiled as a domestic right-wing extremist and judged by the American public for standing by my husband."
Jeanette argues that she isn't anti-government. She's simply in favor of the responsible limited government. She says that she and LaVoy were simply "dual federalists," people who favor clearly defined distinctions between the roles of state, federal and local governments.
She calls for all of those in the audience who share those beliefs to stand up.
"You are all dual federalists and your political opponents are using labels and the force of government to lynch you out of existence," Jeanette says.
So what can you do? she asks rhetorically.
"You can make 'label-lynching' a hate crime, by getting your county commissioner to pass a resolution stating that," Jeanette says. "You can, by getting your state legislator to make label-lynching a hate crime. Make 'dual federalists' a protected class. We should be a protected class."
M
ark Pitcavage
, who tracks right-wing groups for the Anti-Defamation League, says it's true that some media outlets mislabeled Finicum as a sovereign citizen. In actuality, his ideology was focused on opposition to federal policy around public lands. Sometimes, media outlets make those sort of mistakes, he says.
"The media, it's easier for the journalists to grasp basic concepts like white supremacy," Pitcavage says. "But militia vs. sovereign citizen movements? A lot of them don't know."
However, the FBI doesn't take their cues from the media, he stresses. There were a lot of reasons that law enforcement may have been concerned about LaVoy Finicum. He'd been involved in the standoff in Nevada as well. One of his acquaintances
tried to blow up a Bureau of Land Management cabin
.
Indeed, it's not hard to come up with an alternative explanation for Finicum's death, one that doesn't involve label-lynching, media mistakes or threat assessments: Law enforcement officers manning a roadblock saw a man who'd been involved in a protracted occupation of a federal building reaching toward his gun.

Cops have fired deadly bullets for a lot less.
Herr laments the way the phrase "domestic terrorist" has been tossed around to describe Finicum.
But Pitcavage says that, while it's not a phrase he uses in this case, he understands why a lot of people do.
"When you engage with armed standoffs? Two of them?" Pitcavage says. "You've got to get used to descriptions like that."



Ultimately, Herr actually says that he's concerned by the social media mobs who've been too quick to judge the officer who shot Finicum.



"The folks on the social media mob should take a minute, they could be label-lynching themselves, by label-lynching this officer," Herr says.


Herr says that, increasingly, it feels like it's become tougher and tougher to fumble around for language to describe complicated positions — like "dual federalism" — without getting destroyed.
Herr objects to even the label "far right." Despite putting out posts with titles like, "Citizens Worldwide Activate Patriots cells for Self Governance," Herr says his group is
non-partisan,
and says that the federal government considers the "far right" synonymous with "right-wing extremists." He says that his group is not an extremist group and that by the Inlander using the descriptor "far-right" it could get people in his group followed, profiled or even killed.
But at the same time, Herr doesn't appear to grasp why the phrase is so offensive to many people. He says he understands the seriousness of the lynching has happened to minority communities in the
past,
but argues that that's why the phrase is appropriate. Jews and African-Americans were given insulting labels too, he says.
"It gave me some empathy toward the Jews and toward the African American community to how they're treated," Herr says.
When Herr first coined the term, he says he asked himself a question: "Can I drive a conversation by creating this controversial phrase?"
And, in that sense at least, Herr has been successful.