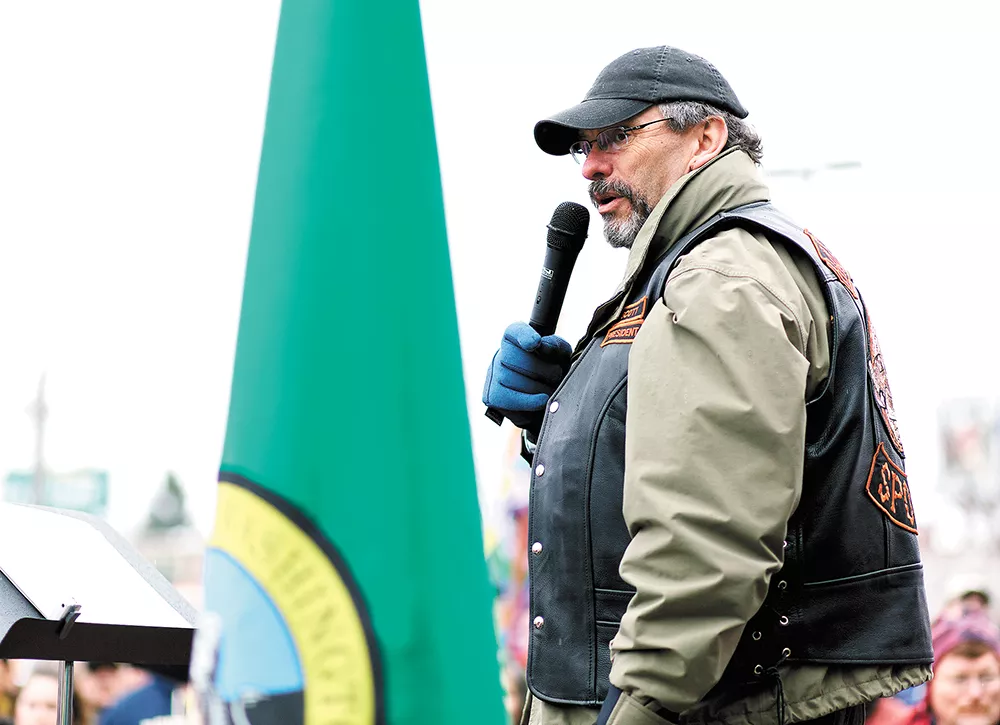 It's a bit of an understatement to call Rattlesnakes Motorcycle Club founder Scott Maclay a burr in the boot of Spokane County Sheriff Ozzie Knezovich. Maclay's closer to a tormenter, mixed with a prankster.
On Friday, Maclay took it one more step further, literally going to the courthouse to change his legal name to Dumpozzie Dot Com. (Maclay had previously changed his name from Scott Dunwell.)
On his titular website, DumpOzzie.com, Maclay announced his intention to run for sheriff against Knezovich, whom he referred to as a "corrupt and murderous sheriff with blood on his hands."
Maclay did not agree to a phone interview with the Inlander, but did, in a text message, refer to himself as "Dumpy."
Knezovich says Maclay's beef with him goes back to 2002 when Knezovich, then the leader of the Spokane County Deputy Sheriff's Association, refused to endorse him for Spokane Valley City Council.
Maclay has protested the sheriff's speeches, calling him a "terrorist sheriff," and accusing him of "Mormonizing" the Sheriff's Office. After the death of Ryan Holyk, a teenager hit and killed by a speeding sheriff's deputy, Maclay announced a plan to throw volleyballs at patrol cars in protest. He received a cease-and-desist letter from Holyk's family.
But Knezovich says Maclay aggressively confronted his wife in 2014 and disrupted the public memorial service of Freeman High School shooting victim Sam Strahan. He worries Maclay is escalating. He sees Maclay as not just irritating, but dangerous.
"I started receiving calls and communications from several people saying that Maclay had been planning my demise," Knezovich says.
Maclay, on his website, says the evidence of death threats are nonexistent, but the sheriff says he turned that information over to the FBI to investigate.
"I truly believe he's a psychopath," Knezovich says. "I truly expect him to try to kill me."

Editor's note: An earlier version of this story said that Scott Maclay "threw volleyballs at patrol cars in protest." We have corrected the story to say he "announced a plan to throw volleyballs."