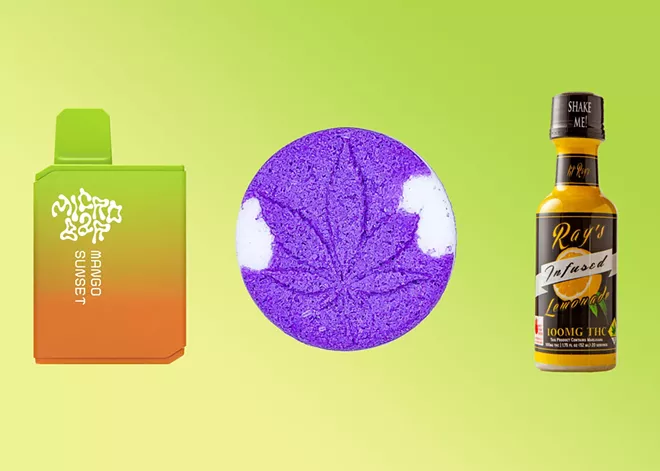 The days are shorter, the temperatures are cooler, and going outside isn't as easy as it was just a few short weeks ago. Winter, as you may have heard, is coming.
Changing weather can present some challenges for cannabis consumers who live in an apartment or share a home with scent-sensitive roommates. That doesn't mean you need to bundle up and head outside to get a little high. Here are three products available locally to help you make it through these cold, long nights.
MICRO BAR VAPES
Sleek and disposable, Micro Bar vapes aren't traditional vape pens. They're shaped more like Zippo lighters, which makes them perfect for fitting in your pocket. With a variety of strains and flavors, mostly fruity like Golden Pineapple or Blueberry Zkittles, there's sure to be a version to suit your fancy and bring you back to warmer weather.
Like a traditional vape pen, though, there's no strong odor produced. Which makes them perfect for discreet indoor use. And because they're disposable, you won't need to worry about storage when you've run out and need to restock.
BATH BY BEX
Unlike the other products on this list, this Spokane Valley offering won't get you high. Bath By Bex's products are strictly CBD, but they're perfect for this gloomy time of year.
Operating out of a storefront on East Sprague Avenue, Bath By Bex produces a variety of CBD topicals, most of which are meant to elevate your bath experience into a spa situation. With bath bombs, bath salts and soaps, along with more traditional topical sticks and lotions, and even oral products like tinctures and capsules, Bath By Bex has the entire CBD spectrum covered.
RAY'S LEMONADE
Stevens County's Dogtown Pioneers is truly a pioneer in the infused beverage market. Their brand of Ray's Lemonade products has dominated the shelves at local dispensaries for years. The original 12-ounce bottles with 100 milligrams of THC come with a measuring cup for dosing out servings. Their newer offering, the aptly named "Lil Ray's," pack 100 milligrams into an airplane shot-sized bottle.
With flavors from traditional lemonade through all sorts of fruity mixes, and the ominously named "Tiger's Blood," Ray's Lemonades have the right taste for every palette. The bigger bottles are perfect for mixing up cannabis mocktails, while the smaller shooters are great for people just looking to get the job done. ♦