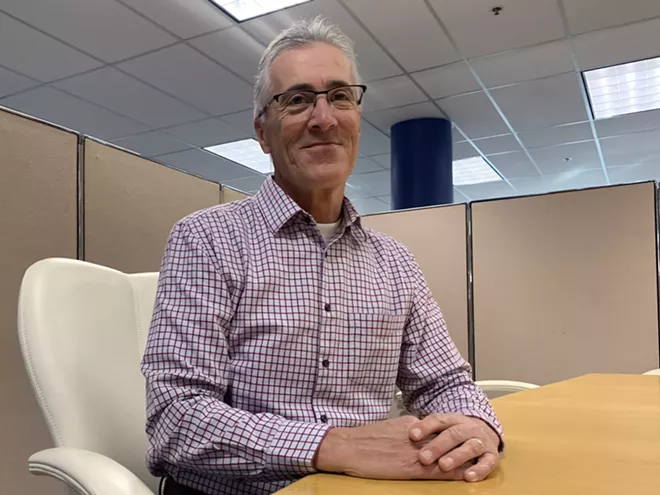 T
he advisory vote over
where to put a replacement for Joe Albi stadium is important. Voters will live with it for decades, whether they choose to build a smaller stadium at the current Albi site or build a new stadium downtown.
The latter idea of building a stadium downtown has captivated the imaginations of Mayor David Condon and other city leaders, who argue it would spur economic development in the urban core while serving as a central location for high school sports.
However, many voters remain skeptical. Where would people park? Why should we be paying for a new downtown football stadium when football might be obsolete in 20 years? Who's going to account for all the memories we all made at Joe Albi in our high school years?
To
start,
here's some background. Joe Albi is 60 years old. It's way too big for what it's used for, and there's never more than 1,500 people in the 30,000-seat arena. It's a pain to keep up and Spokane Public Schools says it's past its useful life. By downsizing, Spokane Public Schools could build a new middle school there. So as part of a $495 million bond request, the district is asking for $31 million to replace the 30,000-seat Joe Albi stadium with a smaller, 5,000 seat stadium. You can vote against the bond, sure, but that would also mean voting against the school district building the three much-needed new middle schools, replacing aging existing middle schools and making other school improvements. (
You can learn all about it here
.)
If that bond is approved, the district would be happy to just build a downsized stadium at the current site, where one of the new middle schools would also be constructed. But
as part of a partnership
between the city and school district, the city had another idea: What if, for the same cost, we put the stadium downtown? That's what voters, in a
separate advisory vote
, are being asked to choose.
And to answer all of your questions about what a downtown stadium would mean for the city, I asked the city's Rick Romero some questions. He's led the charge in potentially making the downtown stadium a reality, even
reviving the idea
when it looked dead.
Questions and answers have been edited for space.
INLANDER: Who are you?
RICK ROMERO
: I basically just say I'm a senior advisor to the mayor. Or I work special projects for the city. I don't work full time anymore and I'm officially retired. But I'm still working on some things that maybe we can get done that are of value to the community here.
People are getting tired of using public money to fund expensive sports facilities — just look at what's happening with Safeco Field in Seattle. How is this different?
The public has typically funded — through school bonds — facilities for high school athletics. Much like the gym spaces they invest in, the turf fields for soccer and football and lacrosse, that's really a public investment
schools
have always made. So it's different than Safeco Field, which is primarily for a private sports franchise.
Who would manage a downtown stadium?
I think that's quite honestly one of the big advantages is it really adds another partner downtown — a really key partner — which would be the Public Facilities District. And the PFD is in the business of managing facilities and marketing facilities for entertainment or recreational purposes. They manage the Spokane Arena. They manage the Convention Center. And a big part of their role is figuring out how to market and bring events and activities to those spaces. So they do a great job with investing in those facilities, bringing events and attractions to those facilities.

I've heard from people who are worried about making this kind of commitment to a football stadium. Can voters be confident that this would be used for things other than football?
Absolutely. It certainly would include other types of sporting events. Soccer and lacrosse are obviously very popular. I think it also opens the door for things all the way from
graduations,
to cheerleading, to band competitions, to a whole host of different types of things that maybe make more sense if it's located where you have hotels and restaurants in your urban core.
I think it comes down to having professionals like the Spokane Sports Commission and PFD that are in that business and understand where there are opportunities. You're not going to have that at [the current Albi site]. That's going to be a school district run operation.
With the Arena, the new Sportsplex and potentially a new stadium all on the North Bank downtown, where will people park?
When we put this on the ballot, the city was in the process of doing a downtown parking study that looked at the parking in the downtown area and the North Bank. And what we discovered about the North Bank out of that study is that there is a significant amount of privately owned parking capacity that is not utilized much at all on weekends and evenings.
So we reached out to three of the primary owners of those large parking facilities over there and asked them if they would be willing to give us letters of interest or intent to make some of that parking available for weekend or evening use. And we got letters of commitment for 1,400 spaces that have not been used for event parking down there in the past.
This isn't an issue that there's not enough parking, the issue is that it needs to be coordinated and we need to maximize it and take better advantage of what's already there.
At one point, a new $10 million parking garage was discussed as part of a new downtown stadium, before the idea was scrapped to put the advisory measure on the ballot. Will the public have to pay for a new garage?
I can give you my personal opinion: My personal opinion is — given what we know now — I think it would be irresponsible to build any additional parking. There's enough surface and structured parking if we just work together for its utilization between all of the entities and the private owners.
Will students have to pay to park for high school games?
The PFD has committed to making high school events free.
What about other events?
Other events wouldn't be free.
Would it be public or private parking?
You'd pay either, you can make your choice. But the PFD has a lot of parking spaces over there that they make available now. And the private entities, if they chose to make it available, you'd pay for that opportunity as well.
What happens when there's an event at the Arena, the Sportsplex and the stadium all at once?
Therein lies the big advantage of having one entity managing all three facilities. The PFD is scheduling and
filling
dates for those facilities. We actually did a little research. We went back and looked the last three years of events that would have happened at Albi and events that happened at the Arena just to see crossover dates. What they found is that they had three dates in three years that would have had a significant parking issue. And again, with a downtown stadium, the PFD is managing and scheduling that to avoid major conflicts.
If needed, could the stadium extend its capacity beyond 5,000 people?
Yes, there would definitely be the opportunity to look at expansion.
What else do people need to know?
I think again partnerships are kind of the future here for local
governments,
and working together like this, I think we can do a lot more for the citizens than if we each do our own thing. And I think the stadium piece is a perfect example of that. The school can build it at Albi and it will be a perfectly fine location, but the more we work together with professional organizations like the PFD and the Sports Commission, the greater opportunity we all have to get more out of that investment.
What about all the memories people have out at Joe Albi?
[Laughs] I have a lot of really good memories of Albi as well. It's served its purpose, and yes it does have great memories there, but it's at the end of its useful life quite honestly, those memories are going to be different now, whether it's at a downsized stadium there or new memories that can be created around a stadium downtown.