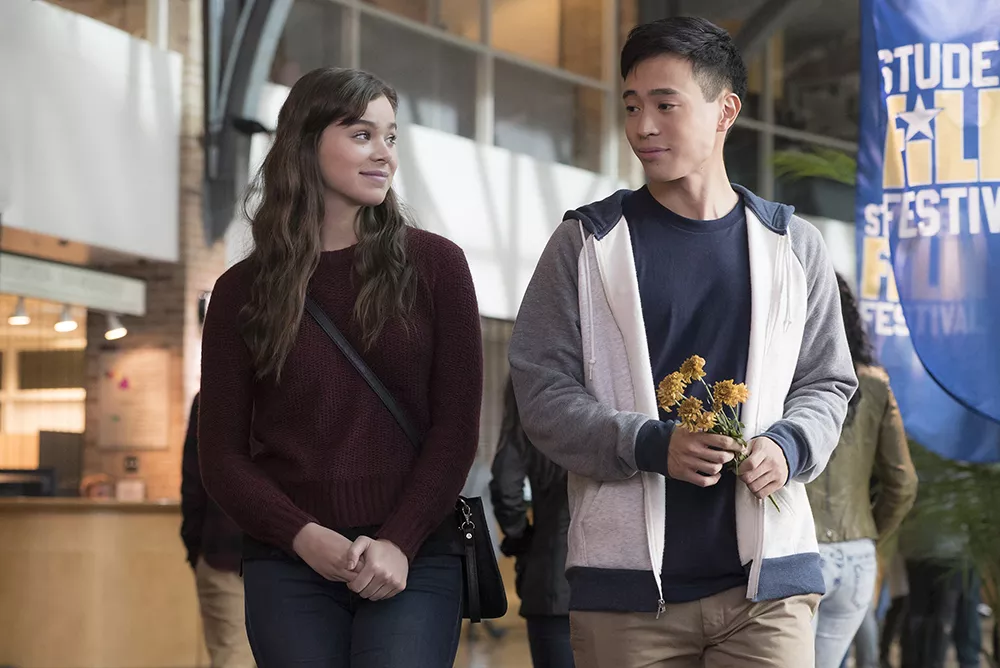 There's an inherent melodrama built into the way a teenage mind operates, but that doesn't mean melodramatic expressions of real anxiety and depression are invalid. The Edge of Seventeen understands this on a deeper, realer level than most coming-of-age high school dramedies. When the film's protagonist Nadine (Hailee Steinfeld) bemoans, "I had the worst thought: I have to spend the rest of my life with myself," it's both a messy appeal for sympathy and attention and a genuine feeling. The balance of authenticity and comedic levity makes The Edge of Seventeen somewhat of a John Hughes film for millennials.
It's easy to empathize with Nadine's downtrodden lot in life. The outcast high school junior must deal with her hotshot older brother Darian, and her overbearing, emotionally unstable mother (Kyra Sedgwick). Nadine's lone ray of hope in this teenage wasteland is her best (and literally only) friend, Krista (Haley Lu Richardson). But when a hungover Nadine stumbles in on Krista and her bro hooking up, her whole world becomes a fog of crushing loneliness.
Edge of Seventeen boasts a razor-sharp script for its genre. Writer and first-time director Kelly Fremon Craig's characters don't hold back, delivering blunt and cutting R-rated zingers; pushing boundaries with something closer to Gilmore Girls verbosity (discussing topics like mom's sexual encounters with dentists on Match.com) than American Pie raunchiness. Craig additionally does a subtly great job framing Nadine so that she always seems distant, isolated, and alone even when in public spaces.
But it's Nadine's relationships with her history teacher and de facto therapist Mr. Bruner (Woody Harrelson) and Erwin (Hayden Szeto), the boy in class who's clearly crushing hard on her, that really make The Edge of Seventeen crackle. Nadine uses Mr. Bruner as a vent sponge for her frustrations, despite his continual eye-rolling and sharp-tongued (probably school-code-violating) responses to her melodrama. When she storms into his classroom in a hyperventilating huff to tell him she's going to kill herself, he slyly responds by "reading" her his own suicide note, which details how an annoying student who keeps interrupting his lunch break has driven him to crave death.
On the other hand, Nadine keeps Erwin at bay despite his ridiculously goofy and adorable affection for her. Szeto portrays the way the giddiness of a teenage crush is swiftly stomped by nerves with comedic perfection. While the sum of The Edge of Seventeen works, it'd be a clear notch above most teen dramedies on the strength of Harrelson and Szeto alone.♦