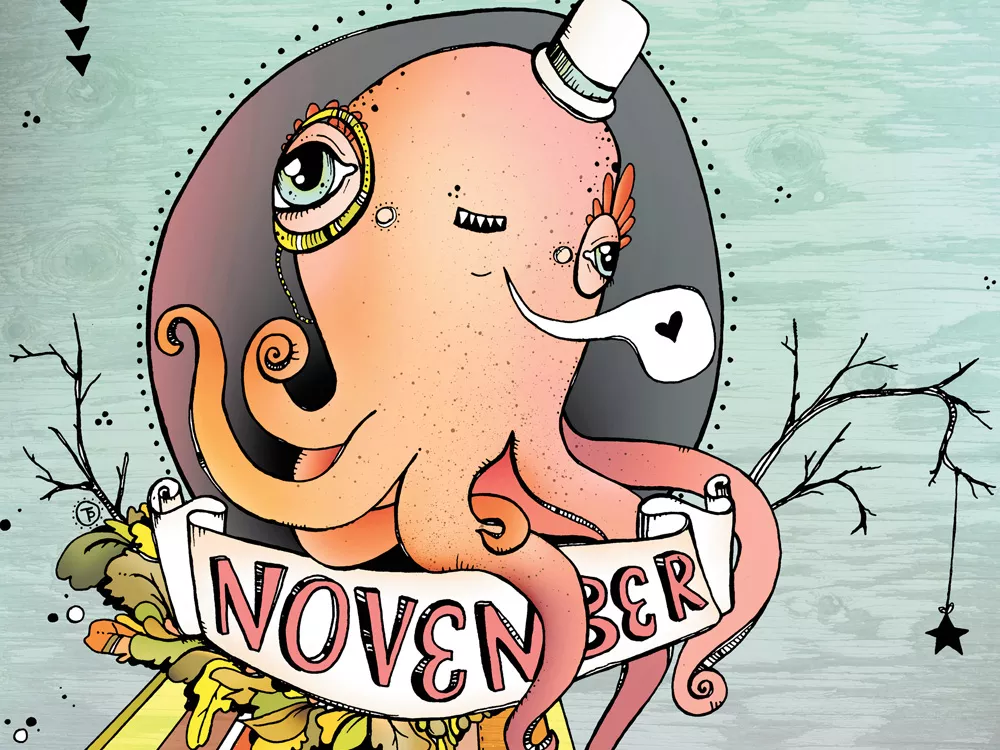 Music
Josh Ritter

Josh Ritter, on his records, is good. Damn good. The Moscow, Idaho, native proved this in 2006 with the release of The Animal Years — an elegant, imaginative, heroic album, full of both literary detail and catchy melody. And in April, he showed it yet again with the release of So Runs the World Away — an album that is by turns brash, badass and hopelessly sunny. (He did marry super-fox singer-songwriter Dawn Landes since his last release.)
But while Ritter's music is a pleasure to listen to on speakers, the real delight is watching him perform it onstage, especially so near his hometown. He positively glowed at performances in Sandpoint and Spokane in recent years, confessing childhood stories and overflowing with un-jaded gratitude.
Ritter's local shows seem less like performances than sharing time at a beautiful family reunion. Be there in November. Nov. 5 | Knitting Factory, $25-$60, 7:30 pm, all-ages — JOEL SMITH
Dance
Stomp
Alleyway entertainment is no longer comprised of stray cats and bar fights. The props may be similar, but the venue and actors have changed. Stomp brings their unique blend of street entertainment to Broadway galas and, finally, a stage near you. The dance and percussion troupe is a rhythmic powerhouse that makes wailing on paint cans, trash cans and tractor tires seem more like a mini orchestra and less like a riot. Stomp has no words, melodies or genre, yet each show is provocative, gritty and urban. It's noisy, aggressive entertainment in the most primal sense, and it's downright contagious. You'll need a mallet and something to bang on when you get home. Sheer noise has never looked and sounded so good. Nov. 5-6 | INB Performing Arts Center, $30, 8 pm. — JORDY BYRD
Film
GLBT Film Festival
What began as a fundraiser for the Spokane Aids Network 12 years ago has taken on a life of its own. Even when SAN dropped the event after the first year, organizer Barb Lee kept it going. The GLBT Film Festival entertains, educates and encourages community-building.
"Everyone will find something they like," says Lee. "One film may be a comedy, another may tell a Matthew Shepard-type of story, another a love story and another about the struggles and coping of family members of a GLBT person."
Last year, films ranged from "Gravitá," four-minute Italian music video, to Training Rules, an hour-long documentary about a college basketball coach's 27-year history of harassing lesbian team members. Nov. 5-7 | Riverpoint Auditorium, $5 matinee, $8 evening, $21 festival pass, $16 student pass; Fri, 7 pm; Sat, 3 pm and 7 pm; Sun, 3 pm. — CAREY JACKSON
Food
Epicurean Delight
Now in its 29th year, Epicurean Delight is an opportunity to enjoy our region's best food and drink at a culinary extravaganza benefitting the Inland Northwest Blood Center. Start the evening off with a signature cocktail from the ice lounge, an elegant 16-foot long bar complete with lounge chairs carved out of ice, then move on to sample wine and beer from local producers. Next, feast on gourmet cuisine from more than 25 local restaurants competing to win Culinary Awards, which are presented later in the evening. The menu is kept under wraps, but just to give you an idea, last year's winners included such savory temptations as Cajun Smoked Salmon Napoleon and Indian Lava Cake. Finish out the evening with prize drawings and dancing 'til midnight. Get your tickets now — last year's event sold out early. Nov. 12 | Spokane Convention Center, $150, 6 pm — KIRSTEN HARRINGTON
Classical
Spokane String Quartet
Jeannette was born in Singapore, Mateusz is from Poland and Helen has Norwegian roots. So that explains the world-music programming for this concert by the Spokane String Quartet (composed of Mateusz Wolski and Tracy Dunlop, violins; Jeannette Wee-Yang, viola; and Helen Byrne, cello). Byrne comments that Chinese-American composer Zhou Long's "Song of the Ch'in," only nine minutes long, "begins very atmospherically with a viola solo (appropriately enough) and includes a wide range of Chinese sounds translated to the string quartet format, including some percussion effects and Chinese fiddling." The three movements of Karol Szymanowski's second string quartet follow a soft-violent-calm pattern. And Edvard Grieg's first string quartet contains hints of Norwegian songs and dances. Byrne notes that  Dunlop has some Italian ancestors — "so we'll get to her in February with some Rossini and Corigliano." Nov. 14 | The Fox, $16 (top), 3 pm — MICHAEL BOWEN
Books
Naomi Shihab Nye
Her father's Palestinian; she was born in St. Louis. She once lived in Jordan and Israel; now she resides in San Antonio. It's not surprising, then, that Naomi Shihab Nye's poems often focus on cultural and religious contrasts.
In "Blood," for example (from her 2002 collection, 19 Varieties of Gazelle: Poems of the Middle East), little Naomi doesn't know what to say when a neighbor girl "wanted to see the Arab." "I said we didn't have one," Shihab Nye writes.
Then her father explains their shared name: "'Shihab' — 'shooting star' —/ a good name, borrowed from the sky./ Once I said, 'When we die, we give it back?'/ He said that's what a true Arab would say."
We're here to partake of nature, not destroy it. In expressing that idea, Shihab Nye's poems show that they were written by a true Arab-American. Nov. 16 | Gonzaga's Cataldo Hall, free, 7:30 pm — MICHAEL BOWEN
Music
Ghostland Observatory
Not everything is bigger in Texas. Strange, scrawny techno nerds also hail from the Lone Star State. The Ghostland Observatory is an unlikely male duo that's created their own special blend of electronics, drums, guitars and vocals. The band's techno-rock, electro-dance tunes are high-energy and easy to dance to. Imagine subtle, classic rock riffs over rave-like beats. Then there is the lead singer. Aaron Behrens' voice is a bizarre combination of Modest Mouse's Isaac Brock and Queen's Freddie Mercury. The sheer oddity of it all — including the band's attire — will leave you wanting more. Plus, it's been rumored that their laser-light show would put Pink Floyd's to shame. Nov. 16 | Knitting Factory, $20, 7:30pm, All-ages. — JORDY BYRD
Visual Arts
Visiting Artist Lecture Series: Mark Pauline
"It makes monster trucks look like kiddie toys," said Spokane Falls Community College's Tom O'Day, who helped bring the Visiting Artist Lecture Series' first speaker to the area. Picture heavy equipment reconfigured into massing, moving sculptures, a Medusa-like crane shooting flames into the captive audience of stunned onlookers. It's just another day in the life of Survival Research Laboratories founder Mark Pauline, who along with other techies takes all the gizmos intended for everything from the military to mundane scientific applications and transforms them into heart-stopping mechanized event. While you won't be able to see the actual performances, you'll be mesmerized by Pauline's images and discussion of the SRL's "most dangerous shows on earth." Nov. 17-18 | Wed, 11:30 am at SFCC and 6:30 pm at the MAC; Thur, noon at EWU. Free. — CARRIE SCOZZARO
Comedy
Tosh Tour Twenty Ten
Triple T alliteration! Except it's four! But "quadruple alliteration" isn't alliterative itself! Pow! Daniel Tosh is the star of Comedy Central's Tosh.0. If you haven't seen it, think YouTube meets America's Funniest Home Videos — with a snide, quick-witted host and a healthy dose of inappropriateness. Tosh more or less cherry-picks weird things from the Internet (videos like "Balloon underwear" or "Drunk guy with shotgun" to stupid tweets by LeBron James), airs it on his show, spoofs it (sometimes) and occasionally invites the subjects to redeem/explain/re-embarrass themselves. Season 3 of Tosh.0 won't be unveiled until January, but you catch Tosh live when his world tour stops in Spokane. His standup style is a mix of feisty stream-of-consciousness, boyish sassiness and passive aggressive lewdness. Think electric and biting. Like Dane Cook … but talented … and not as loud. Nov. 18 | INB Performing Arts Center, 7:30 pm, Mature content, $35. — BLAIR TELLERS
Film
SpIFF Professor Film Series
On Wednesday nights when you're not at the MAC, go to the Magic Lantern for SpIFF's Professor Series. Started last fall, the Professor Series is designed "to give people who wanted to do more than go to the movies something to do," according to SpIFF Director Dr. Pete Porter.
Most of the films on tap will be classics of one form or another. The first up, Director Alfonso Cuaron's catalytic Children of Men — discussion by Gonzaga's Brian Clayton — is a classic of contemporary sci-fi action. Not to be missed on the big screen.
Local professors choose a film to screen — something not often shown or something they think audience members should consider in a different way — and then host a Q-and-A session following the movie. Porter describes most of the discussions as "pretty darn good." Sept. 29 - Dec. 1 | Magic Lantern Theatre, $10, $5 for students; 7 pm — CAREY JACKSON
Film
SpIFF & MAC: Wednesday Night at the Museum
Don't worry – Wednesday Night at the Museum isn't the latest sequel to the Night at the Museum vehicles starring Ben Stiller. For the benefit of all the art geeks and snobs out there, it's a lot more cerebral than that.
Wednesday Night at the Museum is new series of events at the Northwest Museum of Arts & Culture featuring guest speakers, artists and films on as many Wednesday nights as possible. Every second Wednesday is devoted to a film sponsored by the Spokane International Film Festival.
The films for September and October are both documentaries about artists: Jack Smith and Destruction of Atlantis and Painters Painting: The New York Art Scene: 1940-1970. But having grown out of last year's Humanities Series at the Magic Lantern, some later films will cover various humanities-related topics. Oct. 6 - Dec. 28 | The Northwest Museum of Arts & Culture, $5; 6:30 pm. — CAREY JACKSON