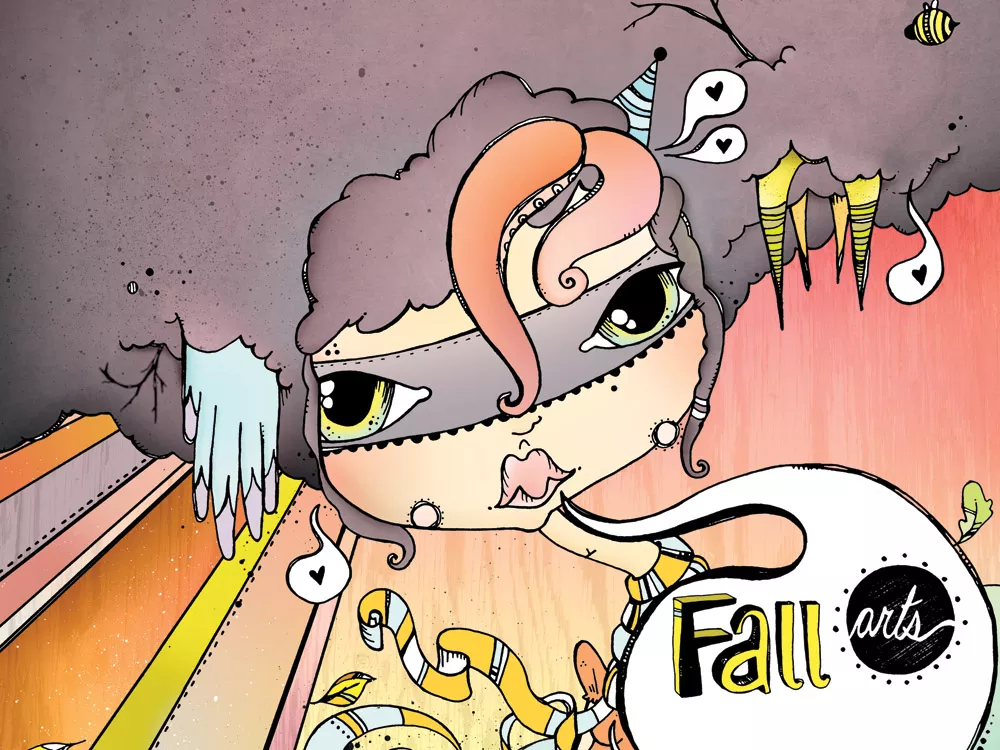 Books
Ann Rule
True crime author Ann Rule is back with her newest book, In the Still of the Night: The Strange Death of Ronda Reynolds. It chronicles the mysterious and still-unsolved case of Reynolds, who allegedly committed suicide the morning she was to travel from Seattle to Spokane to visit her family for the holidays. Her mother, along with a courageous detective, refutes the suicide verdict — she fights for answers and justice against spotty evidence, a poorly handled investigation and a confused coroner who flip-flops between "suicide" and "undetermined." Join Rule in person as she navigates the complexities of Ronda's case, including the Reynolds' turbulent relationship with her husband and accusations of a police cover-up, in hopes of finding a road through what many have long since determined to be a dead end. Oct. 16 | Auntie's Bookstore, free, 2 pm — TIFFANY HARMS
Books
Jimmy Santiago Baca
Jimmy Baca is 58 now, an American Book Award winner and much-honored "poet of the people." Thirty years ago, however, he'd just finished doing six years for drug possession. As a toddler in New Mexico, he'd been orphaned, then lived on the streets, then got himself in trouble. When he entered prison, he was illiterate.
He wasn't when he got out. His 2007 poem "This Day" hints at his self-transformation: Remembering an afternoon when he was watching some robins, he writes, "They've never smoked cigarettes, drank whiskey, consumed drugs/ as I have." Later, he imagines that the birds "scold me not to be self-pitying,/ to open my life/ and make this day a bough on a tree/ leaning over infinity...."
Self-change isn't Baca's only focus: One of his poetry collections is called Immigrants in Our Own Land. It's not a big seller in Arizona. Oct. 26 | Gonzaga's Cataldo Hall, free, 7:30 pm — MICHAEL BOWEN
Books
Naomi Shihab Nye
Her father's Palestinian; she was born in St. Louis. She once lived in Jordan and Israel; now she resides in San Antonio. It's not surprising, then, that Naomi Shihab Nye's poems often focus on cultural and religious contrasts.
In "Blood," for example (from her 2002 collection, 19 Varieties of Gazelle: Poems of the Middle East), little Naomi doesn't know what to say when a neighbor girl "wanted to see the Arab." "I said we didn't have one," Shihab Nye writes.
Then her father explains their shared name: "'Shihab' — 'shooting star' —/ a good name, borrowed from the sky./ Once I said, 'When we die, we give it back?'/ He said that's what a true Arab would say."
We're here to partake of nature, not destroy it. In expressing that idea, Shihab Nye's poems show that they were written by a true Arab-American. Nov. 16 | Gonzaga's Cataldo Hall, free, 7:30 pm — MICHAEL BOWEN
Classical
Fall Fantasy Concert
Goosebumps will abound as the Coeur d'Alene Symphony performs Peter Ilyich Tchaikovsky's "Romeo and Juliet Fantasy Overture" and Gustav Mahler's Symphony No. 1 in D major. Tchaikovsky's piece is a musical narrative, guiding the listener through the peaks and valleys of Shakespeare's famous ill-fated lovers — most notoriously with its instantly recognizable love theme, illustrating the couple's first meeting on the balcony. In keeping with this program's literary influence, the orchestra delves into Mahler's first symphony, also known as "The Titan," which was loosely influenced by a novel of the same name by German Romantic-era writer Jean Paul. Mahler's revolutionary inclusion of folk melodies as well as his unique arrangement style — even incorporating a rare double bass soloist — lures listeners to the edges of their seats. Oct. 9 | Lake City Community Church, $8-$20, 7:30 pm. — TIFFANY HARMS
Classical
Vladimir Feltsman's Brahms 2
The big-name soloist in this year's Spokane Symphony Orchestra season is Vladimir Feltsman. At dual concerts in late October, he'll perform Johannes Brahms' second piano concerto — the one composed in middle age, decades after the first, with the Allegro appassionato inserted among the traditional three movements.
But Feltsman isn't as staid as all that might sound. In fact, a reviewer in San Diego last month had this to say: "It's tempting to call Vladimir Feltsman a madman. It's crazy what he can do at the piano. He has an effortless yet Herculean technique." If you're going to play with Feltsman, James Chute went on to say, "you'd better be prepared to hold your own. He's not going to be your demure accompanist; he's going to be your partner and at times, your provocateur."
Now 58, Feltsman made his debut with the Moscow Philharmonic 46 years ago. Since then, he has played with every major American orchestra and most of the ones in Europe.
Feltsman has led a life split in half. Thirty years ago, he announced his intention to emigrate; the Soviet government responded by restricting him from public performances for most of the '80s. Eventually, he was welcomed at the White House and became an American citizen.
Music Director Eckart Preu has bracketed Feltsman's Brahms with two other works, each of which has its own story. Antonin Dvorak composed his Fifth Symphony at 34, just as he had run out of money and gotten his girlfriend pregnant; Bohuslav Martinu wrote his concerto for dual string sections even as the Nazis were invading his Czech homeland.
But Feltsman's rendition of the Brahms is these dates' big draw. Oct. 23-24 | The Fox, $20-$42, Sat 8 pm, Sun 3 pm — MICHAEL BOWEN
Music
Bugs Bunny at the Symphony
Finally, the adults have caught on. There'll be no more kicking and screaming as you drag your kids away from the TV, because the Spokane Symphony is presenting "Bugs Bunny at the Symphony." Your kids will get their Saturday morning cartoon fix as the symphony provides live accompaniment to on-screen Looney Tunes favorites like "The Rabbit of Seville" and "What's Opera, Doc?" Though the symphony has performed a similar program in the past, this year is different, incorporating a larger cast of characters including Sylvester, Tweety, Tom and Jerry. To branch out even further, the performance will also host a Hanna-Barbera cartoon montage featuring The Flintstones, Scooby-Doo and many more. At long last, there's a way to make everyone happy. Well, except Disney fans. Oct. 30-31 | INB Center, $14-$46, Sat 8 pm, Sun 2 pm — TIFFANY HARMS
Classical
Spokane String Quartet
Jeannette was born in Singapore, Mateusz is from Poland and Helen has Norwegian roots. So that explains the world-music programming for this concert by the Spokane String Quartet (composed of Mateusz Wolski and Tracy Dunlop, violins; Jeannette Wee-Yang, viola; and Helen Byrne, cello). Byrne comments that Chinese-American composer Zhou Long's "Song of the Ch'in," only nine minutes long, "begins very atmospherically with a viola solo (appropriately enough) and includes a wide range of Chinese sounds translated to the string quartet format, including some percussion effects and Chinese fiddling." The three movements of Karol Szymanowski's second string quartet follow a soft-violent-calm pattern. And Edvard Grieg's first string quartet contains hints of Norwegian songs and dances. Byrne notes that Dunlop has some Italian ancestors — "so we'll get to her in February with some Rossini and Corigliano." Nov. 14 | The Fox, $16 (top), 3 pm — MICHAEL BOWEN
Comedy
Last Comic Standing Tour
What else is NBC supposed to do with all the runners-up who didn't win the seventh-season finale of Last Comic Standing? Send them on tour, of course — just like American Idol does with its afterthoughts. Only this is less boring. The show features winner Felipe Esparza, plus finalists Mike Destefano, Myq Kaplan, Roy Wood Jr. and Tommy Johnagin. Considered something of an upset by those who found Johnagin more entertaining, Esparza is a husky, shaggy-haired Latino from East Los Angeles, of which he jokes, "When I was a kid, I wanted to be a comedian, but you know, growing up where I grew up, dreams take a break. I lived in a gated community. The windows were gated, the backdoors were gated …" The only downside? Show host Craig Robinson (Darryl from The Office), isn't coming along. Boo. Oct. 24 | The Bing, $35-$75, 7:30 pm — BLAIR TELLERS
Comedy
Trailer Park Boys
F-bombs, dope smoking, beer guts, creepy puppets and miscreant humor. It's Canada's homegrown cult phenomenon Trailer Park Boys, which started as a mockumentary TV series with a Cops-esque camera crew documenting the misadventures of doobie-loving ex-convict trailer park residents in Nova Scotia. Their humble daily aspirations include smoking more weed than Dave Chappelle, getting rich quick and staying out of jail. The shows' main characters, Ricky (loves marijuana, alcohol and chicken fingers), Julian (seasoned criminal with hidden morals) and Bubbles (think Milton from Office Space) have disembarked on a rowdy live tour titled Ricky, Julian and Bubbles Community Service Variety Show, which is exactly what it sounds like. The premise is the three oddballs are in "your town" to fulfill court-ordered community service mandates by performing a puppet show that demonstrates the dangers of alcohol and drugs. Guess how that plays out. Oct. 25 | The Bing, $28-$35, 7:30 pm, all-ages — BLAIR TELLERS
Comedy
Tosh Tour Twenty Ten
Triple T alliteration! Except it's four! But "quadruple alliteration" isn't alliterative itself! Pow! Daniel Tosh is the star of Comedy Central's Tosh.0. If you haven't seen it, think YouTube meets America's Funniest Home Videos — with a snide, quick-witted host and a healthy dose of inappropriateness. Tosh more or less cherry-picks weird things from the Internet (videos like "Balloon underwear" or "Drunk guy with shotgun" to stupid tweets by LeBron James), airs it on his show, spoofs it (sometimes) and occasionally invites the subjects to redeem/explain/re-embarrass themselves. Season 3 of Tosh.0 won't be unveiled until January, but you catch Tosh live when his world tour stops in Spokane. His standup style is a mix of feisty stream-of-consciousness, boyish sassiness and passive aggressive lewdness. Think electric and biting. Like Dane Cook … but talented … and not as loud. Nov. 18 | INB Performing Arts Center, 7:30 pm, Mature content, $35. — BLAIR TELLERS
Dance
Koreshakti Tribal Fusion Halloween Show
If you haven't seen Koreshakti Tribal Fusion, you're in for a treat. Though the dancers of the group all look like dancers — every inch of them covered in bangles and lush fabrics — they're more like artists. Collectively, they are an encyclopedia of dance know-how: belly dance, jazz, Irish step, tap dancing (and I swear one of them knows how to moonwalk). They shake all of that together as Koreshakti, creating dance performances like you've never seen before. The group revives its Where the Wild Things Are show — "a forest ode to wonder and magic" — for the first half of this year's Halloween performances. Then they'll give you Nocturnus III: the group's homage to all things bloody, deadly and scary. And they'll do it, of course, in the most beautiful possible way. Oct. 21-22 | Empyrean, $10, 8 pm, all-ages — LEAH SOTTILE
Dance
Stomp
Alleyway entertainment is no longer comprised of stray cats and bar fights. The props may be similar, but the venue and actors have changed. Stomp brings their unique blend of street entertainment to Broadway galas and, finally, a stage near you. The dance and percussion troupe is a rhythmic powerhouse that makes wailing on paint cans, trash cans and tractor tires seem more like a mini orchestra and less like a riot. Stomp has no words, melodies or genre, yet each show is provocative, gritty and urban. It's noisy, aggressive entertainment in the most primal sense, and it's downright contagious. You'll need a mallet and something to bang on when you get home. Sheer noise has never looked and sounded so good. Nov. 5-6 | INB Performing Arts Center, $30, 8 pm. — JORDY BYRD
Dance
The Nutcracker
The holidays are all about tradition. It's these familiar gatherings and performances that are supposed to make Christmas such a jolly, special season. And regardless whether the trimming of the tree or the icing of the cookies is steeped in religion or family, there's one activity everyone can enjoy. The Nutcracker is a timeless ballet production. What's not to like about dancing sugarplumb fairies and a nutcracker who comes to life? Who could resist furry, dancing mice? The innocent and magical world of Tchaikovsky's Nutcracker has delighted families since 1892 and become one of the most popular ballets. The Ballet Memphis, supported by a lineup of local dancers, will share the tradition with you this holiday season. Dec. 17-19 | INB Performing Arts Center; $22-$39 adult, $14 child; 2 pm and 7:30 pm. — JORDY BYRD
Film
SpIFF Professor Film Series
On Wednesday nights when you're not at the MAC, go to the Magic Lantern for SpIFF's Professor Series. Started last fall, the Professor Series is designed "to give people who wanted to do more than go to the movies something to do," according to SpIFF Director Dr. Pete Porter.
Most of the films on tap will be classics of one form or another. The first up, Director Alfonso Cuaron's catalytic Children of Men — discussion by Gonzaga's Brian Clayton — is a classic of contemporary sci-fi action. Not to be missed on the big screen.
Local professors choose a film to screen — something not often shown or something they think audience members should consider in a different way — and then host a Q-and-A session following the movie. Porter describes most of the discussions as "pretty darn good." Sept. 29 - Dec. 1 | Magic Lantern Theatre, $10, $5 for students; 7 pm — CAREY JACKSON
Film
SpIFF & MAC: Wednesday Night at the Museum
Don't worry – Wednesday Night at the Museum isn't the latest sequel to the Night at the Museum vehicles starring Ben Stiller. For the benefit of all the art geeks and snobs out there, it's a lot more cerebral than that.
Wednesday Night at the Museum is new series of events at the Northwest Museum of Arts & Culture featuring guest speakers, artists and films on as many Wednesday nights as possible. Every second Wednesday is devoted to a film sponsored by the Spokane International Film Festival.
The films for September and October are both documentaries about artists: Jack Smith and Destruction of Atlantis and Painters Painting: The New York Art Scene: 1940-1970. But having grown out of last year's Humanities Series at the Magic Lantern, some later films will cover various humanities-related topics. Oct. 6 - Dec. 28 | The Northwest Museum of Arts & Culture, $5; 6:30 pm. — CAREY JACKSON
Film
Wild & Scenic Environmental Film Festival
Sundance doesn't go on tour. Neither does Cannes. But Wild & Scenic, screening environmentally conscious films since 2002, is different breed of film festival. After kicking off the year with a two-day festival in Nevada City, Calif., Wild & Scenic hits the road.
This year, Wild & Scenic will be in Sandpoint thanks to the nonprofit Clark Fork-Pend Oreille Conservancy. Films showing are "adventure-based" and handpicked by CRPOC from available touring films provided by Wild & Scenic, says Nancy Dooley, CRPOC's administrate executive director.
"You're going to come away want[ing] to hang glide, but you're also going to come away knowing that there're people out there really trying to protect our world and how to get involved," Dooley says.
Plus, there'll be an outdoor adventure raffle with secret prizes. Oct. 22 | Panida Theatre, $10, 7 pm — CAREY JACKSON
Film
Flicker Spokane Film Festival
"Before all the current digital media took over, films were shot on an almost magically luminous piece of celluloid that feels much more warm and organic, with all its flaws, than digital," says Flicker organizer and participant Gary McLeod.
With the caveat that all films must originate on film (8mm, Super 8mm, 16mm, Super 16mm), Flicker shows experimental and independent shorts from around the world.
This year, Flicker will feature films from Germany, France, Spain, Finland and the U.S., including a handful of local films. Also exciting is the presence of four female filmmakers, an usually high number for local short-film fests.
Previous local Flicker entries "Jack the Vomiter" by Gary McLeod, Travis Hibner, Derrick King and Mike Corrigan, and "The Bothe Story" by Lonny Waddle screened at the Spokane International Film Festival in 2006 and 2010. Oct. 16 | Magic Lantern Theatre, $6, 2 and 6 pm (films not rated) — CAREY JACKSON
Film
GLBT Film Festival
What began as a fundraiser for the Spokane Aids Network 12 years ago has taken on a life of its own. Even when SAN dropped the event after the first year, organizer Barb Lee kept it going. The GLBT Film Festival entertains, educates and encourages community-building.
"Everyone will find something they like," says Lee. "One film may be a comedy, another may tell a Matthew Shepard-type of story, another a love story and another about the struggles and coping of family members of a GLBT person."
Last year, films ranged from "Gravitá," four-minute Italian music video, to Training Rules, an hour-long documentary about a college basketball coach's 27-year history of harassing lesbian team members. Nov. 5-7 | Riverpoint Auditorium, $5 matinee, $8 evening, $21 festival pass, $16 student pass; Fri, 7 pm; Sat, 3 pm and 7 pm; Sun, 3 pm. — CAREY JACKSON
Food
Spokane's Oktoberfest
Prince Ludwig probably had no idea what he started 200 years ago when he threw a party for his bride in Munich, but we're glad he did. Now Oktoberfest comes to Spokane on a grand scale for the first time, thanks to the Washington Beer Commission. The three-day event at Riverfront Park promises an authentic bier garten atmosphere, complete with Happy Hans's polka music. Dust off your dirndls and lederhosen — prizes will be awarded for best costume. German food, including bratwurst, pretzels and Black Forest cake will be available for purchase. Tickets include six samples per day and a commemorative mug. More than 20 brewers will be on hand, including hometown brewers C.I. Shenanigan's and Northern Lights Brewery. Pullman's Palouse Falls Brewing Company will introduce its new Midnight Wheat beer, and Paradise Creek Brewery (Pullman) will also be on hand. Sept. 24-26 | Riverfront Park; $20/day, $50/three days; Fri. 4 pm-8 pm, Sat. 12 pm-8 pm, Sun. 12 pm-6 pm; 21 — KIRSTEN HARRINGTON
Food
Epicurean Delight
Now in its 29th year, Epicurean Delight is an opportunity to enjoy our region's best food and drink at a culinary extravaganza benefitting the Inland Northwest Blood Center. Start the evening off with a signature cocktail from the ice lounge, an elegant 16-foot long bar complete with lounge chairs carved out of ice, then move on to sample wine and beer from local producers. Next, feast on gourmet cuisine from more than 25 local restaurants competing to win Culinary Awards, which are presented later in the evening. The menu is kept under wraps, but just to give you an idea, last year's winners included such savory temptations as Cajun Smoked Salmon Napoleon and Indian Lava Cake. Finish out the evening with prize drawings and dancing 'til midnight. Get your tickets now — last year's event sold out early. Nov. 12 | Spokane Convention Center, $150, 6 pm — KIRSTEN HARRINGTON
Food
Mobius Kids Breakfast with Santa
On the last day of November, Christmas Tree Elegance will open at the Davenport and the already ornate hotel will be decked out in holiday gear. The beautifully designed and decorated trees will coat the mezzanine and the gold-plated opulence of the historic hotel will shine.
When children step inside the Davenport Hotel on Dec. 4, they will instantly be transported to a magical world all about Christmas. The highlight will be a pudgy man dressed in red with a long white beard; he'll be the one in the Grand Pennington Ballroom, eating pastries.
At a special breakfast with Santa hosted by Mobius Kids, the little tykes can make holiday crafts, gorge themselves on pancakes and hot cocoa, and get their turns with Old St. Nick.
Children's holiday hopes and dreams will come true during this Santa-fied benefit breakfast. Dec. 4 | Davenport Hotel, $25, 8:30-10:30 am — TAMMY MARSHALL
Music
The Thermals
The Thermals gave Hummer the finger awhile back. The gigantoid mutant-car company offered the Portland indie band a fat wad of cash to use a song in a commercial. And though I'm sure it didn't help their bank accounts to decline the offer, it did give the band some serious street cred. The path to stardom was greased for the Thermals. Their brand of political pop-punk (think Ted Leo with a few more layers of candy-coating) was applauded by critics: in fact, 2006's The Body, the Blood, the Machine was named in Pitchfork's Top 200 albums of the 2000s. Whether or not you're into what they do, it is absolutely undeniable that the Thermals have carved their name into the bark of the Northwest music history tree. They outlived Hummer, after all. Sept. 26 | The Seaside, $8-$10, 7 pm, all-ages. — LEAH SOTTILE
Music
Best Coast
I'd be lying if I said Best Coast hasn't sucked me in — just a little — to her light, girly beach pop. It's been a whirlwind couple of months for the California-bred group (Best Coast is the moniker of singer/guitarist Bethany Cosentino, but she's got a band behind her, too). In fact, it's kind of hard to believe Best Coast's debut record, Crazy for You, only came out in late July. Because in the weeks since, Cosentino and company have climbed the charts — selling more than 10,000 copies and entering the Top 40 on the Billboard charts. And SPIN has been falling all over her for months.
But — before you freak — this isn't some That Thing You Do! story where a single on the radio turns into superstardom. No, no, no. Cosentino was a child actress. She's the daughter of the drummer in War (you know, "All … my .. friends … know the low rider"). One of her old bands opened for Sonic Youth. I'm sure a little nepotism didn't hurt when she decided to become Best Coast, but neither did her years of playing around the Big Apple.
You could call Best Coast fuzzy lo-fi pop rock (everyone else is). But it's not the fuzziest. Not the most lo-fi. And certainly not the poppiest of rock out there. And that right there is the reason for Cosentino's fame. She's riding her cruiser bike right down the middle, creating a sound that isn't sunny California beaches, but lava lamp-lit, stoner-filled, California rec rooms. Now, if Cosentino springs back from Crazy for You with more of the same, we might bail. But if she goes Nico on us — which I could see — we'll be begging to get backstage. Oct. 31 | Stage54, $12-$15, 7 pm, all-ages — LEAH SOTTILE
Music
Josh Ritter
Josh Ritter, on his records, is good. Damn good. The Moscow, Idaho, native proved this in 2006 with the release of The Animal Years — an elegant, imaginative, heroic album, full of both literary detail and catchy melody. And in April, he showed it yet again with the release of So Runs the World Away — an album that is by turns brash, badass and hopelessly sunny. (He did marry super-fox singer-songwriter Dawn Landes since his last release.)
But while Ritter's music is a pleasure to listen to on speakers, the real delight is watching him perform it onstage, especially so near his hometown. He positively glowed at performances in Sandpoint and Spokane in recent years, confessing childhood stories and overflowing with un-jaded gratitude.
Ritter's local shows seem less like performances than sharing time at a beautiful family reunion. Be there in November. Nov. 5 | Knitting Factory, $25-$60, 7:30 pm, all-ages — JOEL SMITH
Music
Ghostland Observatory
Not everything is bigger in Texas. Strange, scrawny techno nerds also hail from the Lone Star State. The Ghostland Observatory is an unlikely male duo that's created their own special blend of electronics, drums, guitars and vocals. The band's techno-rock, electro-dance tunes are high-energy and easy to dance to. Imagine subtle, classic rock riffs over rave-like beats. Then there is the lead singer. Aaron Behrens' voice is a bizarre combination of Modest Mouse's Isaac Brock and Queen's Freddie Mercury. The sheer oddity of it all — including the band's attire — will leave you wanting more. Plus, it's been rumored that their laser-light show would put Pink Floyd's to shame. Nov. 16 | Knitting Factory, $20, 7:30pm, All-ages. — JORDY BYRD
Music
Bela Fleck and the Flecktones
You never really know what you're going to get when Bela Fleck comes to town. After all, the banjo guru has earned more Grammy nominations in more diverse categories — classical, pop, world, country, bluegrass — than any musician in history.
So will he show up with the Flecktones and play their brand of bluegrass-inflected progressive jazz? Will he share new music from his second edition of the Africa Project, in which he traced the roots of the banjo through Uganda, Tanzania, Mali and the Gambia, playing with local legends and eventually producing the award-winning documentary Throw Down Your Heart? Or will he instead bring along double-bass great Edgar Meyer and tabla legend Zakir Hussain? The trio toured much of Europe earlier this year (earning yet another Grammy nom).
In fact, Fleck will bring to Spokane his Holiday Tour and the music of his (yes, Grammy-nominated) Jingle All the Way album. But, as could be expected, this is no normal Christmas cruise, as he and the Flecktones will also feature a Tuvan throat-singing ensemble called Alash.
Just as you'd never heard prog-jazz played on a banjo before Bela Fleck, you've never seen a holiday show like this. Dec. 3 | Bing Crosby Theater, price and time TBA — JOEL SMITH
Music
Music in Historic Homes
Seriously, the fancy people of yesteryear really knew how to party — and in retrospect, we're gonna pretend that the legal, widespread recreational use of cocaine played only a small role. No, what they really had down was the art of entertainment — a sophisticated treat that Allegro Baroque is replicating for you with its Music in Historic Homes series. Join other music-lovers in the Cliff/Cannon neighborhood's Jasper-Nuzum House for an intimate chamber music performance, followed by a tour of the gorgeous, Tudoresque abode. After the concert — and a nosy promenade around a house bigger and much better-appointed than yours — enjoy munching on "seasonal refreshments" (ice cream?) while you eloquently discuss what a vastly underappreciated instrument the bassoon is. Dec. 7-8 | Jasper-Nuzum House, $25, 3 pm, 4:30 pm, 6 pm, and 7:30 pm. — TIFFANY HARMS
Opera
Met Opera's Das Reinghold
The Met is launching a new Ring cycle, and you don't have to be in the Big Apple to see it. Do you realize how cool that is? A world-class event, seen with all the perils of live performance (will Wotan trip on his spear?) available at a your local shopping mall for about one-fifth of what New Yorkers are shelling out. Oh, sure, it's Wagner, which means a lot of shrill women in breastplates and men stomping around in horned helmets. But the Ring cycle is like the start of a giant sung-through version of The Lord of the Rings. (There's even a malicious, ring-obsessed dwarf named Alberich, who's sort of like Gollum.) And hey, some of the Met's live broadcasts later this fall are five hours long. Das Rheingold only lasts three. Oct. 9 | Regal NorthTown Mall 12 theaters, $20, from 10 am-1 pm – MICHAEL BOWEN
Theater
Evita
This being Lake City's first show under new executive artistic director George Green, perhaps it's appropriate that Evita is about a dictator.
Or maybe Green will turn out to be a revolutionary, like Che Guevara in the show. At Coeur d'Alene's community theater, Green has already achieved regime change in matters both cosmetic (new paint, new website) and substantial (more aggressive marketing, luring both creatives and actors across the state line). Certainly director Abbey Crawford and her three principals — Alyssa Day as Eva Peron, Todd Kehne as Che, Kent Kimball as Juan Peron — can deliver the goods in a musical about a grasping, glamorous woman who wavered between self-aggrandizement and generosity toward Argentina's poor.
Don't cry for Green, Kootenai County: He's gonna take his shot at improving CdA's No. 2 theater. Sept. 17 - Oct. 10 | Lake City Playhouse, $19 (top), Thurs-Sat 7:30 pm, Sun 2 pm — MICHAEL BOWEN
Theater
Buddy: The Buddy Holly Story
Buddy presents the Crickets as they get their start in Lubbock, defy the country-Western music establishment in Nashville and then become one of the first white acts ever to play Harlem's Apollo Theater. Later on in New York, and on just their first date, Buddy asks Maria Elena to marry him; soon after, he's touring with Richie Valens and the Big Bopper.
Buddy is a jukebox musical, so we get to dig songs like Sam Cooke's "You Send Me," Paul Anka's "It Doesn't Matter Anymore," and Chuck Berry's "Johnny B. Goode" along with the central trio's hits. (The day they flew into an Iowa blizzard was the Day the Music Died. So have some respect, man, and wear your black horn-rims.) Sept. 24 - Oct. 24 | Spokane Civic Theatre, $28 (top), Thurs-Sat 7:30 pm, Sun 2 pm — MICHAEL BOWEN
Theater
West Side Story
A concert version of a dance-heavy show? Best. Musical. Ever — yet without all those Jerome Robbins moves? But wait, there's a payoff: Concertgoers will get to listen, really listen, to perhaps the greatest five-song sequence in all of American musical theater: "I've just met a girl named Maria ... Tonight, tonight/ the world is wild and bright ... Skyscrapers bloom in Amer-i-ca/ Cadillacs zoom in Amer-i-ca ... Got a rocket in your pocket?/ Keep cooly-cool, boy! ... Make of our hands one hand,/ Make of our hearts one heart."
Yvonne A.K. Johnson's production will feature more than 30 singers, led by the powerful voices of Michael J. Muzatko and Andrea Dawson in the '50s-style Romeo and Juliet roles of Tony and Maria. Their ending's tragic, but the message remains hopeful: Somehow, somewhere, we'll find a new way of living. Oct. 29-30 | Spokane Civic Theatre, $30, 7:30 pm — MICHAEL BOWEN
Theater
The 39 Steps
Alfred Hitchcock, meet Basil Fawlty. The 39 Steps (the movie), set in 1930s London, took an unassuming chap — but rather proud of his dashing good looks and pencil mustache, don't you know — and entangled him in a convoluted Nazi spy caper that had him clinging to speeding locomotives and clambering through the Scottish Highlands. The 39 Steps (the stage play, which premiered 70 years later), shoves our debonair hero at one point into a spoof scene suitable for John Cleese. It's late in the goose chase, you see, with Richard Hannay and his reluctant love-interest, Margaret, hoping to avoid the police inspectors by taking refuge in a remote bed and breakfast. The proprietors, a fussy Scottish couple, are played by two actors ("the clowns") who keep ducking below the check-in counter and switching roles: First they're the hosts, then they're the coppers, then they're back to speaking in brogues again. The phone keeps ringing when it shouldn't.
With the clowns often playing several roles in the space of a few seconds, with props flying out of a trunk and the audience often asked to play let's-pretend, The 39 Steps is the kind of farce that works best onstage and in front of a live audience. It's not a desecration of Hitchcock; it's a recognition of the comic potential in this skin-of-our-teeth escapade. Quick thinking helps Hannay put things right, my dear fellow: Nazis killed, girl kissed, God's in his heaven, all's right with the world. Cheerio. Oct. 14-30 | Interplayers, $21 (top), Wed-Sat 7:30 pm, Sat-Sun 2 pm — MICHAEL BOWEN
Theater
South Pacific
South Pacific is more than 60 years old. It's the sort of prettified, break-out-into-song musical that Grandma hummed along with, right?
Not the way Bartlett Sher sees it. Sher — the longtime artistic director at Seattle's Intiman Theater who directed the two-year Broadway run of the show and now the touring version — has envisioned a visceral struggle played for high stakes.
The men and the women are kept separate, see, but they're in this tropical paradise. And, lacking our hindsight, no one knows who's gonna win the war — or how bloody it's going to be. People might get killed. (And do.) There's uncontainable horniness effervescing all over the island, they're all far from home, and they don't want to hear any criticism — because whatever these expatriate French plantation owners and Polynesian folks may stand for, the nurses and Seabees know that the values of heartland America are simply better.
Well, guess what? We're still fighting wars in faraway lands. We still haven't conquered racism. And South Pacific, in Sher's un-idealized vision, packs surprising relevance: "It's as if a vintage photograph had been restored not with fuzzy, hand-colored prettiness but with you-are-there clarity," wrote Ben Brantley in the New York Times.
This is a Golden Era musical brought back to life with an expansive beach of a set, period-accurate costumes and — here's the selling point — a full 24-piece orchestra. Sher aims to get Grandma humming — and crying — along while the overture is still playing. As for the rest of your family, the war and racism themes will give South Pacific a contemporary tinge, and Bali Ha'i is calling. Oct. 6-9 | INB Center, $30-$65, Wed-Thurs 7:30 pm, Fri 8 pm, Sat 2 pm and 8 pm – MICHAEL BOWEN
Visual Art
Katherine Nelson and Victoria Brace
In the Inland Northwest's gallery game, the Art Spirit is the most expert of players. It's a place where artists who push the boundaries are showcased and lauded. These are artists who take risks, and who make art that isn't always easy. Art Spirit's current show, featuring recent works of Katherine Nelson and Victoria Brace, reinforces that dedication. Nelson and Brace create stunning depictions of life with simple oils and charcoal. Brace flirts with the afternoon: the way the sun enters a room through windowpanes, or the way shadows make up the facade of an aging building. Alongside her, Nelson is downright Lynchian — casting hard-lined shadows with charcoal, laying a foreboding Eraserhead topcoat over both wheat fields and urban alleyways. Sept. 10 - Oct. 2 | The Art Spirit Gallery, free, open 11 am – 6 pm. — LEAH SOTTILE
VISUAL ART
Dani Pavlic — "Zero Sum"
When we first saw Dani Pavlic at Terrain 2009, she was working in vice clamps, shot glasses and goldfish. Easily the most conceptual artist of that show, hers was an exciting and vibrant mind, shooting out in seemingly whatever weird direction it would take her. (In that case, temporality and death, we think.)
In the year since, the 25-year-old turned that mind to a single topic, La Violencia, the period of war, terrorism and strife that only recently ended in Guatemala. The works in her show "Zero Sum" stay true to her deep conceptual roots — "Ah Puch" creates the profile of a Mayan death god using a sunken relief of bullet shells — but with an emotional resonance that sneaks up on you. Sept. 3 | Second Space, free, Tues-Sat noon-6 pm. — LUKE BAUMGARTEN
Visual Arts
Kota Ezawa, "Upstairs Downstairs"
To describe him as a cartoonist would be a gross oversimplification, yet Kota Ezawa possesses both the wry sense of humor necessary for potent social and political satire and the genius of scarcity.
His subject matter ranges from pop culture — the O.J. Simpson trial, a raucous pro basketball game — to historical images like "Earth from Moon" to banal scenes like a Technicolor suburban ranch-style home. Some of it silly, some of it serious, all rendered in a flattened style reminiscent of South Park in paper cutouts, digital animation stills and even ink drawings. If you missed him in the Visiting Artist Lecture Series a few years back, mark your calendar for the Oct. 27 opening reception and an opportunity to visit with this internationally known German-Japanese artist. Oct. 27 - Dec. 4 | University of Idaho, free, Tues-Sat 10 am-8 pm, Sun 10 am-4 pm — CARRIE SCOZZARO
Visual Arts
Archie Bray at Kolva-Sullivan
The search for the holy grail of ceramics may just lead to Helena, Mont., of all places. That's where the Archie Bray Foundation been providing artist residences to some of the best and the brightest working in clay for more than 50 years. People like Kelly Garrett Rathbone and Kevin Snipes, who will give a workshop Oct. 2 at the Clay Connection. And artists like three recent exhibitors at the prestigious Bellevue Arts Museum "Clay Throwdown!" (a play on words, throwing? As in throwing on the wheel? Pottery humor): Gwendolyn Yoppolo, Nathan Craven, and Sean Erwin, who makes laugh-out-loud clay jack-in-the-boxes. In fact, all the recent Archie Bray residents will be showcased at Kolva-Sullivan's ninth annual exhibition, which always has us seeing clay in new and cosmic ways. Oct. 1-31 | Kolva-Sullivan Gallery, Free, Opening Reception Oct. 1 5 pm-9 pm — CARRIE SCOZZARO
Visual Arts
Kinetic
A lot of our hope hinges on the RiVerSpeAK Collective. Maybe it's because the group's first handmade zine — one that revolved around the theme of nests — sold out in 24 hours when it went on sale earlier this year (we missed the boat). We've never heard of something like that happening here until now. The collective — a group of artists, writers, performers and creatives — is throwing another big soiree this fall. This one — which is themed around kinetic energy and motion — will feature another handmade zine of art and writing, and will take place during the fall Visual Arts Tour. Sure, RiVerSpeAK is still young. But we're pretty sure with this show, they're gonna skip crawling and break into a run here pretty quickly. Oct. 1-2 | In the former Lorinda Knight Gallery space, Friday 5-9 pm, Saturday 10 am – 5 pm. — LEAH SOTTILE
Visual Arts
Visiting Artist Lecture Series: Mark Pauline
"It makes monster trucks look like kiddie toys," said Spokane Falls Community College's Tom O'Day, who helped bring the Visiting Artist Lecture Series' first speaker to the area. Picture heavy equipment reconfigured into massing, moving sculptures, a Medusa-like crane shooting flames into the captive audience of stunned onlookers. It's just another day in the life of Survival Research Laboratories founder Mark Pauline, who along with other techies takes all the gizmos intended for everything from the military to mundane scientific applications and transforms them into heart-stopping mechanized event. While you won't be able to see the actual performances, you'll be mesmerized by Pauline's images and discussion of the SRL's "most dangerous shows on earth." Nov. 17-18 | Wed, 11:30 am at SFCC and 6:30 pm at the MAC; Thur, noon at EWU. Free. — CARRIE SCOZZARO