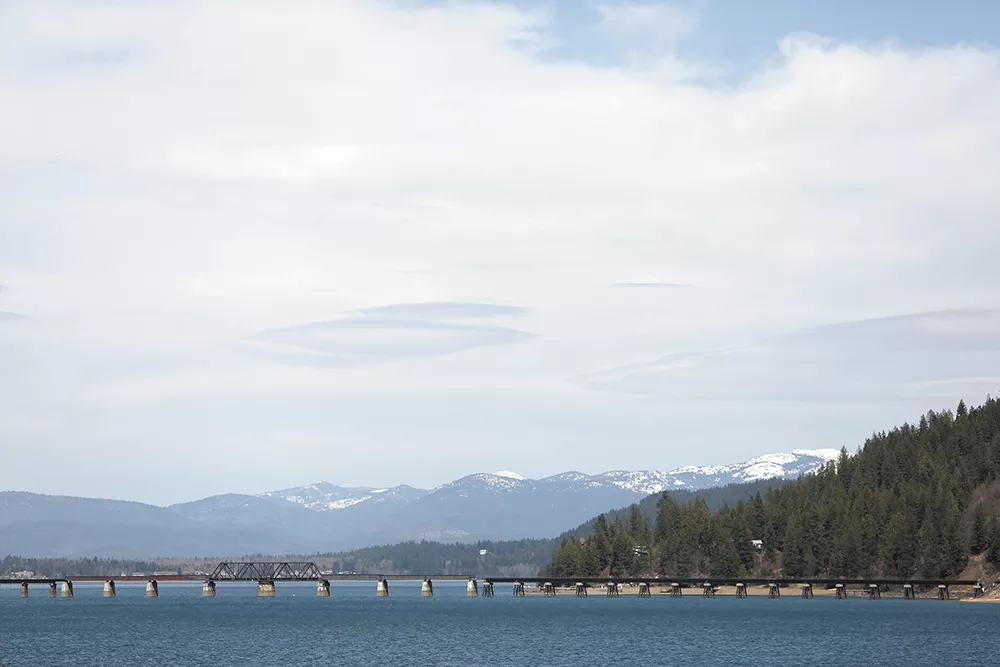 SWIM LAKE PEND OREILLE
For the last 25 years, hundreds of swimmers have taken to Lake Pend Oreille for the annual Long Bridge Swim, accomplishing the feat of a nearly 2-mile swim toward Sandpoint. While the August event has been canceled this year, there's still the chance to prepare for next year. When people aren't sure if they can do the full swim, organizers often say to start by practicing with one-quarter of a mile, then half, then a mile. Luckily, there's an easy route to try this on: swim out from Dog Beach Park (typically where the Long Bridge Swim ends), and if you go out to the 12th piling and back, you've gone a little more than a mile! Fair warning: The lake can be pretty chilly so a wetsuit is recommended for long swims.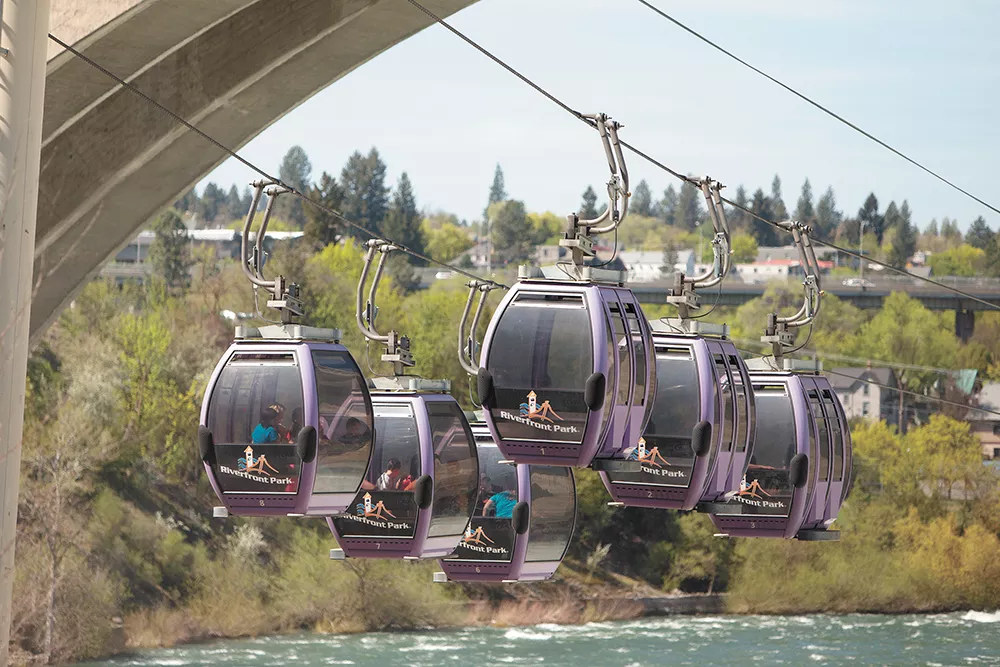 RIDE THE GONDOLA
The scenic Numerica SkyRide, which offers visitors a gondola ride over Spokane Falls and under the Monroe Street Bridge, reopened at the end of May. Special precautions are in place to prevent the spread of COVID-19. Visitors from the same family can ride together in groups of up to five people, and it's recommended that people pay ahead online, by using a QR code near the attraction at Riverfront Park, or by using a debit or credit card on site. Some of the restrictions may be lifted later in the summer as the county continues to reopen businesses under Washington's phased plan. The ride is free for kids under 2, $6.75 for kids 3-12, and $9.75 for everyone else. There's also a 10 percent discount for military, seniors (55+), college students, and AAA members. The wheelchair-accessible gondolas run from 10 am to 6 pm seven days a week.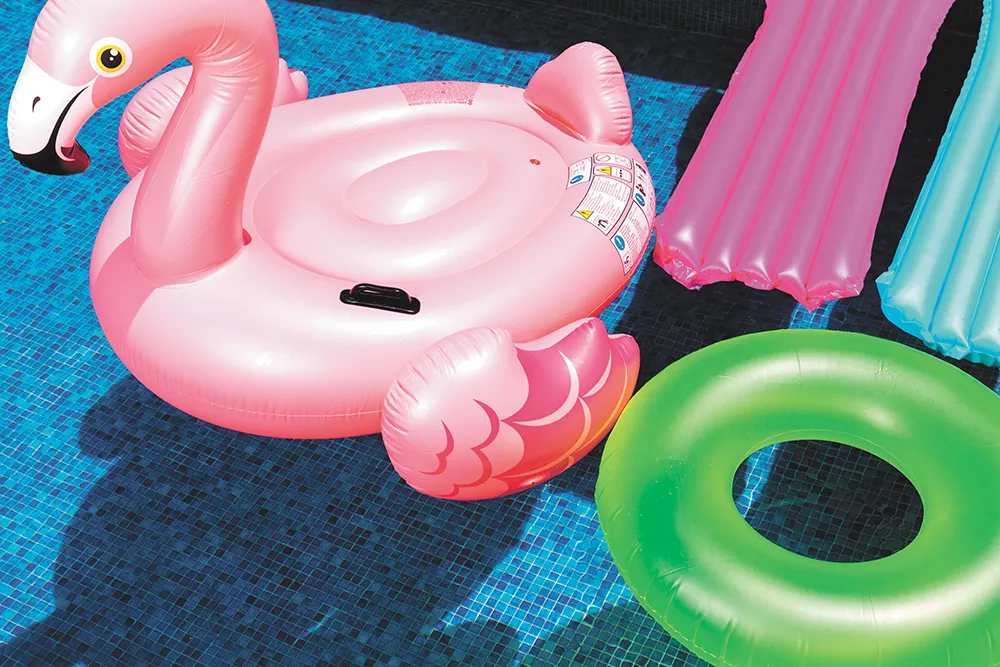 PADDLE AND PLAY
Take the chance this summer to get out on the water by renting a kayak, stand-up paddleboard, or other boat and hitting the Spokane River, Lake Coeur d'Alene, Priest Lake, and more. There are several outdoors shops ready to help you get out on the water, including Fun Unlimited, which offers boat rentals in Post Falls as well as along the Spokane River. The company offers both single-day rentals, which run as low as $25 for an hour on the river, and season passes that enable users unlimited use of kayaks or paddleboards (typically trying to keep trips to three hours so everyone can enjoy the gear) for as little as $145. At the Post Falls location, you can also rent motorized watercraft, from jet skis to pontoon boats.
CREATE A BACKYARD OASIS
Spokane's public pools and splash pads won't be able to reopen for summer until the county can enter Phase 3 of the state's reopening plan, which could be in late June or even later.
While you wait, why not create your own water park on the fly in the backyard? This is kind of the perfect solution if you're worried about not having the summer bod you wanted this year (even though we vote every body is a summer body). You get to soak in some sun, cool down with your personalized water accessories of choice, and drink whatever the heck you want in the privacy of your own darn house!
Pick your pool
Wading pool: On a budget? These are available for as little as $10, and they're great for keeping your feet cool while you sit in a lawn chair and sip on some seltzers.
Inflatable: If you wanna "swim" (read: sit all the way in the water and lounge), an inflatable pool is a good bet for a reasonable price. Just avoid pokey things (putting a tarp down can help) and pick your style, from the glorified outdoor bathtub-for-one to the make-your-neighbors-wonder-how-much-that-thing-cost model that can fit multiple adults.
Novelty floaties (Required)
2020 is the year everyone decided that floaties should be whimsical, damn it. Giant unicorn? You got it. Shaped like dry ramen noodles? Yep. They've also got your pizza slice, a giant llama, pink flamingos to hold your drinks, and you can even lay on a "bottle" of rosé while drinking rosé all day. Even if you don't get the big pool, at least one floaty is required. Sit on it, sleep on it, talk to it because you're still in quarantine. This is your permission to buy the funny float.
Staying cool
Set up an umbrella, break out the bucket hat you found while cleaning your house during the 20-year-long month of April, ask your friend to stand a little to the left to be a human sun shield. Whatever your method, just remember to get some shade.
Get some water guns so you can definitely not rudely wake your friend up because they fell asleep in the sun, and definitely not squirt that one squirrel against which you harbor an unhealthy amount of rage. Spray bottles are also great for misting your sweaty face and chafed thighs. (It's hard not to get chub rub when you're racing the unicorn into the pool, OK?)
Lastly: the sustenance
Set yourself up with a cooler full of ice, water and your favorite beverages, because even if the fridge is just inside, this is your oasis! You wanna be able to lounge! Pour yourself a cool drink and put a little umbrella in that thing. Your oasis snack bar might have pickles and peanut butter, while mine might have watermelon and white cheddar Cheetos. Either way it's good to have something salty (you sweaty oaf) and something sweet. Ready, set: go live your best summer life.
CRUISE COEUR D'ALENE
Every day, you can hop on a scenic cruise of Lake Coeur d'Alene that leaves from the Coeur d'Alene Resort. Daily cruise times are at 12:30 pm, 2:30 pm and 4:30 pm and boarding is on a first-come, first-served basis at Independence Point. Tickets can be bought at the booth where you board, and are $27.25 for adults, $25.25 for seniors, $16.25 for kids 6-17 and kids under 5 can ride for free. No need to be a guest at the resort to ride. The cruises pass by celebrity homes, the world's only floating, movable island golf green, oftentimes wildlife, and include historic narration. The resort also has sunset dinner cruises and cruises of the St. Joe and Spokane rivers, with details on each online at cdaresort.com. ♦