MAKE YOUR OWN ALE TRAIL
Pretty much every brewery in the region is open right now — whether it's full service or solely for to-go only. Either way, maybe you're not ready to drink out yet. No worries, we've got the perfect plan:
Pick a region and a few breweries you may have never visited before. (If you're in Spokane, a trip to North Idaho would make it a nice day trip.)
Safely hop around from brewery to brewery, checking in with your local beertender and grabbing some delicious craft beer to-go.
Once you've gathered quite the collection, head home and start drinking. (DH)
AN EVENING AT ARBOR CREST
Hanging out at the Arbor Crest estate might be the perfect option for wine enthusiasts during the summer of COVID-19. Grab your crew (keep it at five or less during Phase 2) and have a nice social-distanced evening paired with wine and great views. The destination winery is currently open on a reservation basis. Visit arborcrest.com to reserve your spot. (DH)
BREW IT YOURSELF
Teaching yourself to homebrew may be the best way to get yourself excited for a summer at home. You can do it for cheap with some equipment for brewing on your stovetop, or you could upgrade and grab something like the all-in-one electric Robobrew. Go visit the guys over at Genus Brewing & Supply to start getting set up — grab yourself a pint (or two, it could take a while) while you're there. (DH)
POUR ONE OUT
Need a place to store that delicious beer you just brewed? Why not build your own kegerator? It's as easy as finding an old refrigerator and buying a kit with all the parts you need. If you don't think homebrewing is a hobby for you, well, having your own kegerator is also a great way to serve a keg of commercial beer at home. Places like Brick West and Iron Goat Brewing have been offering keg to-go specials during the shutdown. (DH)
CHANNEL THAT INNER BARTENDER
If your favorite patio is still closed for the foreseeable future, consider finally building up that at-home booze collection. Having everything you need for the summer classics — like rum and orange curaçao for a mai tai — makes it easy for you to mix yourself a drink and just lounge in your backyard or third story apartment balcony. You'll probably save a few bucks in the process. (DH)
BRUNCH BOOZE IN BED
Now that you have seemingly unlimited alcohol in your possession, it can be easy to go overboard in a single day. Bruncheonette is here to help out with that. While they are currently open for dine-in service, you can still order their menu to-go. That includes things like the spicy bloody mary mix (no alcohol included) or a variety of mimosa kits (champagne and all) and make the perfect boozy hangover remedy at home. Going out for brunch is so 2019. (DH)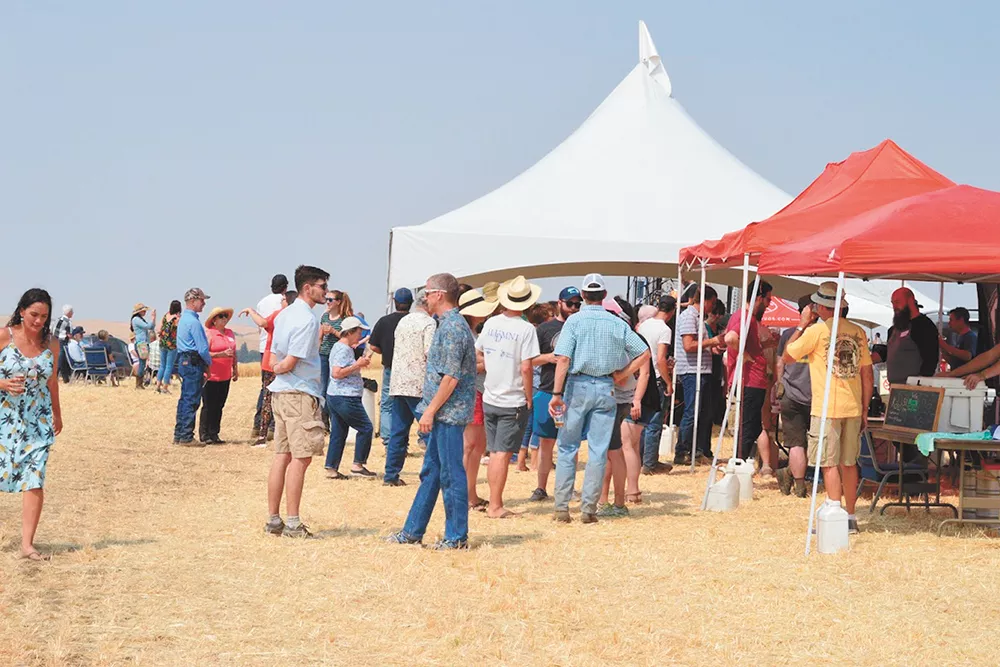 A PINT IN THE PALOUSE
It's not every day you get to enjoy a craft beer or spirit in the middle of a barley field. Especially the same barley field that provided the grain for said beverage. This is the experience you can get at the annual Baronesse Barley Harvest Day hosted at Joseph's Grainery just outside of Colfax. In collaboration with LINC Malt, it's a chance to meet the farmer, maltster, brewers and distillers. This year's event is scheduled for Aug. 22 and features live music from Tone Sober. Head over to josephsgrainery.com to RSVP for free. As of right now, this very well could be the only beer event of the summer. (DH)
GET HIGH WITH MARIE KONDO
Getting a little stoned before undertaking some mundane task is almost always a good idea. No doubt your place could use a little belated "spring cleaning" after months of self-quarantine, so why not pick up a copy of Marie Kondo's The Life-Changing Magic of Tidying Up (or just queue up her show on Netflix), take a little toke and uncover the wonders of the recesses of your sock drawer? Of course, when you're high you just might find everything in your house brings you joy. (DN)
BETTER THAN YOGA
I don't know that you have to be high to enjoy playing hacky sack, but I wouldn't bet against it. While large gatherings are still banned, Phase 2 means you and four friends can enjoy some recreational cannabis (BYO) and then get a little physical activity right in the comfort of your backyard. I spent at least one of my college years hacking in a small apartment living room, so you don't really even need the yard. (DN)
START WITH A POCKETKNIFE
Any semi-regular toker has seen someone smoke pot out of a nontraditional delivery system — a soda can, an apple, etc. Some of my college buddies managed to turn their coffee table into a functioning bong. In the age of legal cannabis, there's really no reason to build your own pipe except for the challenge and the creative outlet. Who knows? If you're clever enough, you might find yourself with a new Etsy business at the end of the pandemic. (DN)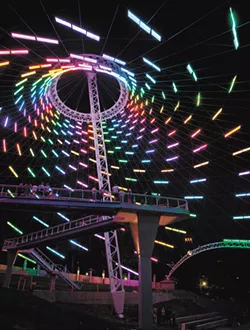 EVER SEEN THE PAVILION... ON WEED?
Find yourself a good view of the U.S. Pavilion in Riverfront Park, either up close or from a moderate distance, and take in one of the nightly light shows. The creative displays are awesome even when you're sober, but a little cannabis can enhance the effect. (DN)
PALOUSE IT
I loved hiking from the Sky House at the top of Schweitzer Mountain Resort down to a beer and wine festival a couple summers back. But cannabis is illegal in Idaho, so let's be smart and instead head to Kamiak Butte in Whitman County, which rises some 3,600 feet above the rolling hills of the Palouse farmland and features a 3.5-mile forested trail. Killer views and killer weed are a nice combo. (DN)
TURN IT UP, MAN
We've all learned by now that watching concerts on the internet will never be the same as experiencing a show live, but until we're able to gather by the thousands and share a joint with a stranger again, it's the only way to see some bands do their thing. Get online with some friends, share a stream of Metallica (above) or the Dead or Radiohead or (insert your favorite artist here), and have a socially distanced hit or two with your pals while you reminisce about great shows you've seen in the past, and the ones you'll get to see in the future. (DN)
SAMPLE THROUGH SUMMER
This summer is going to look different from any summer you've ever experienced, but that doesn't mean it won't be a blast if you do it right. One way to do that? Make a point of exploring some of the myriad cannabis strains Washington has to offer, all those delectable flavors you look at on occasion, but pass over in favor of your old standby.
There are a lot of strains that bring the summer vibe, judging by their names. Root Down's Grape Pie is one example, promising a "relaxed," "euphoric" and "happy" experience. Dawg Star's Lemon Drop, Blueberry and Strawberry Banana strains bring bright, fresh flavors to the season. Natural Mystic Farms' Blue Hawaiian and Pineapple Express likewise are sure to put you in the mood to throw on an Aloha shirt and forget you're stuck at home instead of beach bumming through summer. (DN) ♦