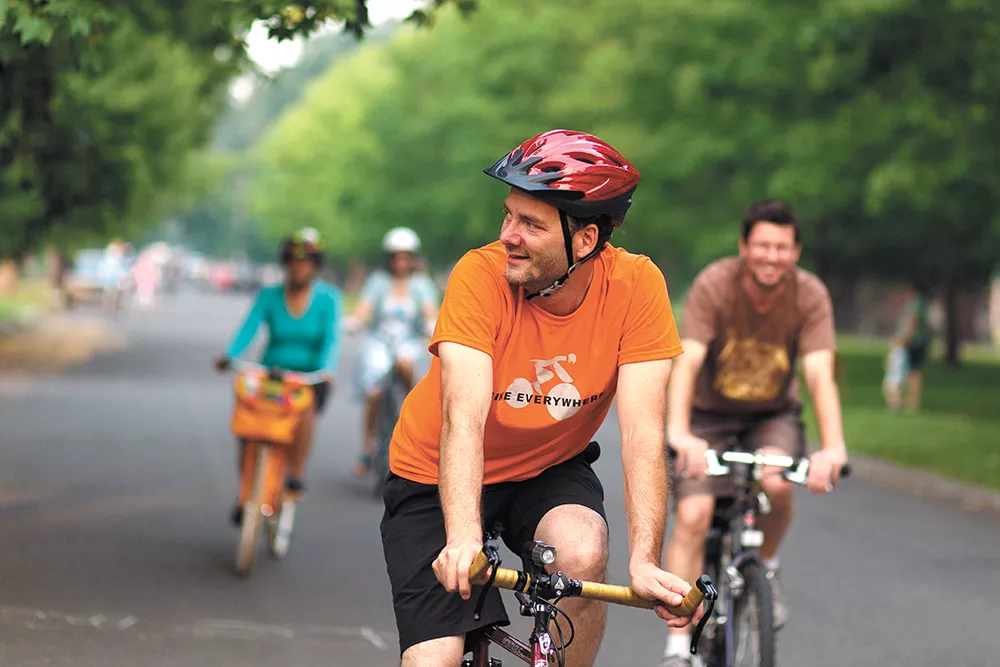 TWO-WHEELED TOURS
You're looking to elevate your bicycling cred from occasional commuter or weekend warrior to full-blown touring master. But if planning a bike tour seems daunting, Row Adventure Center has some suggestions for guided and self-guided trips.
Guided tours range from half-day and all-day events ($49-$179). The self-guided plans range from four to six-day trips ($700-$850) with bicycles, hotels and luggage transfer included. Overnight tours start in Spokane on the Centennial Trail, spin into Coeur d'Alene and include sections of the Trail of the Coeur d'Alenes and the Route of the Hiawatha.
RAILRIDERS EXCURSION
Pedal yourself (and a group of friends) up and down a stretch of retired railroad tracks along the Pend Oreille River. The North Pend Oreille Valley Lions Club is reviving the centuries-old, pedal-powered trips in its inaugural season of the Railriders excursion.
Four-person, recumbent-style "railriders" carry you and your group on the 12-mile jaunt beginning in Ione, Washington. You'll head south through pastureland along the Pend Oreille River, then turn around for a trip north to the Box Canyon Dam. The whole ride takes about two hours.
Each aluminium-framed railrider has four recumbent bicycle seats and is powered by a bicycle-chain drive system. The rides are offered the weekends of June 29-July 1, July 27-29, Sept. 1-3, Oct. 5-7 and Oct. 12-14, with 9 am, noon and 3 pm departures. Reservations are required (lionsrailriders.com).
The rides ($12-$22) are all ages, including infants and small children who can ride in a front chest harness or a carseat. Pets are not allowed.
RIDE TO WORK
Go get that bike that's been sitting in the garage, covered in spiders with two flat tires. Like right now. Put down this paper and go get your bike, take it for a tune-up and promise yourself you'll ride to work for one week straight. If you can hack it, you'll need a few things: a helmet for your dome, a bag for your stuff, a lock because this is Spokane, a light in case you work late and a safe route. The Spokane Regional Transportation Council has created a map of bike trails and bike-friendly routes throughout the city. Access it on your phone at srtc.maps.arcgis.com/home. First get through one full week. Maybe you'll want to do two.
EIGHT DAYS OF NORTH IDAHO
Eight days. Three-hundred-and-fifty-five miles. At least 300 riders. Average age: 56. The North Idaho Cycling Tour takes riders through scenic North Idaho, into Montana and back. Each day is capped off with a huge party, including food and a beer and wine garden.
"It's for all levels," says Earl Grief, one of the ride's organizers. "You don't have to be a top notch, extreme rider to do these kinds of rides."
Grief says riders will flock to North Idaho Aug. 4 from about 40 states and Canada for the weeklong tour. They'll average about 60 miles per day with overnight camping in Sandpoint, Prichard, Wallace, Medimont and Trout Creek, Montana.
The group will spend a two-day layover in Wallace, to give participants the opportunity to ride the famous Route of the Hiawatha, take a zipline tour through the forest or explore the town's rich history.
"This will be about the fourth time we've done it in North Idaho," Grief says. "Every year we try to pick different locations for our overnight camping and usually try to go with smaller towns and showcase history and culture of the state. We're trying to promote Idaho."
About 300 people have registered so far. The ride is fully supported, with trucks to transport food, luggage and shower stalls. Bike mechanics are on hand to address any snafus along the way. More information and registration (the cost is about $1,000) at rideidaho.org.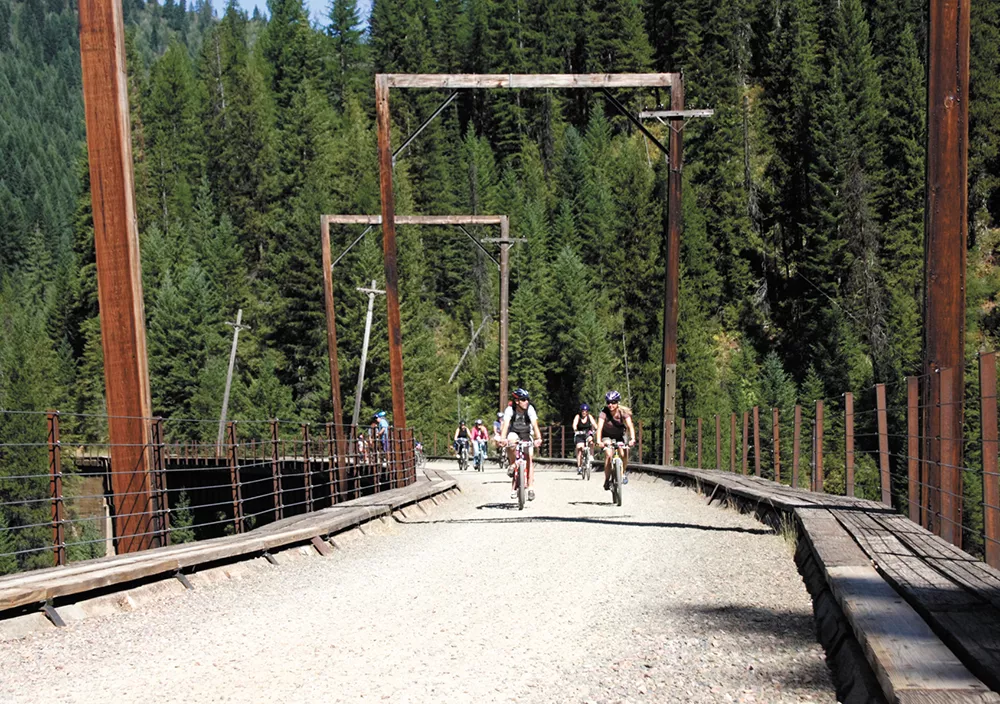 20 YEARS OF HIKE AND BIKE
Known as the "crown jewel" of the rail-to-trail program, the Route of the Hiawatha mountain bike and hiking trail is a no-brainer bucket list item for anyone within reasonable striking distance. Fifteen miles of gentle downhill riding through 10 train tunnels and over seven trestles. This is the 20th anniversary of the trail's completion, and Wallace, Idaho, is throwing a party. The Jameson Hotel will host a Northern Pacific Railroad panel discussion, exhibits and refreshments June 22. A celebratory ride begins around 9 am on June 23, with a gala parade through the Wallace's historic downtown that evening. Visit ridethehiawatha.com//2018-special-events.
LAKE CRUISE
Twenty years in and the 8 Lakes Leg Aches ride doesn't seem to be slowing down (though you might want to at the various snack stations along the routes). Wind through scenic west Spokane, Cheney and Medical Lake on this year's ride featuring 30, 45 and 75-mile routes, with staggered start times. You'll need to do the 75-miler to get the full benefit of all eight lakes: Willow, Granite, Silver, Medical, Clear, Chapman, Kepple and Fish Lakes. Proceeds will help Lutheran Family Community Services Northwest. Register online at lcsnw.org/8-lakes-bike-ride. Helmets are required and finishers will be greeted with David's Pizza, Ben & Jerry's Ice Cream and Roast House Coffee. Organizers will also auction off a Specialized Roubaix bicycle valued at $1,900. Early check-in is Friday, Aug. 17, and the first round of riders start at 7 am Aug. 18.
BIKES AND BEER
Of all the alliterative pairs out there (peas and pods, cash and cows, Jack and Jill), bikes and beers has got to be top on the list. If you agree, consider joining Millwood Brewing Company's weekly Wednesday night rides. The group leaves from the brewery around 6 pm for a six-mile round-trip ride to the top of Beacon Hill and back. Mountain bikes are highly recommended, and there is typically a food truck or some pizza (and, of course, beer) waiting at the brewery upon return.
BLOCK PARTY
On June 21, Spokane Summer Parkways will close down four glorious miles of streets between Manito and Comstock parks to make way for human-powered transportation and activities. Bike, walk, skateboard, rollerblade, scooter or find another way to jump from Zumba to double Dutch to hacky sack to fencing to the scavenger hunt during the massive block party to kick off the first official day of summer. The free event goes from 6-9 pm. Visit summerparkways.com. ♦