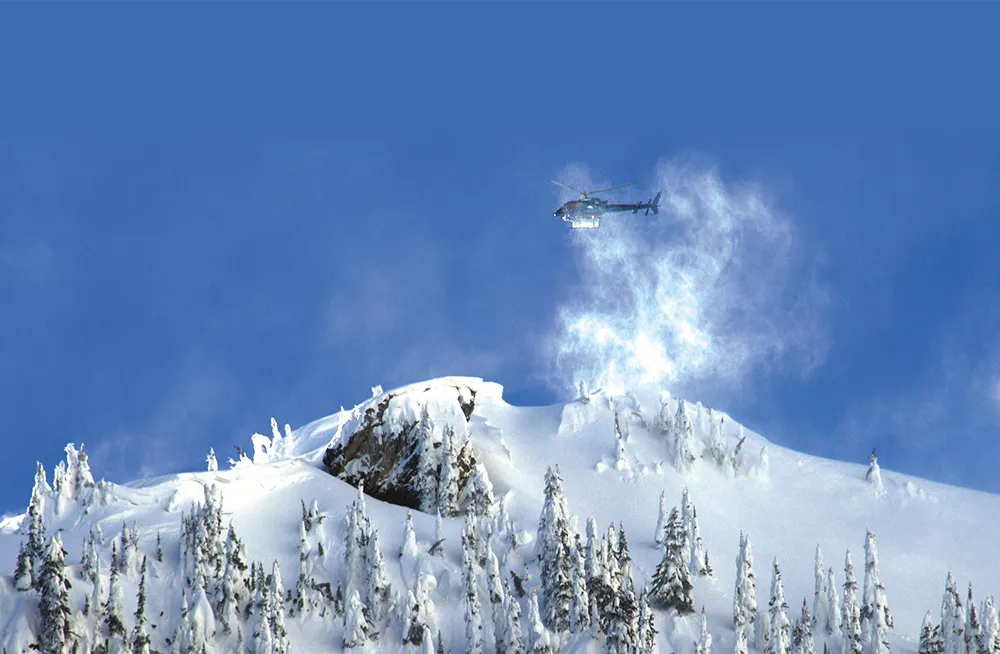 When you get to a certain stage of your life, there are certain things you want to accomplish during your short time here on Earth; creating a bucket list for yourself is one way to make you feel alive and fulfilled. Whether it's visiting Stonehenge, skydiving or just spending some quality time with a family on a dream vacation, you feel a sense of ease and happiness.
A few weeks back I received a text message on a Saturday night from Tim Shenkariuk, Kingfisher Heliskiing's general manager and partner. Kingfisher is a relatively new heli operation based in the iconic Monashee mountains of British Columbia. Tim's text read: "we have an open seat in the heli for Tuesday if you're interested"; since I'd recently seen videos and photos showing insane conditions in the Monashees, it didn't take much more than a nanosecond to respond "YES!" I rescheduled my Monday and Tuesday; before I knew it, I was showing Customs my passport heading into British Columbia.
B.C.'s Monashee Mountains are synonymous with mind-blowing powder skiing, the main reason that Shenkariuk and his longtime friend and business partner Matt Devlin set up their business here four years ago.
For both Tim and Matt, this business is all about passion. "Matt and myself met 22 years ago skiing at Silver Star," Tim says. "Matt was a ski instructor and guide and he lured me into the guiding aspect of this business. I haven't looked back."
The Kingfisher Heli Village is a short hour-and-15-minute drive from Kelowna International Airport. The heli village consists of a heliport, home for two Astar helis, three beautifully appointed guest cabins, the guides' office and the Gold Panner cafe/bar, which turns out West Coast-inspired cuisine. After a seven-hour drive from Coeur d' Alene, I arrived Monday night just in time for a full-blown dinner at the Gold Panner. During dinner I was able to meet my new best friends, the crew who I'd be spending the day with, shredding the Monashee powder. I was grouped up with a family of the heli-ski virgins from Ontario, a father, son and daughter crew who were more than excited for this adventure, but seemed a little nervous.
As I got to know this group, I found out they booked this heli-ski day on a whim just a few weeks earlier. I asked dad Andrew Baumen what spurred this trip. "Heliskiing with my kids has been on my bucket list for the past 20 years," he says. "The kids finished up exams at the university and we had a four-day window. so we booked it."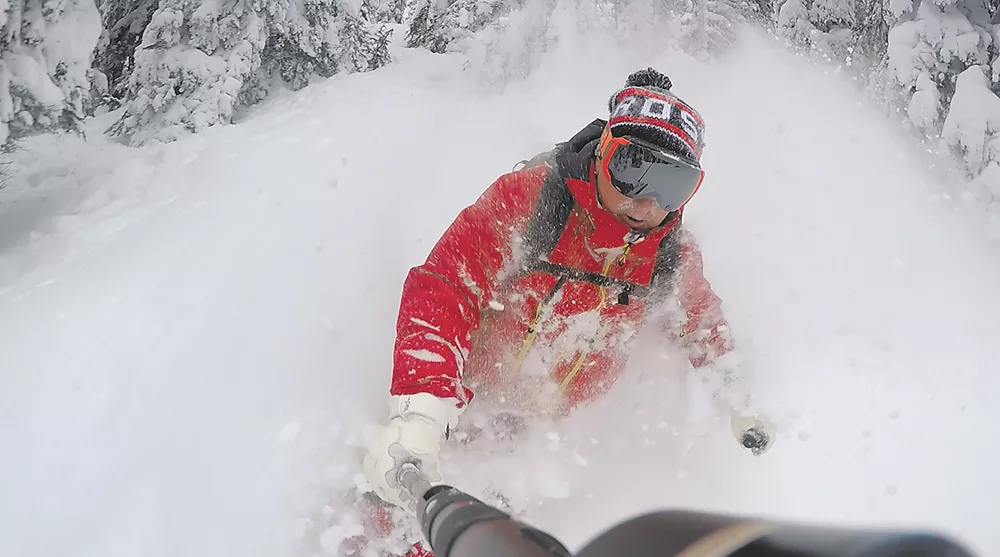 Dinner at the Gold Panner was excellent, as expected, accentuated with some of the Okanagan's local wine. "Our chefs have traveled the world; we're West Coast flavor, but with a lot of influence from Italy because of the type of and abundance of our local wines," says Tim. "Kelowna has over 350 wineries, from Kelowna down to the U.S. border. This is the Napa Valley of Canada." I knew I liked this place!
It was a 7 am breakfast call, followed by a heli safety briefing. From there we gathered at the guides' shack, picked up our transceivers and went through a transceiver snow hazard briefing. Before we knew it, we were loaded up in the Astar. A short flight over the valley and we were landing at the top of Flying Ryan, one of Kingfisher's 200 landing zones scattered throughout 300,000 acres.
As the heli lands, we unload and gather in a heli huddle at the nose of the bird. Our guide Felix Viaux pulls our skis and avalanche floatation backpacks from the specially designed ski basket on the side of the heli. In less than two minutes, the pilot lifts off and drops the bird down at his next pickup spot.
Reality sets in for the Baumen family; they're standing at the top of a mountain overlooking an untouched field of powder. This was a perfect slope for Felix to assess our group's skiing level. There's a little bit of hesitation from daughter Abby as she cuts her first heliskiing tracks, but halfway down the run, she's starting to relax and rely on her skiing skills. Older brother Chris has it figured out quickly, while Andrew stands above, watching his bucket-list dream come alive right in front of his eyes. It was cool to watch it unfold; the raw emotions of the kids' excitement, mixed in with the nervousness, was heartwarming.
For our second run, Felix brought us through some nicely spaced old-growth cedars. "We're famous for our tree skiing here," Tim tells me earlier. "Dry, dry desert air comes here and dumps in the trees. There's no wind, no sun effect, and they're long, steep runs."
By noon we've made four runs through varying terrain, from some nice, wide-open glade skiing to some tighter trees, which seemed to be better for our visibility due to the flat light and snowfall. On clearer days when Kingfisher flies in the Alpine, they ski the Pinnacle Range, which rises up to 8,500 feet. "The Pinnacles give you some long runs: up to 4,000 vertical feet," says Tim. Now that's some leg-crushing vert!
Lunch is set up on a nice, flat landing zone. Here's we're treated to some well-received hot tea, vegetable soup and chicken wraps. The hot soup was a huge hit. Abby's take: "I'm impressed we get to eat on the side of a mountain, and the food is phenomenal."
After lunch we ventured over one drainage and tried a few steeper lines. Felix was the man, setting us up with some sweet lines perfect for working off those lunch legs. All day long, he proved his worth time and time again. "In the beginning, we let Felix know what our skill levels and limitations were," says Chris. "Felix put us on perfect routes every time. It was awesome."
It was nearing the end of our ski day. We all had some tired legs, but some happy souls. Felix treated us to one more special run to cap off this great day. Ironically, it was Bucket List. He definitely saved the best for last, as we skied knee-deep blower powder. We all gathered at the bottom and watched Andrew ski the open glade. He skied into the group with a huge smile on his face: "That was the ultimate — being out here with my kids doing this. It honestly was the ultimate experience."
The randomness of Andrew booking this trip on a whim really opened my eyes. Get out there and do something memorable. ♦