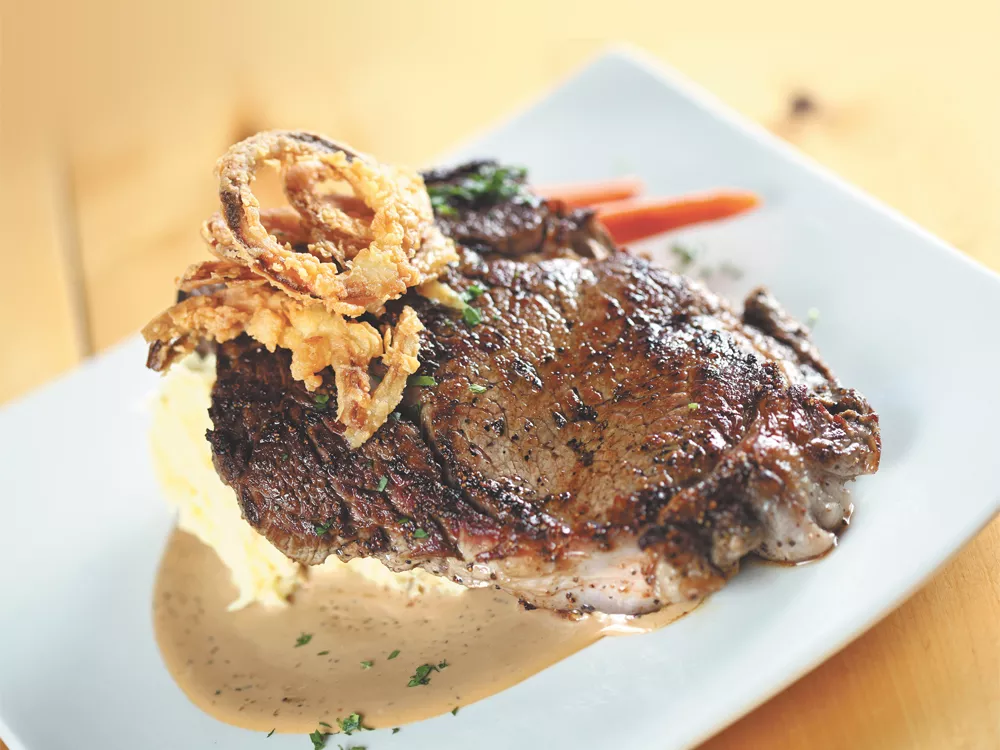 You don't just eat at Elkins Resort on a whim, because eating at this best-kept-secret restaurant on Priest Lake isn't all that easy.
It's not just on Priest Lake, but a relatively northern spot of the picturesque body of water that's just long enough of a car ride or boat cruise to make it a jaunt, even for the few year-round locals who inhabit the region.
But it's worth it. It's always worth it. That's what I was thinking as I sat in the rear of a boat packed with my family members as it slapped atop another of Priest Lake's deceptively large mid-lake waves, sending beer foam onto an otherwise clean dress shirt.
This is worth it, I told myself, because at the other end of this kidney-punishing trip lay a pepper steak. Not just a pepper steak, but Elkins' signature 12-ounce New York pepper steak, swimming in a secret sauce and sitting almost smugly atop a pile of mashed potatoes, as if daring the diner to pick up a knife.
Steaks aren't the most challenging cuisine. Good steaks, on the other hand, are not easy. With that in mind, Elkins has kept the pepper steak on the menu for about two decades now, and Chef Schuyler Price has no plans of vacating it from the menu any time soon.
"When it got put on initially, it seemed to work and we haven't changed it," Price says.
Price is only 25 years old and began working at the resort as a dishwasher at age 15. He worked his way up to a pantry cook and then a line cook, learning the time-tested techniques of Elkins chefs like Jade Mayer, who Price trained under. Following that, he spent time at Coeur d'Alene's Bistro on Spruce and Spokane's Latah Bistro before coming back to Elkins to serve as chef. Keeping with the tight knit mentality of the resort, Price is engaged to Elkins' general manager. They're set to tie the knot next month.
The pepper steak, he says, is simple. Before it hits the grill, the in-house-trimmed, prime USDA cut is only lightly seasoned with salt and pepper. The flavor is all in the sauce: a creamy, slightly spicy concoction that I'd gladly wash my hair in if given the chance. What's in it?
"The sauce we've always kept a secret. It's a cream-based sauce, but we don't like to say much more than that," says Price, obviously accustomed to fielding this question.
While you're far away from any sort of city life, Elkins nevertheless gives off an air of fine dining. The cozy log cabin dining room seats only about 60 at a time, and your food, the pepper steak included, comes with plenty of attention on presentation. It looks nice, but you don't feel all that bad when you tear it apart within minutes of it hitting the table. You'd settle for this pepper steak served — and the accompanying and delectable mashed potatoes and fresh veggies — on a Frisbee with a plastic fork, but that's not the Elkins way.
"You really do eat with your eyes first. You're not going to enjoy it as much if you don't like the way it looks," says Price.
Elkins, like most North Idaho resorts, relies almost completely on the summer season to buoy its business. Between May and September, Price says they'll serve as many as 400-plus of these pepper steaks. Their halibut is just as, if not more, popular.
With fall here, Elkins is only open on the weekends, giving you ample time to make the trek.
And it will be worth it.