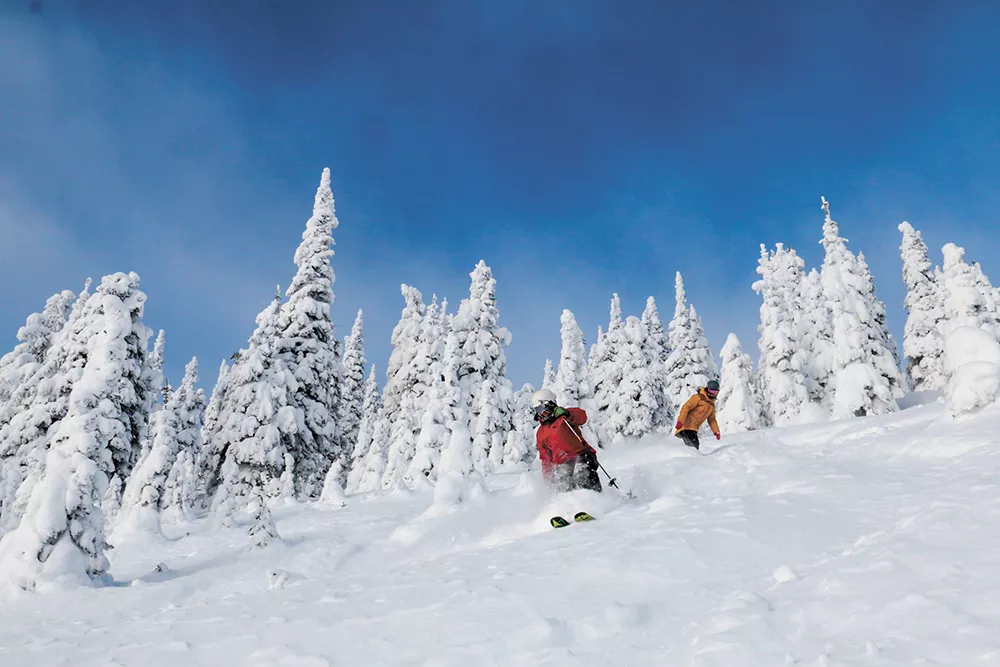 Over the past few weeks, the email chain has grown longer. Debates about the best cabin rental have turned into discussions about groceries and estimated arrival times. The latest snowstorm has prompted a round of enthusiastic texts as well. But soon all the digital messaging will go silent, and I'll be kicking up my heels next to a wood stove after a long day shredding the bowls at Montana's Discovery Ski Area.
This wintertime tradition didn't exactly start out as one. Years ago — four, maybe, though it seems longer — I threw together a hasty ski weekend with my college buddy John. Time and work had carried him some 350 miles east to Red Lodge, making our ski days together a rare and treasured commodity. We rallied at my family's cabin on the Rocky Mountain Front and, with two friends from Missoula and Bozeman in tow, cruised up the road to a one-lift mountain called Teton Pass. The snow was tougher than Kevlar, and our edges weren't all that sharp, but we busted the crud as best we could, happy just for the chance to share a bit of winter together.
The following season I booked a weekend in a slopeside condo at Whitefish as a birthday present for John, and the four of us came together again. We spent one bluebird Saturday revisiting the Whitefish powder stashes John and I had hit often in the past. We washed the day down with beers at the mountain's iconic Bierstube, watched '80s ski flicks on the condo TV, and this time John told me about the woman he'd been seeing.
From there our ski getaway became an annual affair. And with year three at Maverick Mountain in southwest Montana, the family began to grow. First it was another friend from Missoula. Then one made the trek from Lewiston, Idaho. Someone brought an inflatable T-rex outfit to ski in. I took to skiing in a blonde glam-rock wig. The weekend became a reunion, an opportunity to shake off our individual work or winter-induced doldrums and embrace our collective goofiness.
Usually when the midway point of the season dawns, as it has this month, I can't stop thinking of all the runs I have yet to ski, of all the people I have yet to ski with. But with that annual ski weekend on the near horizon, I know the maudlin introspection won't last long. Our lives have changed considerably since our first foray at Teton Pass. Some of us have moved to new cities or will soon. Others have lost jobs or landed new ones. John married that woman he'd been seeing, and most of us were there. As uncertain as most things in life are, one constant remains: The snow will fall again, and bring with it the weekends that mean the most.♦