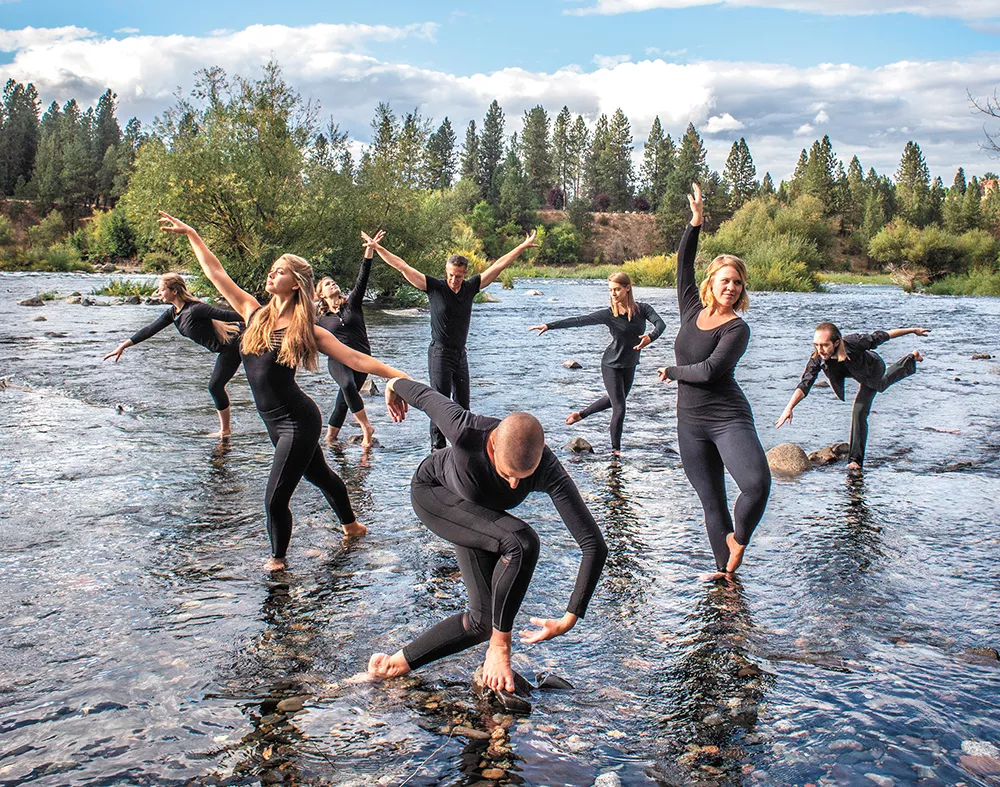 For nearly two-and-a-half decades, Spokane was without a professional dance company.
This lasting void finally began to fill back up, however, in 2016 with the founding of Vytal Movement Dance Company by dance instructor, choreographer and Cheney native Vincas Greene.
"Just looking at the arts scene in Spokane, it's ready," Greene notes.
Ballet Company of Spokane, the city's last professional dance troupe, disbanded in 1993. Before that, Spokane Ballet existed through the 1980s. And while many other local dance groups have come and gone, some remaining active, the detail here that matters is the word "professional," meaning the dancers are paid for their time spent training, rehearsing and performing.
Still in its early stages — Vytal Movement is almost ready to apply for federal nonprofit status — Greene's dancers aren't yet paid, but that's the goal.
"As we start to develop funds for the dancers, then they can start to give more of their time, so we can do things like go into schools and the studios and volunteer our time there," he says. "As it is, all of these dancers are dancing and they have jobs. It's not at this point supportive of them."
Despite this, Vytal Movement's adult dancers, who studied a variety of dance styles throughout childhood and are now in their 20s and early 30s, practice and perform on a volunteer basis because it's their passion.
Beyond being able to pay his dancers, Greene's big vision is that the modern dance company can help dance rise to the same level of support and talent as seen in the Inland Northwest across other art forms: visual, literary, culinary and musical. That includes keeping talent here as dancers age out of the area's youth-focused dance studios, and attracting it from outside of the region.
"I want Vytal Movement to be Spokane's dance company. I want the city and the people in the city to feel an ownership of the company and of the people who are dancing there," Greene says. "And I'm hoping it will eventually lead to a broader network of dancers coming in [from] outside the area and enriching our culture."
Since its founding a little more than two years ago, Vytal Movement has performed publicly many times.
For the company's most recent concert, Confluence, held at the Bing Crosby Theater this past spring, Greene's choreography was inspired by the movement, history and culture of the Spokane River. Vytal Movement's eight principal dancers (as of this writing the company was holding auditions) have also collaborated with other artists and groups in the area, performing inside art galleries, at festivals like Terrain, and for other events and venues.
The company is still working out the details for its upcoming performance season, but Greene says plans include a tribute to the late modern-dance pioneer Merce Cunningham, in honor of the 100th anniversary of his birth. Later this fall, Vytal Movement hopes to also debut (pending editing timelines) an interactive, virtual reality project made with Spokane filmmaker Juan Mas.
Greene is overflowing with other ideas for future performances and collaborations in nontraditional settings, like dancing in Riverfront Park and at the Northwest Museum of Arts & Culture and sending his dancers to local schools to perform and talk to students.
In addition to heading up the company, Greene teaches modern dance at two local studios, Company Ballet School and Professional Ballet School, and at Eastern Washington University, where he developed the school's dance minor program that became available this year. Greene himself has been dancing and teaching dance since his college days in the early 1980s.
Vytal Movement is visibly leading the charge for a professional dance resurgence in Spokane, but it's not the only member of a small but dedicated group championing the cause.
At Gonzaga University, Suzanne Ostersmith has headed the school's dance program since 2000, establishing a dance minor in 2005. A new dance major degree option will also soon be available to students, she says.
Ostersmith is excited to see the passion coming from Greene and his dancers and the interest in dance they're helping spread.
"I love when I talk to Vincas about his company. We want to see that thrive, but his hunger is to see multiple companies here," Ostersmith says. "It's not about one company changing [Spokane], but [also] others saying 'Ooh, what if I were to do that?' and then collaborating together and having multiple groups performing. I would really love to see that."
She also sees a big boost coming to the region's dance community with the completion next year of Gonzaga's new Myrtle Woldson Performing Arts Center. The 750-seat venue will allow Gonzaga's dance students to perform more often and also to host professional dancers from outside of the area for workshops and public concerts.
"I think it will be huge for our area because we do have so many strong studios that are training amazing dancers, but in order to see professional dance you have to go to Seattle and elsewhere," Ostersmith says. "I've found that to be a real challenge as a director of the dance program."
Longtime Spokane dance instructor and studio owner Jonna Maule also hopes the momentum coming from Vytal Movement and the growth of collegiate level dance instruction will help keep talented dancers in the area — dancers like her Company Ballet School's teenage prodigy Clara Vazanko, who placed first at a prestigious competition held this year in Seattle, the Youth America Grand Prix.
"There are a lot of high-quality ballet schools in Spokane that put out a lot of talented dancers and they definitely have to go away" to pursue professional opportunities, Maule says.
Of course she'd also like to see professional ballet make a return to Spokane.
"Perhaps Vincas is leading the way for more companies to start up and make their way to Spokane, so I applaud him," Maule says. "The fact [Vytal Movement has] lasted as long as they have in Spokane is quite phenomenal."
As important as their focus on making Spokane an attractive place for professional dancers to live and work, Greene and his counterparts also want to see the region foster a deeper sense of appreciation for the art of dance.
"People I talk to are excited about the vision. They believe this should exist in Spokane," Greene says. "They're ready to see it grow because there has been a void for so long for professional dance." ♦