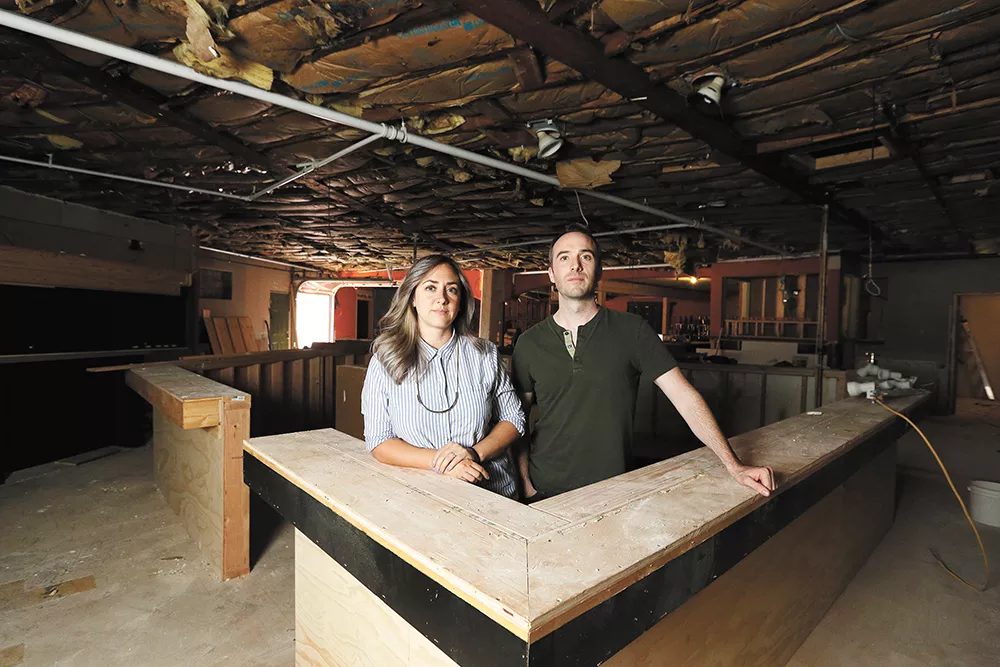 Five years ago, Caleb and Karli Ingersoll were desperately trying to put the finishing touches on the Bartlett, their cozy all-ages music venue that sits at the edge of downtown Spokane.
It wasn't the easiest of openings: There were problems with construction and building codes and shows that had to be canceled or rescheduled. But the Bartlett was finally up and running in December 2013, and everyone from Future Islands to the English Beat have since graced its stage.
Now the Ingersolls are preparing to open their second, larger music venue, called the Lucky You Lounge, which will take over the rectangular, red-and-white building on the outskirts of Browne's Addition that has previously housed a drive-in burger joint, a seafood restaurant, a Mexican restaurant and, perhaps most prominently, the Sunset Junction dive bar.
Opening venue No. 2 has brought about its own set of challenges. The infrastructure of the building is secure, the Ingersolls say, but now they're dealing with what can best be described as "the grossness of the past" — correcting unusual remodeling choices and ripping out moldy walls. But the Ingersolls feel like they actually know what they're doing this time around.
"Our main focus is to be the west side of downtown's nightlife spot," Caleb Ingersoll says. "That's what our hope is. No matter what you do, when you come here, you're going to have a good time. That's the goal."
Lucky You won't merely be a facsimile of the Bartlett, however. For one thing, it'll be a 21-plus establishment. For another, it will be open every day, even when there isn't a show going on, with a full restaurant that will eventually offer a menu of vegetarian and vegan-friendly pub grub.
The Ingersolls signed the lease in April, and they're hoping to be open by — at the very latest — early 2019. (They now know not to announce a concrete opening date until they know they can hit it.) Right now, at the beginning of September, everything is still in various stages of construction, and a thin layer of dust covers everything.
A large stage has been built in the corner of the building's main floor. A spacious bar takes up the middle of the room. Booths will soon be installed along the walls, and there will eventually be patio seating during the warmer months. The first floor is expected to reach a capacity of 350 or so, more than twice the size of the Bartlett.
In terms of design, the Ingersolls say they'll likely keep the building's '70s-chic vibe, which extends to the basement, with its wood paneling and dark tile. The Ingersolls have heard stories about the basement housing a makeshift gambling parlor at some point, but it's otherwise been sitting unused for well over a decade.
It has a small stage and a bar, and it will probably have a capacity of 100. They can see it serving as a space for open mics, comedy or DJ showcases or artists who would typically draw a Bartlett-sized crowd. It will likely be open Thursdays through Saturdays and won't have cover charges.
The Ingersolls admit now that they were initially reluctant to occupy the 10,000-square-foot building, which has become somewhat infamous for its ever-shuffling business models. But local business owner and real estate developer Dan Spalding, who currently leases out the Bartlett building to the Ingersolls, convinced them it would be a perfect location for a multipurpose venue.
"We had to morph our business plan a little bit," Caleb Ingersoll says. "We were thinking more of a traditional 500-cap room that's just open for shows. We weren't planning on doing a whole restaurant, but it just made sense with the space."
"It's been cool working on a space where everyone already knows what it is," Karli Ingersoll says. "Before, with the Bartlett, it hadn't been anything so no one knew where it was. If you say Sunset Junction by Rosauers in Browne's, people say, 'Oh yeah, I drive by that every day.'"
There has always been one drawback in regards to the size of the Bartlett: It's too small for a lot of touring bands that can normally play for audiences of a few hundred people. The Lucky You will hopefully bridge that gap and inspire more bands to make stopovers in Spokane.
It's also an ideal spot for local artists who can already comfortably sell out the Bartlett — including folk singer-songwriter Marshall McLean and Super Sparkle, the pop-soul band that includes Karli Ingersoll — to further expand their audience.
"For the scene to continue to grow, musicians have to have all sorts of platforms and ways to connect with their audience," Karli Ingersoll says. "And perception is reality, so if you're playing on a bigger stage and filling a bigger room, people see you as more important."
"I think both venues will help each other," Caleb Ingersoll says. "It'll [bring] more bands to town."
And in the five years since the Bartlett first opened its doors, the Ingersolls agree that Spokane's music scene has morphed into something much bigger, more inclusive and legitimate.
"When we opened the Bartlett, the A-Club was doing some shows very infrequently. Mootsy's was still kind of doing shows. Red Room had done a few things. But that was it," Karli Ingersoll says. "There were hardly any active local bands."
"It had a very DIY feel," Caleb Ingersoll says.
That's changed: The Bartlett, in fact, booked more than 100 local acts last year.
"There's tons more activity, more shows happening, more touring bands want to stop here," Karli Ingersoll says. "It feels more grown up." ♦